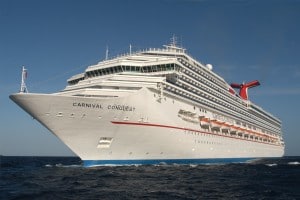 With National Cruise Vacation week this week, Carnival Cruise Line is sweetening the deal a little bit more. If you book between Oct. 17-23, 2011, you're eligible for up to $300 cash back per stateroom. This promotion is available on a variety of 3-12 night Fun Ship sailings through December 2012.
"We're celebrating the incredible value of a Carnival cruise during this week-long event by giving even more added value to our guests who book during this time period," said Joni Rein, vice president of worldwide sales for Carnival Cruise Lines. "Most importantly, we hope this gives our valued travel partners, who are so key to our business, an added sales boost surrounding the event."
Here's the break down:
Guests sailing on three- and four-day cruises will receive up to $50 cash back per stateroom
Guests sailoing on five-day departures, up to $100 per stateroom.
Guests sailing on six- to nine-day voyages up to $150 per stateroom.
Guests will also receive up to $300 per stateroom for 12-day Europe cruises.
Contact your travel agent for additional information.
Source: Carnival