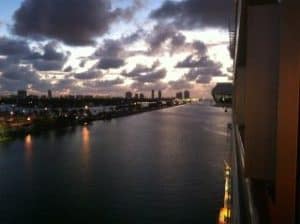 This morning I woke up at 5am to watch the ship pull into port. It's always so cool to watch the sun come up over the ocean (pictured right). We had two ships in port: Norwegian Epic and Celebrity Eclipse. We went up the harbor, spun the ship around and docked starboard side to the dock. Actually, all three ships were docked that way (maybe they dock depending on the currents).
The Cruise Director started the disembark announcements about 7am. They request that we were out of our cabins by 8:30 in order for them to be cleaned for the next cruise. It amazes me how they can turn so many cabins in a matter of a couple of hours.
I always choose to do self-assist when I get off the ship, which started at 7:20 (self-assist is taking your own luggage off the ship, otherwise you're called by zones). Around 7:45, I made my way down to deck three and got in line to get off the ship — to my surprise there was no one there! We pretty much walked our luggage right off the ship and proceeded through the terminal. There was a couple people that started to hold up the line after us by not having their sign and sail card out to get clearance off the ship, but an honest mistake, I guess. Those people annoy me.
Once we were off the ship we had to go through customs. There was about a 20-minute line through customs and then you were free to leave. The ship must manifest what you buy on board and give it to the customs agents. There was someone who didn't claim any purchases on their customs declaration form and bought a couple thousand dollars worth of items aboard the ship — busted!
All-in-all the port of Miami is a great port to sail out of and I would do it again in a heart beat. The parking is $20 a day there but it's easy in/easy out. My suggestion if you drive is to find a park and cruise hotel.
If you fly in, the ground transfers from Carnival are well worth the price.
Be sure to stay caught up on all our of Sea Blogs from the trip aboard Carnival Liberty and all the Fun Ship 2.0 enhancements.
Video of our journey through Miami Harbor:

Source: Doug Parker/Cruise Radio