Luxury cruise line Seabourn launched its first expedition ship back in July, Seabourn Venture.
Now, the cruise line has released details on the design of some of the ship's spaces, which were imagined by hospitality interiors atelier Tihany Design. Let by founder Adam Tihany and Managing Partner Alessia Genova, the boutique atelier has crafted hotel and design interiors for some of the most iconic hospitality brands around the world.
Seabourn Venture is the third vessel that Tihany Design has fashioned for Seabourn from its New York-based studio. Their vision was to give purposeful, global exploration a "spectacular allure," capturing the romanticism of early explorers while lifting the hearts of Seabourn's guests and crew members.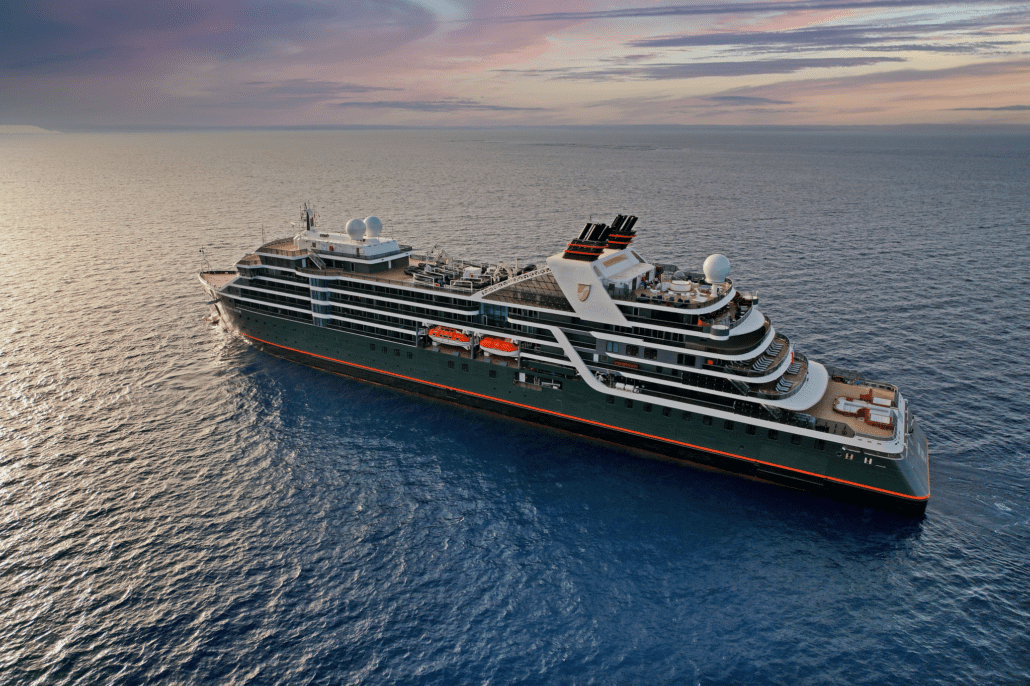 Gathering Spaces
Tihany Design created a dozen public spaces throughout Venture, some that will be familiar with previous Seabourn guests, and others that are brand-new. The interiors of the vessel create a relaxed and sophisticated ambiance, with tactile and elemental materials to evoke ruggedness and a spirit of adventure.
Expedition Lounge
At the heart of Seabourn Venture is the Expedition Lounge, where guests convene before and after off-ship adventures. Located on deck 4, it's a warm, comfortable setting with two fireplaces that produce water vapor "flames," a glass partition etched with a vintage map, and a full bar.
Custom furniture crafted from wood, wool, leather, and fur echoes the quality and craftsmanship of tools and instruments employed by early explorers.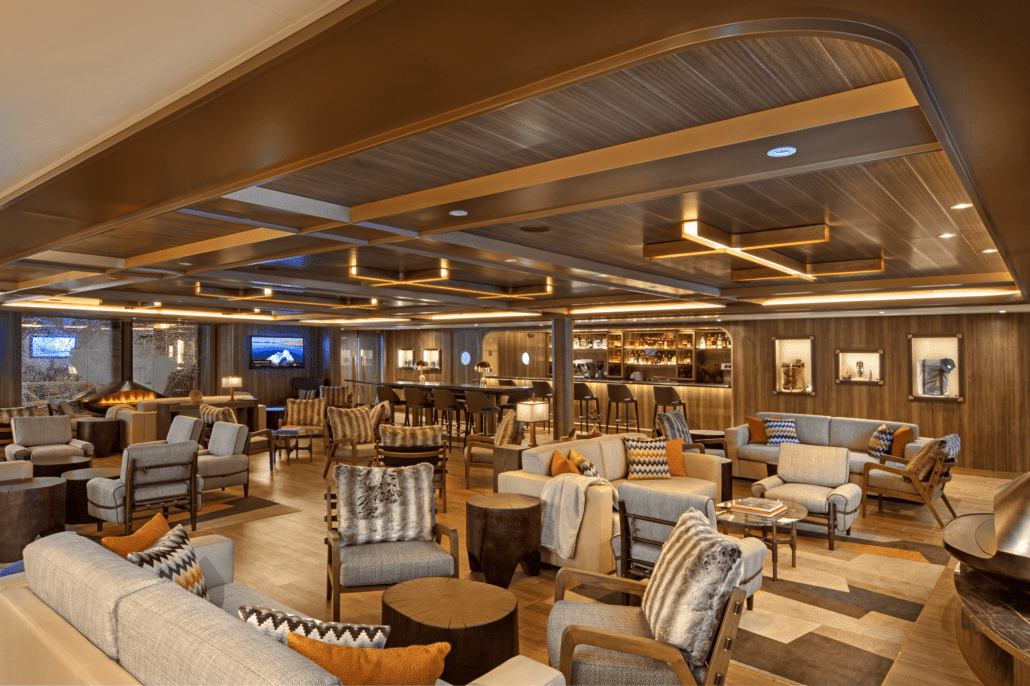 Discovery Center
Right next to the Expedition Lounge is the Discovery Center, the classroom of the ship. The design of this space was inspired by the landscape of Antarctica, incorporating a natural color palette and organic shapes of topography maps against the elegant curves of plush custom seating in front of a large screen for immersive lectures and video experiences.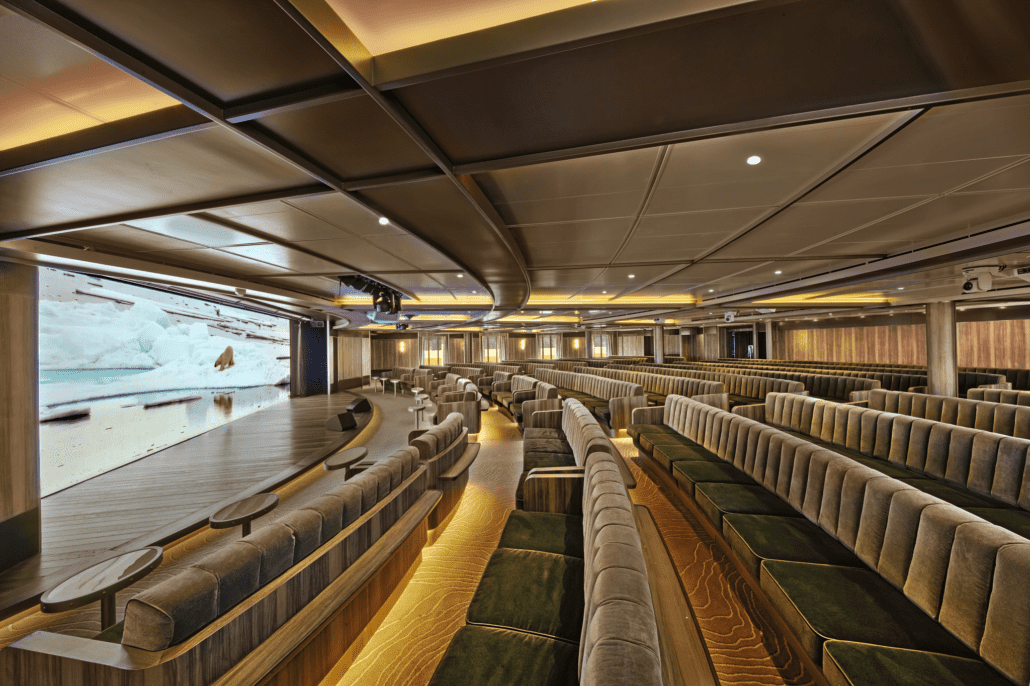 Atrium
The Atrium connects all guest-area decks via an elegant staircase. On Seabourn Venture, the sky-lit space is decked out in wood and metal finishes, with details that include rope work and a topography-inspired liquid metal wall treatment.
The diamond-shaped floor pattern emphasizes a captivating artwork, as well as a suspended light fixture — both of which emulate traditional instruments used to measure wind.
The Landing Zone
Also known as the ship's mud room, the Landing Zone is a utility space where guests change, clean, and store boots and gear following excursions. Tihany Design created the space with a sleek, modern design, combining durable materials including floor tile, wood, and metal with rivet accents to evoke the characteristics of luggage.
The Restaurant
The Restaurant merges bold lines and spaces with softness reminiscent of falling snow. Leather wall paneling is brought to life with a unique 3D diamond arrangement and visible stitching, while geometric carpeting in blue and purple surrounds a porcelain tile floor that recalls the natural sediment of a geode.
Custom designed dining chairs produced by Italian furniture manufacturer Roda echo craftsmanship throughout the vessel, with rich burgundy leather, textured fabric seat back, exposed rivet details, and wood frame.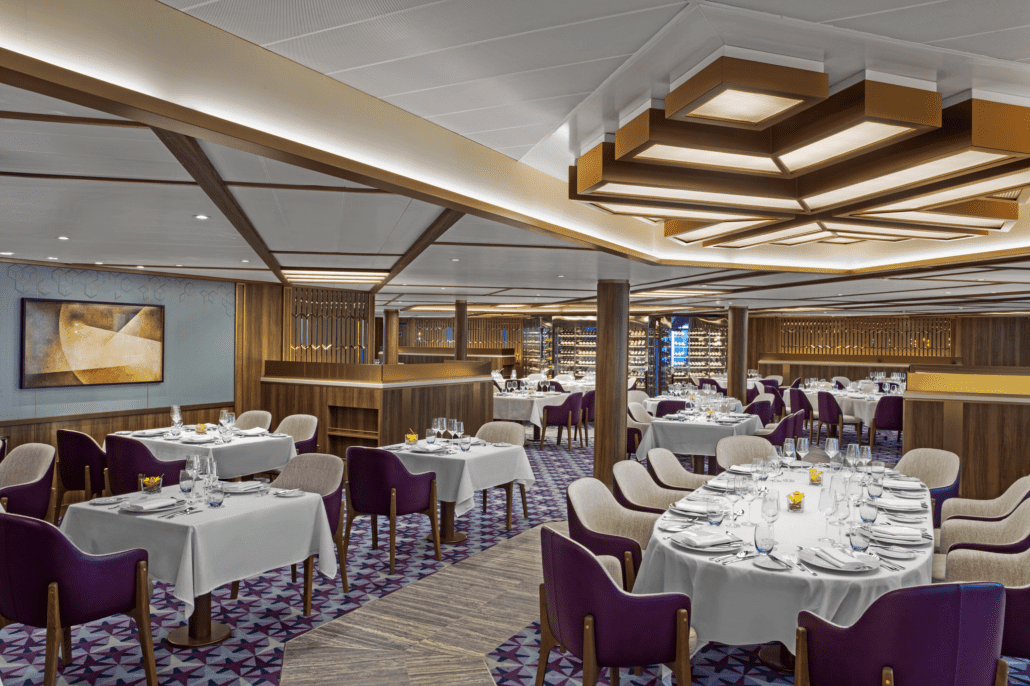 Colonnade
The casual Colonnade dining space on deck 5 takes inspiration from historic maritime design with a ceiling of riveted curved wood panels evoking the feel of the wooden hull of an early expedition ship, decorative metal plate details, wood flooring, and art displays of intricate nautical knots.
Buffet stations are dressed up with 3D textured tile and white stone countertops, and are set beneath a sleek copper ceiling for the feeling of a working kitchen. Guests are welcome to dine outside on the aft deck, home to an infinity-style pool and two hot tubs.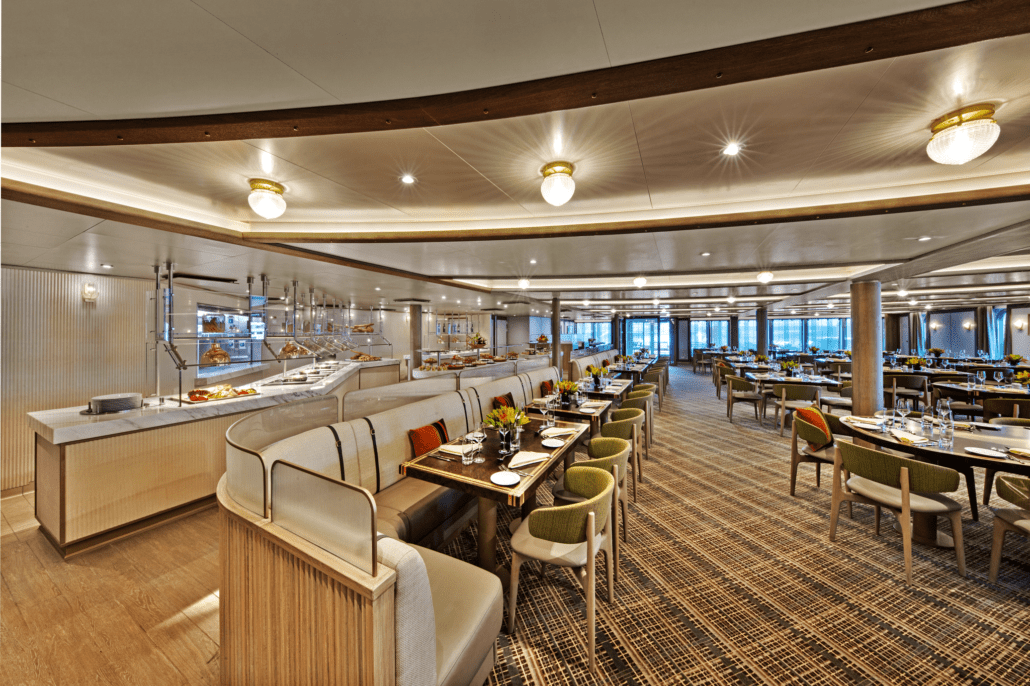 Seabourn Square
A communal space housing the concierge desk, guest services, and a café, Seabourn Square features intimate gathering spaces with lounge chairs by Tihany Design.
Riveted leather wall panels echo the handcrafted details of the furniture, and an overlapping circular patterned ceiling recalls the symmetrical composition of a compass. Extending to the aft deck, guests can grab a seat or utilize one of the fixed Swarovski telescopes to take in the views.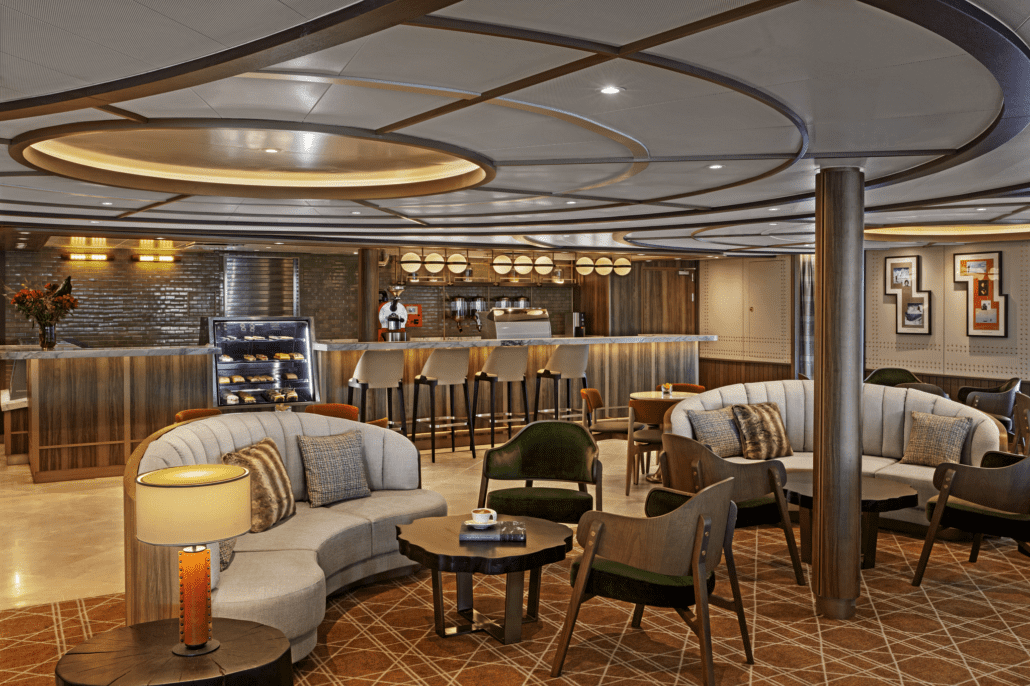 Constellation Lounge
The Constellation Lounge is the highest indoor viewing point on the ship, offering 270 degree views. The lounge's interior is an ode to constellations, with a dark blue and red palette accented by silver and bronze metals and intricate stone floors, as well as lighting that generates a star-like pattern across the ceiling.
A central bar is fashioned from faceted metal and stone, and is illuminated by a unique diamond-shaped lighting cove.
The Bow Lounge
Located on deck 6, the Bow Lounge provides the closest access to the water via the foredeck, making it the perfect spot to watch for marine life.
The lounge is designed to mimic elements of the captain's bridge, with expansive windows and interactive monitors displaying updated information about the day at sea. Large screens project live footage from a drone outside, and smaller touch screens offer a live map, weather information, and more.
Spa & Wellness
The ship's Spa & Wellness integrate the design concept of a contemporary "floating forest," with details such as a tree-inspired textured art mural, a light wood and bronze material palette, and reception done up with live wood features.
The fitness center and yoga studio areas include an open wall of floor-to-ceiling windows.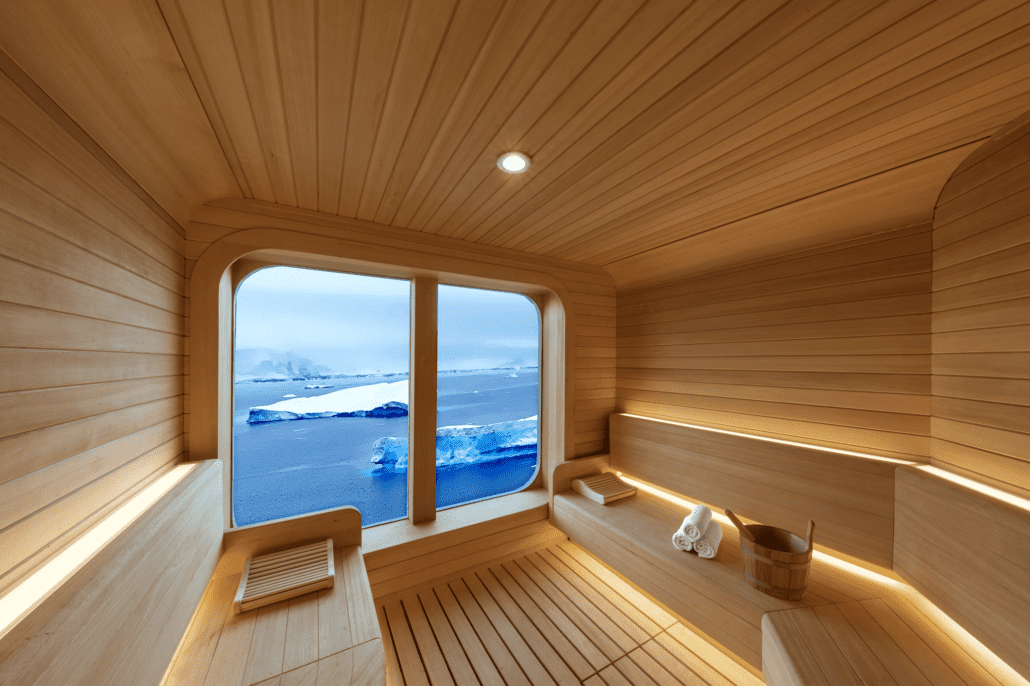 MORE: Cruise Line Details Dining And Bar Venues on Upcoming Caribbean-Based Ship
Guest Suites
Each of Seabourn Venture's 132 contemporary, oceanfront suites features thoughtfully-crafted furniture, tactile materials, and bespoke details that capture the timeless luxury of travel.
Parchment-inspired wall panels finished with digitally-printed wall laminate material and curvilinear arch design elements reflect bygone maritime craftsmanship. Custom bedside panels have toggle switches, an analog clock, and a foldaway reading lamp, while carpeting displays organic shapes and furniture with wooden frames, exposed rivet details, and bronze inlays.
Wool blankets are also custom-designed, and throws on couches are made of soft, sustainably-sourced cashmere.
The wardrobe is a "heat jacket" for drying outdoor parkas quickly, and spacious bathrooms have a separate shower and bathtub with bronze fittings.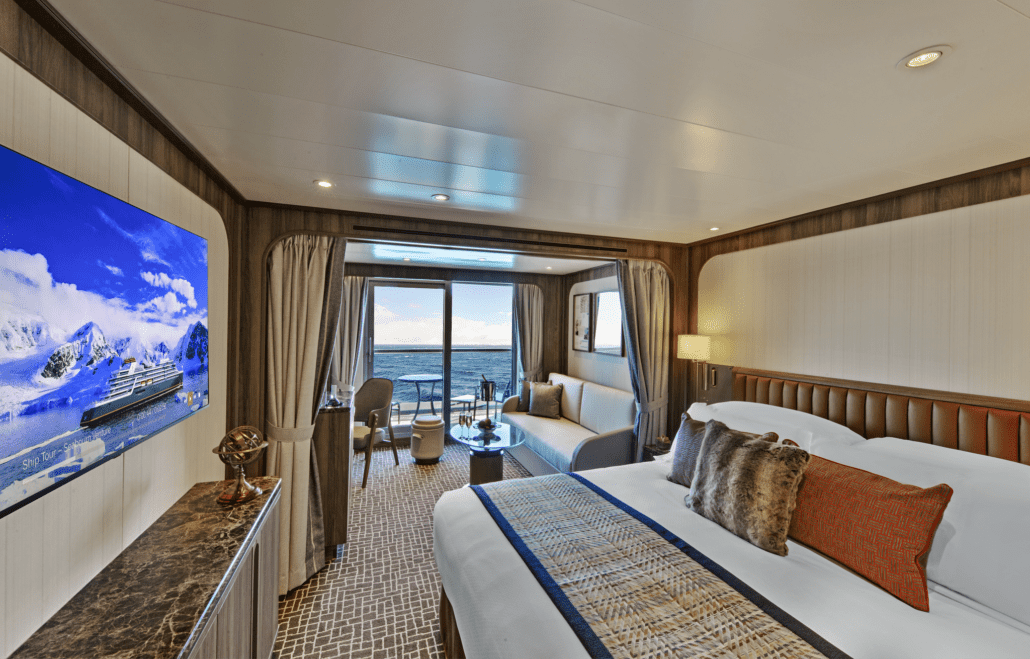 Itineraries
Seabourn Venture is the first of two new purpose-built expedition ships for Seabourn.
The ship will sail to a number of destinations in the Arctic, Greenland, Iceland, the Caribbean, Central America, Colombia, South America, Antarctica, the Amazon, and more. It was designed for diverse environments to PC6 Polar Class standards, and includes a plethora of modern hardware and technology that will extend its global deployment and capabilities.
Expedition activities on board are led by an expert 26-person team of scientists, scholars, naturalists, and more. Voyages include complimentary expedition offerings like Zodiac cruises, hikes, nature walks, scuba diving, and snorkeling, as well as optional extras like kayaking and exploring via one of the vessel's two custom submarines.
READ NEXT: 16 New Cruise Ships Debuting in 2023