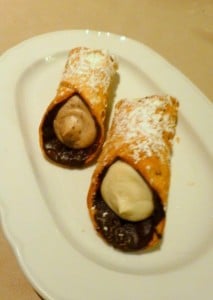 By Nancy Schretter
Dining experiences and food quality are a very important part of the vacation experience for many cruise passengers. On November's Wine, Dine & Music Cruise, guests will be able to sample some of the finest California Wine Country cuisine, wines from seven different wineries, and a variety of superb dining options available on Royal Caribbean's Brilliance of the Seas. All of this bounty comes at an exceptional value as well, with seven-night cruise rates starting at $699 per person for an oceanview stateroom plus taxes and fees.
This inaugural full ship charter of the beautiful Brilliance of the Seas features special menus and food tastings by top chef John Ash, the "Father of Wine Country Cuisine," and chef Catherine Venturini. John Ash is a world-famous chef, author, radio and television host, and cooking teacher. John is an adjunct instructor at the Culinary Institute of America and has been named "Cooking School Teacher of the Year" by the International Association of Culinary Professionals. Chef Catherine Venturini is the owner of Olive & Vine, a Sonoma-style restaurant in Glen Ellen, California. Catherine will be delighting foodie guests with her famed small plates and hors d'oeuvres.
Seven top flight California wineries will be onboard offering wine tasting opportunities hosted by either their winemaker or their wine club manager. These specially chosen wineries include Truett-Hurst, Dutcher Crossing, Sapphire Hill, Two Amigos, Robert Young, Flora Springs and Rodney Strong. In addition, mixologist Pam Bushling and Sommelier Deb Del Fiorentino will be educating guests as well. Wine, Dine & Music cruise guests can learn more about wine and spirits throughout their vacation at complimentary wine seminars and Introduction to Mixology classes. A one-day tour of several boutique wineries in Northern California can easily run $550 for a party of two. On the Wine, Dine & Music Cruise, guests can have a similar type of wine tasting experience included free of charge as part of their cruise.
In addition, guests receive a free special package that provides every stateroom with one bottle of wine per night from each of the seven wineries. If such a package was purchased separately on the Brilliance of the Seas, the price would be over $500 including gratuities. This special offering is free on the Wine, Dine & Music Cruise – providing even more value.
Food-loving passengers will also be able to enjoy the many dining choices available onboard the Brilliance of the Seas. In addition to choosing from delectable dishes in the complimentary main dining room, guests can try out some of Royal Caribbean's signature specialty dining venues including Giovanni's Table, the pan-Asian cuisine of Izumi, and Chops Grille. On this Wine, Dine & Music Cruise, John Ash will be offering some of his special creations on the Chops Grille menu for added enjoyment. Casual dining options at Rita's Cantina, the Park Café, Windjammer Café and Latte'tudes are also available to guests.
Guests seeking an outstanding culinary experience may wish to book Royal Caribbean's Chef's Table special dinner on the Brilliance of the Seas. This is a highly limited specialty dining option for 16 guests or less, and an additional fee applies. Dinner includes a five-course gourmet menu with special wine pairings. Reservations are strongly recommended and guests must be 21 or older to participate.
The Wine, Dine & Music cruise departs Tampa on November 9, 2013 and visits Grand Cayman, Cozumel and Costa Maya on its week-long sailing. Oceanview cabins start at $699 per person and balcony staterooms start at $1099 per person, plus taxes and fees. All of the ship's interior cabins are sold out at this time. Oceanview and balcony staterooms are booking quickly as well, so make your reservations soon. For more information, visit the cruise's website at www.winedineandmusiccruise.com.
Nancy Schretter is the Managing Editor of the Family Travel Network.
Photo credit: Nancy Schretter
Related articles