This year marks Disney Cruise Line's 25th anniversary and to celebrate, the entire fleet will feature special anniversary-themed food and drinks inspired by the shimmering seas.
The line will be serving a special 25th Disney Cruise Line Cupcake, which is comprised of a vanilla sponge cake topped with vanilla frosting, 25th chocolate décor, and shimmering sprinkles.
In addition, all of the sweet shops on each ship will also be offering up the Mickey Chocolate Sphere — a Mickey-shaped chocolate sphere adorned with the 25th anniversary emblem and filled with candy. Crack it open and enjoy!
At the ship's buffet, two classic desserts will be getting a Silver Anniversary at Sea upgrade. The 3 Layer Carrot Cake with lemon frosting will be adding 25th chocolate décor, while the Disney Cruise Line Anniversary Chocolate Marquise will feature rich chocolate truffle crème topped with 25th chocolate décor as well.
In the concierge lounge, the Chocolate Cream Cookie enrobes a chocolate cream cookie with dulce de leche filling into dark chocolate, and is decorated with the Silver Anniversary at Sea logo and shimmering sprinkles. Also in concierge, the Celebration Cupcake tops a red velvet sponge cake with vanilla frosting, shimmering sprinkles, and 25th décor.
Captain Minnie will be featured on a Vanilla Crisped Rice Treat offered at all Cove Café locations.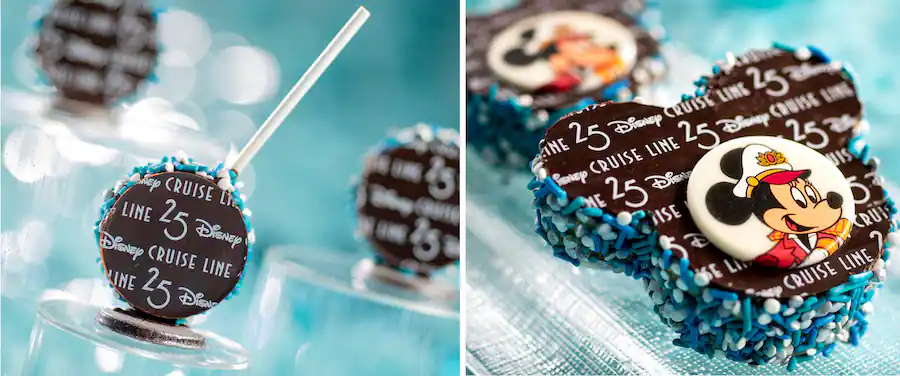 Signature desserts throughout the fleet will be getting anniversary enhancements. with a special 25th chocolate piece added to their presentation. At Palo, the classic Chocolate Soufflé with double chocolate sauce, vanilla crèmeanglaise, and vanilla bean gelato will also have a chocolate 25th anniversary piece.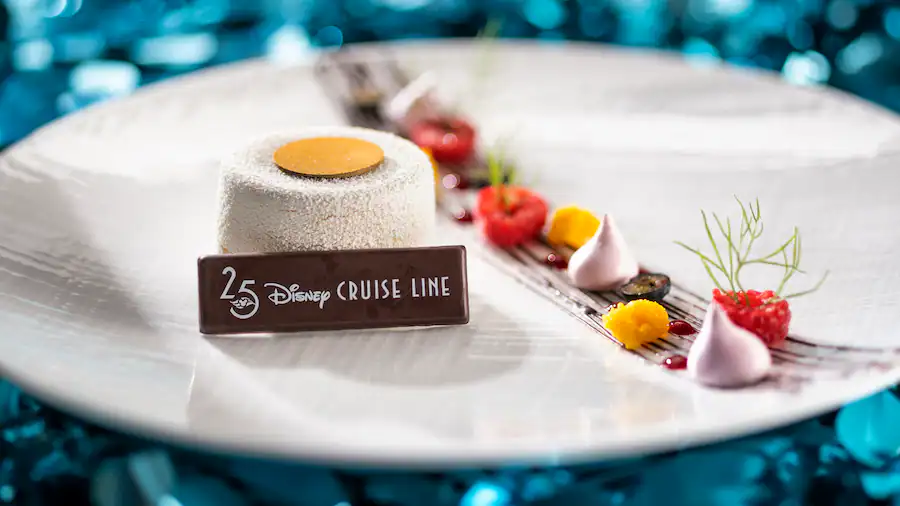 At Preludes and other beverage locations on board, guests can purchase a special Coca-Cola and Silver Anniversary at Sea bottle.
Select lounges across the Disney Cruise Line fleet will be serving the signature Jubilee by the Sea cocktail, which combines 818 Blanco Tequila, Luxardo Maraschino, and fresh lemon juice with a sparkly, silver dusting and a shimmering blue sugar rim. It'll come with a special bookmark detailing how to make the cocktail at home.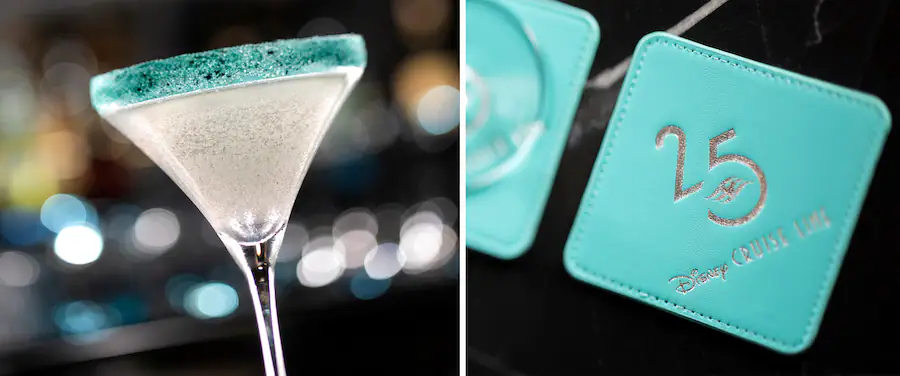 A specialty coffee mug with an anniversary design featuring the Disney Cruise Line fleet will be available for purchase — and buying one comes with a specialty coffee! Beer drinkers can also bring home a special keepsake — the 25th Anniversary Beer Mug sketched with the anniversary logo.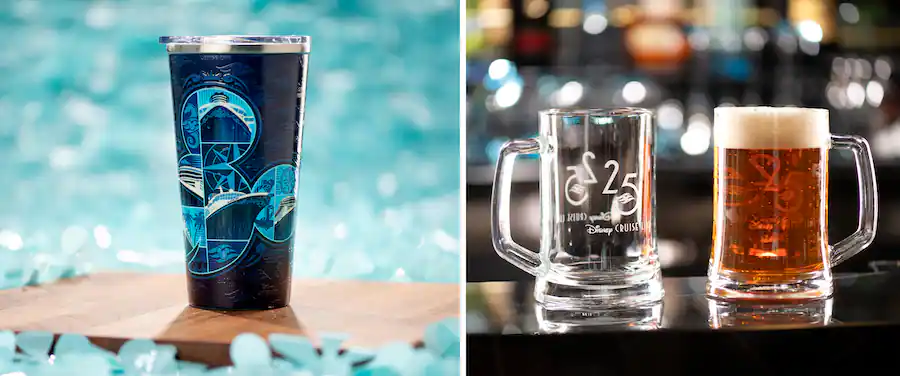 And finally, since no Disney celebration these days is complete without a popcorn bucket, a Silver Anniversary at Sea popcorn bucket showcasing all of the Disney ships will be available for purchase as well.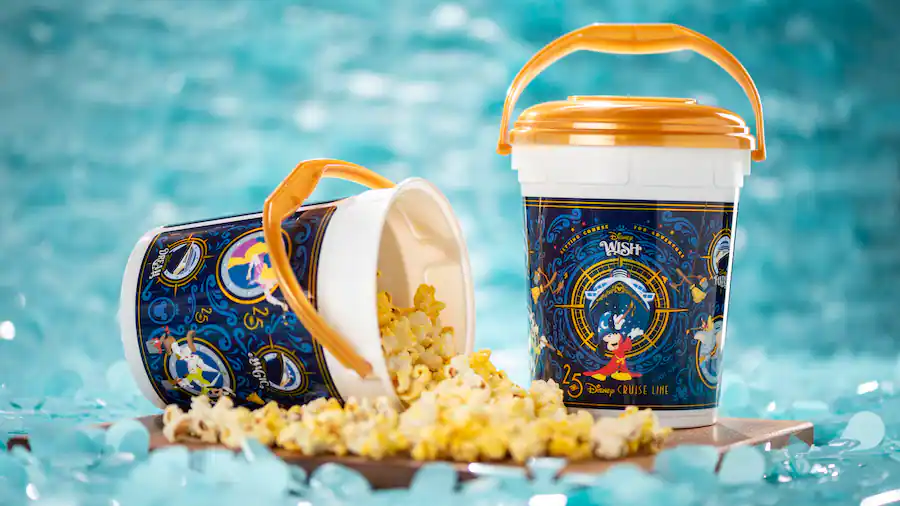 Disney Cruise Line's special 25th anniversary sailings will be on all five ships from May to September 2023. For more information on what these special voyages have in store, click here.