Tangled fans, take note: in addition to the new musical aboard Disney Magic that is based on the fairytale and animated film, there's another themed festivity on the same night aboard the ship.  O'Gill's Irish Pub transforms into the beloved movie's rustic tavern, the Snuggly Duckling.
The pub has a family takeover between the two Tangled shows in the evening, and then afterwards, it's adults only.  As everyone knows, Disney pays more attention to detail than anyone else I've ever seen.  Nothing is overlooked when it comes to this transformation.  There are "Wanted" posters hanging up around the bar (a la the Tangled bathroom area at Disney World), banners that say things like "Slug a Thug and Get a Free Mug (sorry all out of mugs!)," and a themed menu exclusive to Tangled night in the MDR.  They even cover the tables in the pub with a "wooden" looking covering to add to the worn tavern feel, and there may even be a hidden Mickey hiding there. 😉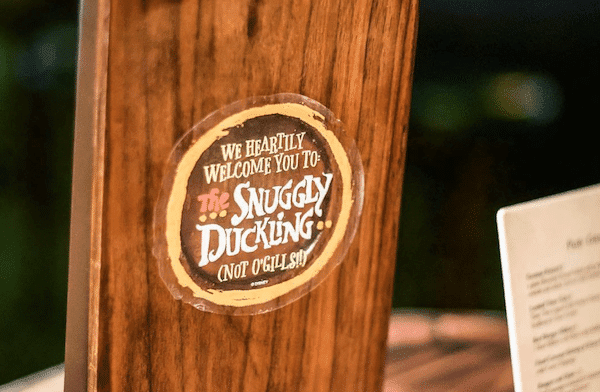 The pub crew wears attire appropriate for the takeover, and if you're in the mood for Bingo… I mean THUGO, you can play that for some Snuggly Duckling fun.
While the menu stays pretty similar, there are some differences when O'Gill's is The Snuggly Duckling.  It includes the usual bites, cocktails, beer, wine, champagne, whiskey, and scotch, but there's also some additions, like the Ayingerz Bavarian Dopplebock (aka The Ducking Dopple) and the Baja Frog (aka Axilla's Wrath).  The main dining room also gets in on the Tangled fun during this festive night.  There's a special dessert menu there, featuring Wanted Flynn Rider Mud Pie, and Rapunzel Lantern, which is lemon cheesecake with raspberry sauce.
If you find yourself on a cruise aboard Disney Magic, make sure you check out the Tangled show, and don't overlook this fun Tangled takeover in O'Gill's Irish Pub!
Photo courtesy of Disney Cruise Line and Kara VanRiel on Instagram.
Information courtesy of disneycruiselineblog.com. For more photos, click here.