Disney Cruise Line's Disney Dream has returned from its three-week dry dock in which exciting new enhancements were made onboard.  Headlining these enhancements are a new sweet shop, a new adults-only splash pool and deck, and two new interactive youth areas.
Here's a look at the new things in store for Disney Dream guests:
Star Wars Area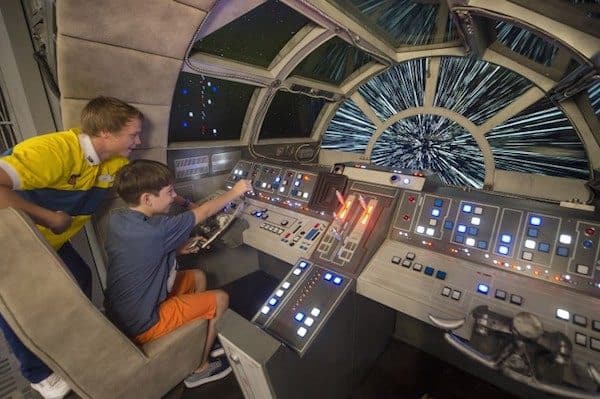 Open to ages 3-12 is a new area in the Oceaneer Club inspired by the Star Wars saga.  There's a new play area, Millennium Falcon, themed to look like the inside of a spaceship, where kids can do things such as assisting with navigation of the vehicle, trigger lightspeed jumps, and battle good versus evil.
In Millennium Falcon, kids can do Star Wars themed crafts, play themed games, and do activities.  They can also watch episodes of Disney XD's Star Wars Rebels on a large screen and play at gaming stations.
There is also a shipboard version of the Jedi training experience, where kids can lightsaber moves from a Jedi master.
Disney Infinity Interactive Space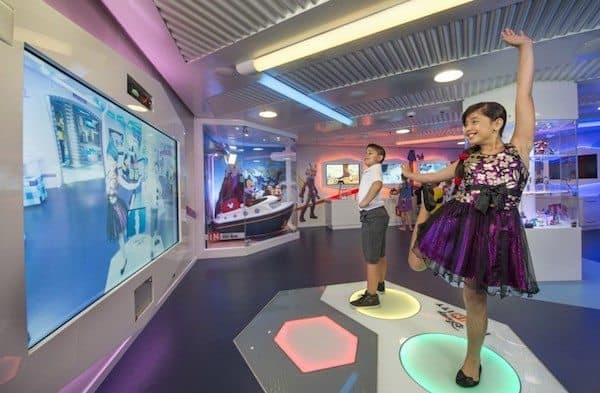 Also in the Oceaneer Club is a high tech interactive space based on the Disney Infinity video game.  In the space, kids will experience a whole new way of playing together with immersive activities and virtual experiences.  Customized on-screen adventures will bring characters from across the Walt Disney Company to life.
The complete set of Disney Infinity characters will be on display to play with and for inspiration, and kids visiting the special room on the ship will be able to unlock exclusive Disney Cruise Line content that they can continue to enjoy even while playing at home.  Special activities will bring gameplay to the real world, where kids can take the place of characters for a group gaming experience.  An interactive floor lights up in response to the gameplay on the screen, allowing kids to be immersed in the Toy Box.
Specialty Sweet Shop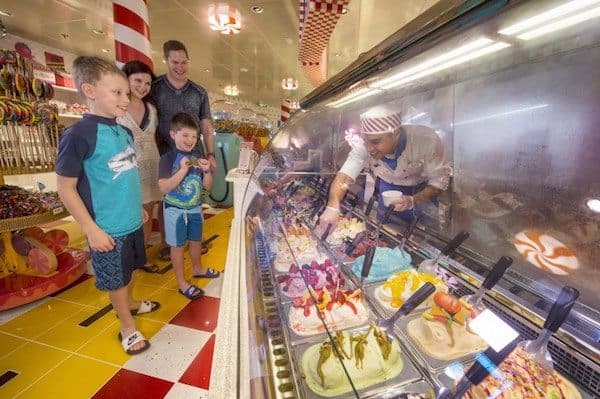 The Disney Dream welcomes a new sweet shop onboard that's sure to satisfy everyone's sweet tooth.  Vanellope's Sweets and Treats brings handmade gelato and ice cream, an assortment of candy, and novel treats to the Dream that will be available to purchase.
Based on the film Wreck-it Ralph, the shop is designed to resemble the whimsical candy land of the Sugar Rush race car game.  The decor nods to the film with a race track, gas pump-style gumball dispensers, Vanellope's race car, and King Candy's throne.
New flavors of ice cream and gelato are offered daily, along with a selection of toppings.  Signature sundaes include Vanellope Von Schweetz's Race Kart Sundae, served in Vanellope's race car, and Ralph's Family Challenge Sundae, presented in a trophy cup and made with eight scoops of ice cream, meant for the entire family to share.
Bibbidi Bobbidi Boutique Salon
A very popular salon from Disney's theme parks is now at sea aboard Disney Dream, Bibbidi Bobbidi Boutique.  It aspiring knights and princesses ages 3-12 to be transformed into royalty with the help of a fairy godmother in-training.  On pirate party night, the boutique is transformed into The Pirate's League where kids will be transformed into swashbuckling pirates.
Adults-Only Retreat
Exclusively for adults, deck 13 forward includes a new water feature, Satellite Falls, a circular splash pool with benches and a gently falling rain curtain.  On this deck, adult guests can soak up the sun in lounge chairs and relax in the shade under canopies in the peace and quiet.
Disney Dream currently sails three and four-day cruises to the Bahamas.
Source: Disney Cruise Line