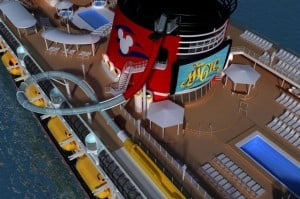 By: Sarah Phillips
There's magic in the air with Disney Cruise Lines. Or sea in this case, as Disney announces new experiences and spaces for its very first cruise ship, the Disney Magic. After a dry dock from September 7 – October 10, 2013 in Cadiz, Spain, the Disney Magic will feature new experiences and adventures from stem to stern:
Kids and Teen Spaces
Marvel's Avenger's Academy – Based in the Oceaneer Club, this  multi-day, immersive entertainment experience gives kids a chance to interact with their favorite Avengers and unleash their inner super hero
Andy's Room – Disney-Pixar's 'Toy Story' comes to life in this new space and includes a larger-than-life Mr. Potato Head, a giant version of the lovable piggy bank, Hamm, and a Slinky Dog slide
Pixie Hollow – A magical forest setting home to Tinker Bell and her fairy friends serves as a costume closet where kids can create crafts
Mickey Mouse Club – Covered in red, yellow and black colors, this club offers a place to craft and play games
Disney's Oceaneer Lab – Explore, play, create, dream and do highlight this pirate-themed area complete with an animator's studio, a pirate workshop and lab
It's a Small World Nursery – Disney Magic's youngest cruisers get their own space inspired by a Disney classic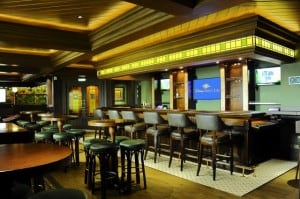 Adults Only
After Hours – A nighttime adult entertainment district, this replaces Beat Street and includes  an all-new lineup of clubs with venues for dancing, comedy, music and variety shows
Fathoms – Special effects, lighting and sound create different atmospheres in this club designed to celebrate the sea
Keys  – For something more low key, this piano bar and lounge provide a refined retreat
O'Gills – An Irish pub and sports bar broadcasting live sporting events
Senses Spa & Salon – The spa is being expanded and redesigned with a sleek and contemporary style – Chill Spa will also feature treatments specially for teens 13-17
Splashtacular Fun
Aqua Dunk – A high-thrill 3 story water slide with a near-vertical launch sending guests through a ride that extends 20 feet over the ship's side
Aqua Lab – 1,800 square feet of an interactive water playground with pop jets, geysers and bubblers
Nephew's Splash Zone – Donald Duck's mischievous nephews (Huey, Dewey and Louie) highlight this toddler splash zone
 Disney Dining
Animator's Palate – The popular restaurant gets two new shows  – 'Drawn to Magic' and 'Animation Magic' featuring popular Disney and Disney-Pixar characters as well as animation drawn by guests
Carioca's – Replacing Parrot Cay, this new restaurant based on vibrant Rio de Janerio will be 'fun by day, elegant by night'
Cabanas – A 'Finding Nemo,' Australian themed casual dining experience, Cabanas replaces Topsider  Buffet while adding more inside space and seating
Palo – A modern makeover for this popular restaurant includes new stylish fixtures, glass artwork and new stone floors
Ship Changes
Grand Atrium – Setting the scene for the Disney Magic, this 3-story atrium recalls the days of early 20th century ocean liners and features a revamped 'Helmsman Mickey,' hand-tufted, custom-made carpet, opulent furnishings and an art deco atrium chandelier
D Lounge – Family-friendly games, shows, dances and activities for all ages highlight this color and contemporary space replacing Studio Sea
Staterooms – Bed frames are elevated to offer more under-bed storage and bathrooms will include Disney's split-bath feature
After dry dock, the 84,000-ton Disney Magic will offer seasonal sailings from Miami and Port Canaveral, Florida; San Juan, Puerto Rico; Venice, Italy and Barcelona, Spain.
Photos: DCL
Subscribe to our Cruise Updates.
Related articles