The characters we all know and love from the movie Tangled are enchanting audiences once again.  This time around, they're part of a Disney Cruise Line stage spectacular aboard Disney Magic – the first time the film has been adapted for the stage.
"Tangled: The Musical" immerses audiences in Rapunzel's world through lavish numbers and captivating music.  There were three new songs created exclusively for the show by composer Alan Menken and lyricist Glenn Slater, that compliment the score from the film, along with favorites like "I've Got a Dream," "When Will My Life Begin," and "I See the Light."
The show stays true to the film's storyline, with just a few special twists to add to the excitement of the live stage production.  The story follows the adventure of Rapunzel as she escapes her tower and the clutches of Mother Gothel, who wishes to keep Rapunzel a secret from the outside world.  Rapunzel becomes friends with the bandit Flynn Rider and together they face thugs, ruffians, and develop a romance on an exciting journey filled with Disney whimsy that will delight audiences of all ages.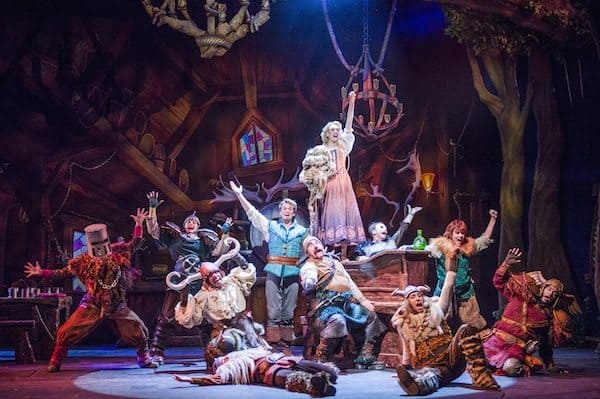 Elaborate costumes, realistic puppetry, and stunning set designs transform the Walt Disney Theatre into a whimsical Bavarian kingdom, immersing audiences in Rapunzel's story.  Maximus the guard horse represents a new pedigree in puppetry, as his exaggerated demeanor becomes even more comical through the talents of the performer within.
Set designs transport audiences to locals from the fairy tale such as Rapunzel's tower, the Snuggly Duckling tavern, a brightly adorned kingdom town, and the lakeside setting of the iconic floating lanterns scene.
"Tangled: The Musical" premiered aboard the Disney Magic during the November 11 Bahamian sailing.  The ship will continue to sail four-night Bahamas and five-night western Caribbean cruises from Miami through the new year.