Disney Cruise Line recently announced details on its newest ship, Disney Wish. When it debuts in 2022, it will be ten years since Disney came out with a new ship — with Disney Fantasy having arrived onto the scene in 2012.
In the spirit of showcasing some of the beautiful renderings that Disney Cruise Line has provided all in one place, we thought we'd put together this tour of some things we know about Disney Wish so far.
First, we'll start with a classic exterior aerial image. As is the case with all of Disney's vessels, Wish will feature a classic ocean liner-esque black exterior, with red and yellow accents a la Mickey Mouse.
Did you know that before Disney Cruise Line launched, it had to ask special permission from the Coast Guard to use yellow lifeboats instead of the standard orange? That was to keep with the Mickey Mouse color palette. Thankfully, the Coast Guard said yes!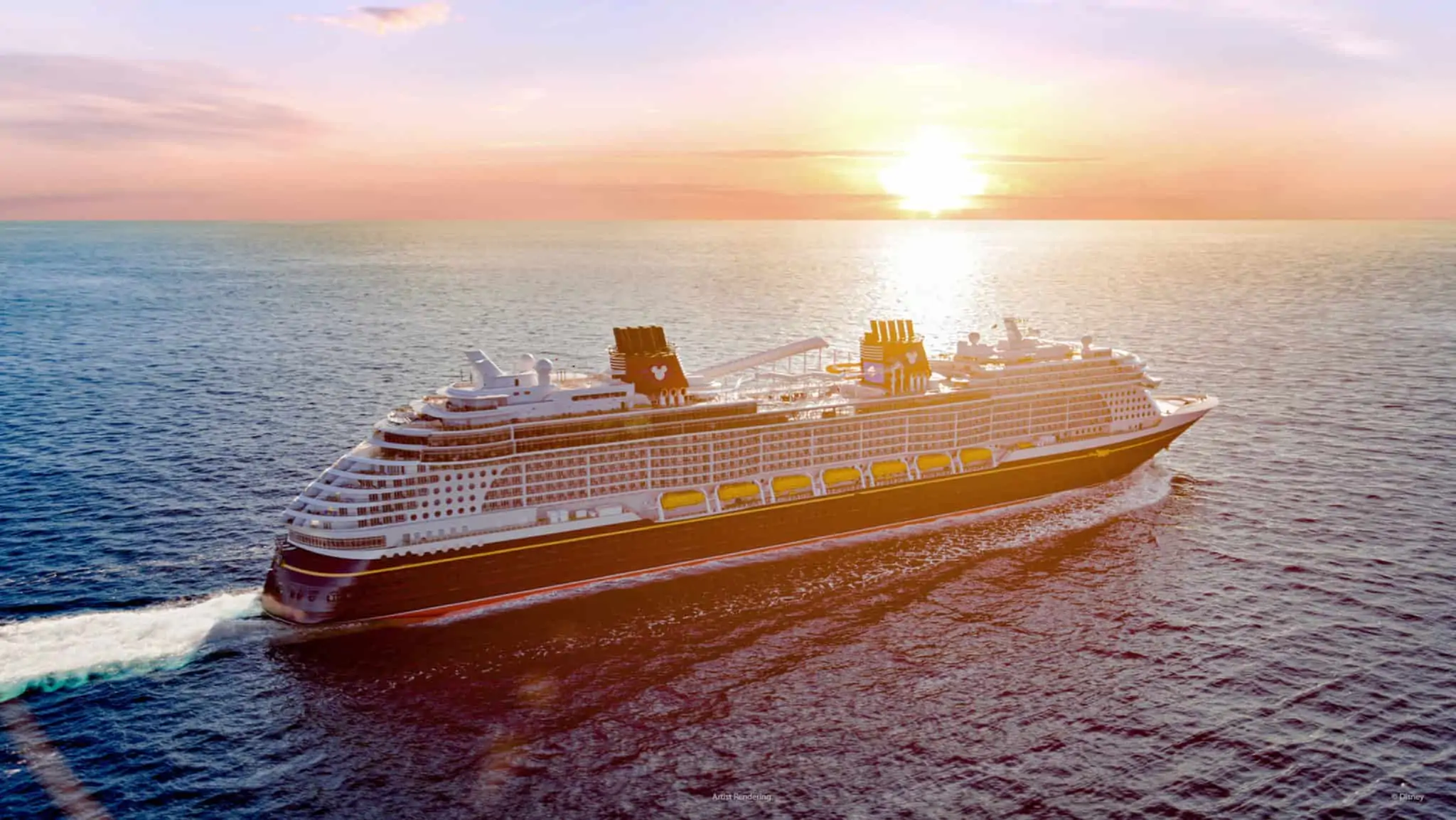 Next, let's move onto a rendering that you've probably already seen before, as it's one of the very first images Disney released of the ship! But in case you haven't, here's the Grand Hall atrium. The best part in my opinion? A secret slide with a hidden door can be found here, and it'll lead straight down into the kids-only area called Oceaneer Club.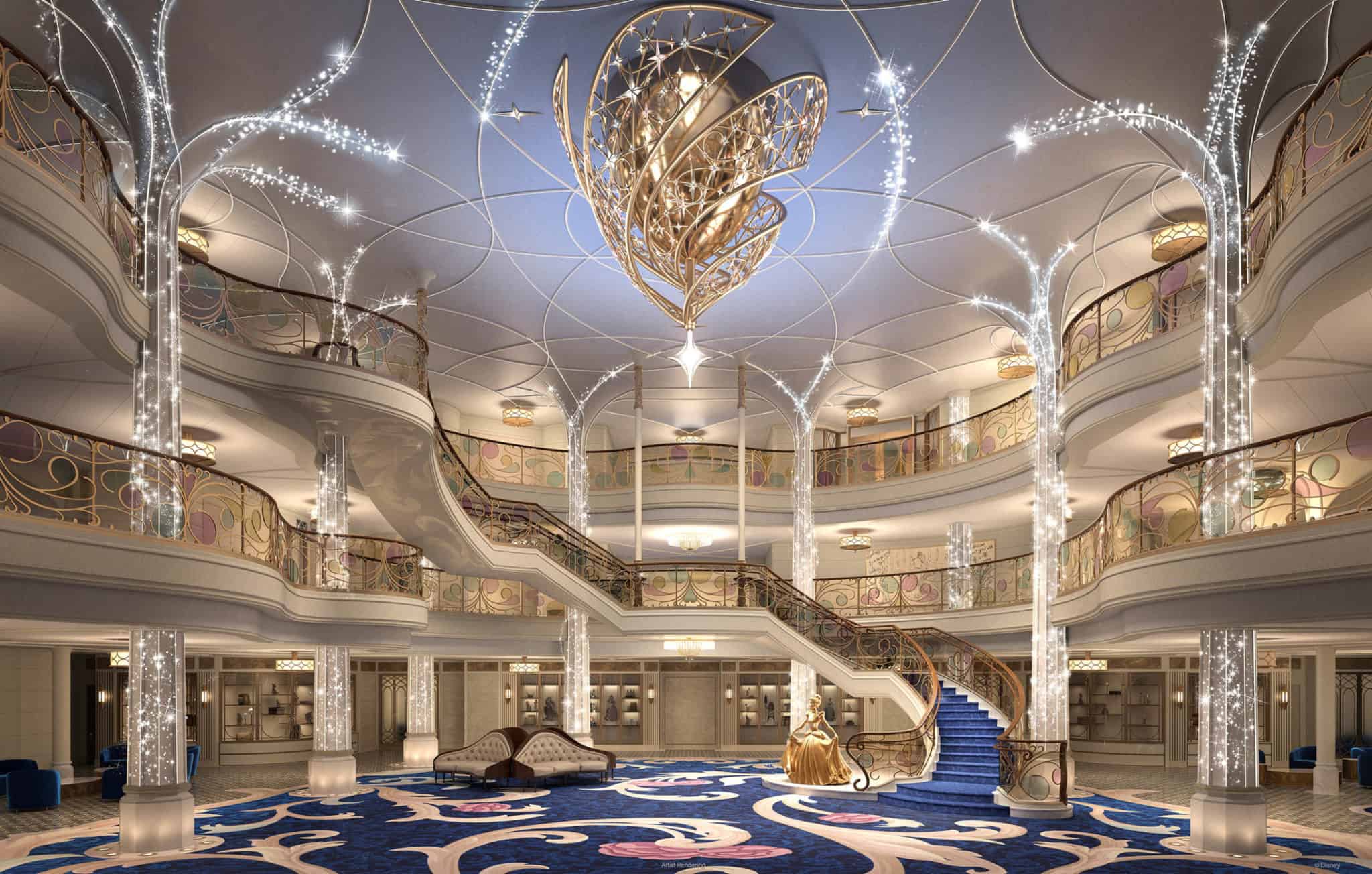 Speaking of Oceaneer Club, let's take a look at the themed spaces that will be found there. Up first is the Fairytale Hall. There, kids can do art projects at Rapunzel's Art Studio, read in Belle's Library, and unlock their icy powers at Anna and Elsa's Sommerhus.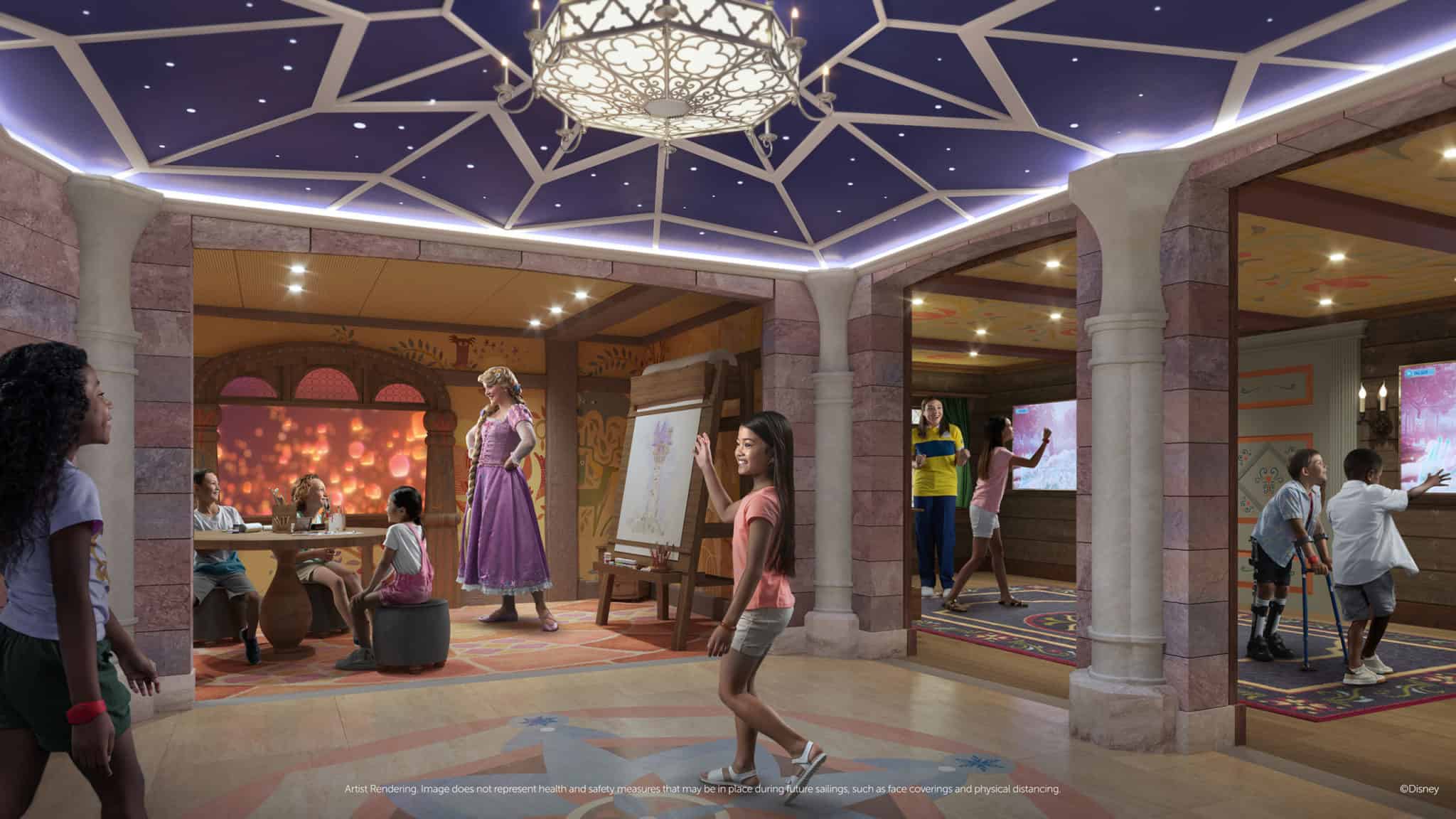 Another space in the club will be Marvel Super Hero Academy, where young recruits can train to be the next generation of Super Heroes.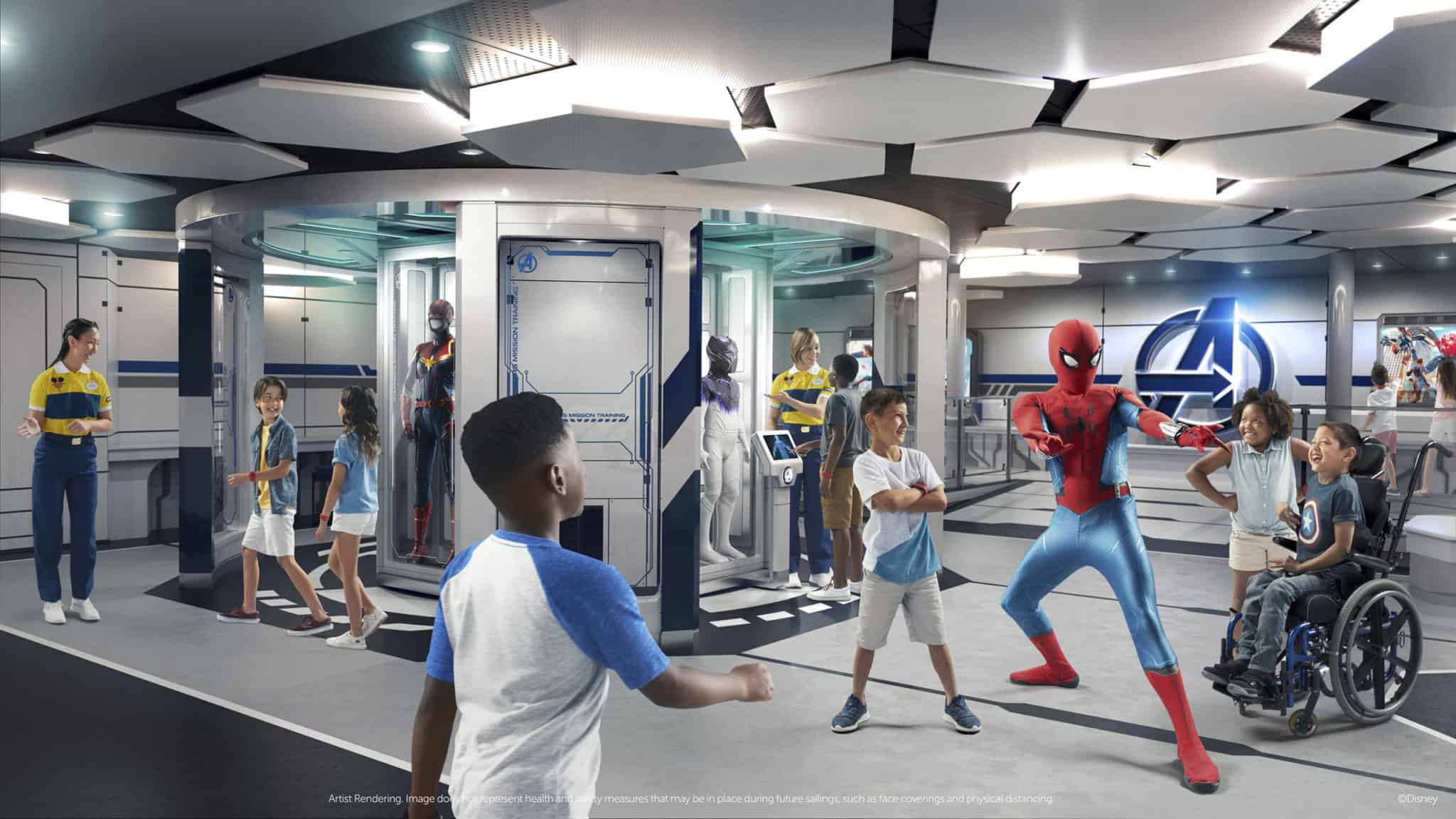 Last, but certainly not least in the Oceaneer Club (in fact, this is probably my favorite and I wish I was a kid again to experience it!) is the Walt Disney Imagineering Lab. There, kids will discover the secrets of Disney Imagineers through hands-on activities and experiments. Kids will even be able to create their own rollercoaster through the Ride Studio, then hop into a ride vehicle to virtually experience their creation.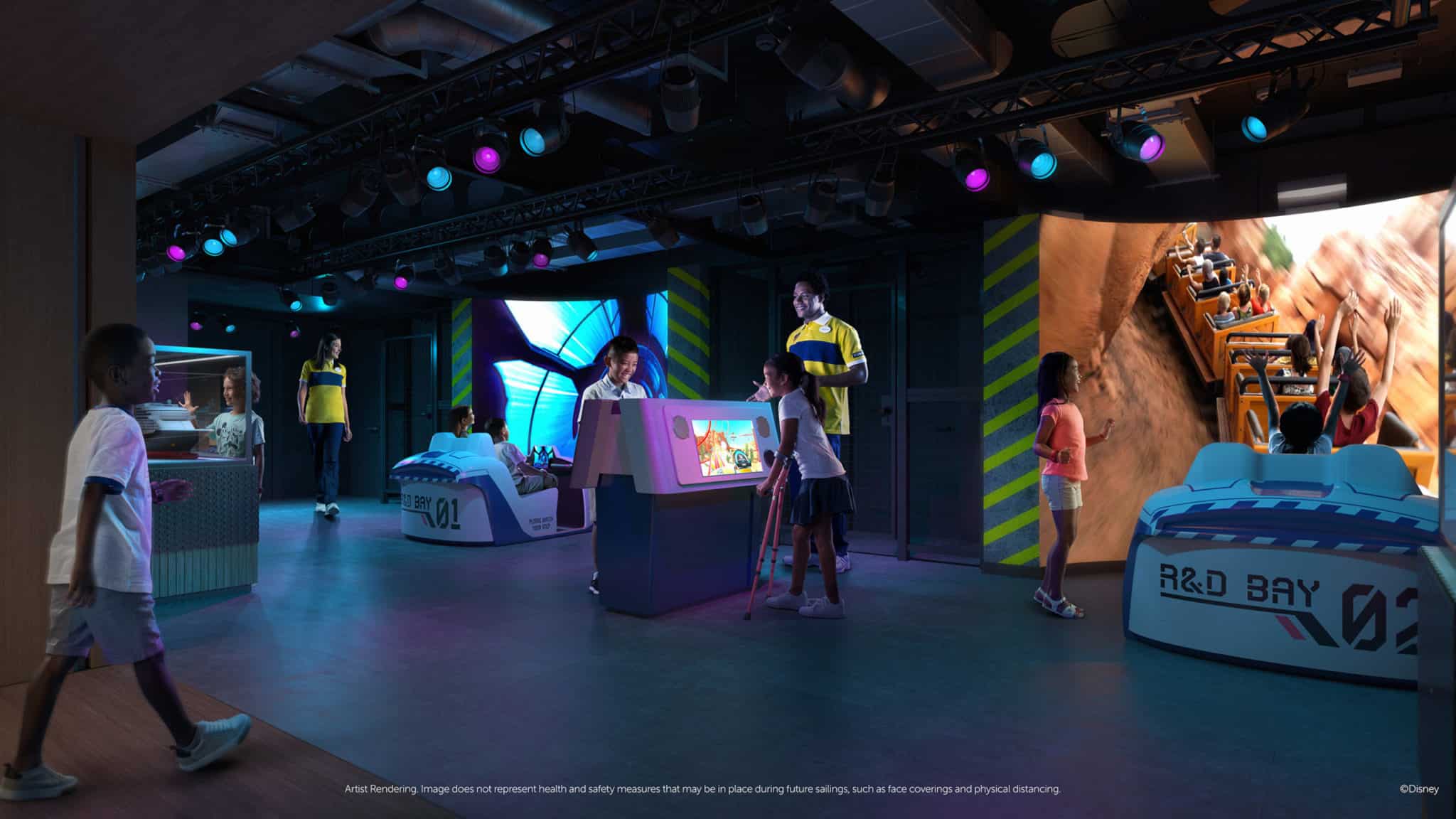 Let's move onto the main dining rooms aboard Disney Wish. Like the other ships in the fleet, Wish will feature rotational dining, meaning guests will be on a rotating schedule that allows them to experience all three main restaurants throughout the cruise.
First up is 1923, an elegant venue named for the year The Walt Disney Company was founded. The space will combine classic Hollywood glamour with a dash of Disney whimsy, and feature over 1,000 drawings, props, and other tools of the trade that provide an inside look at the evolution of Disney animation.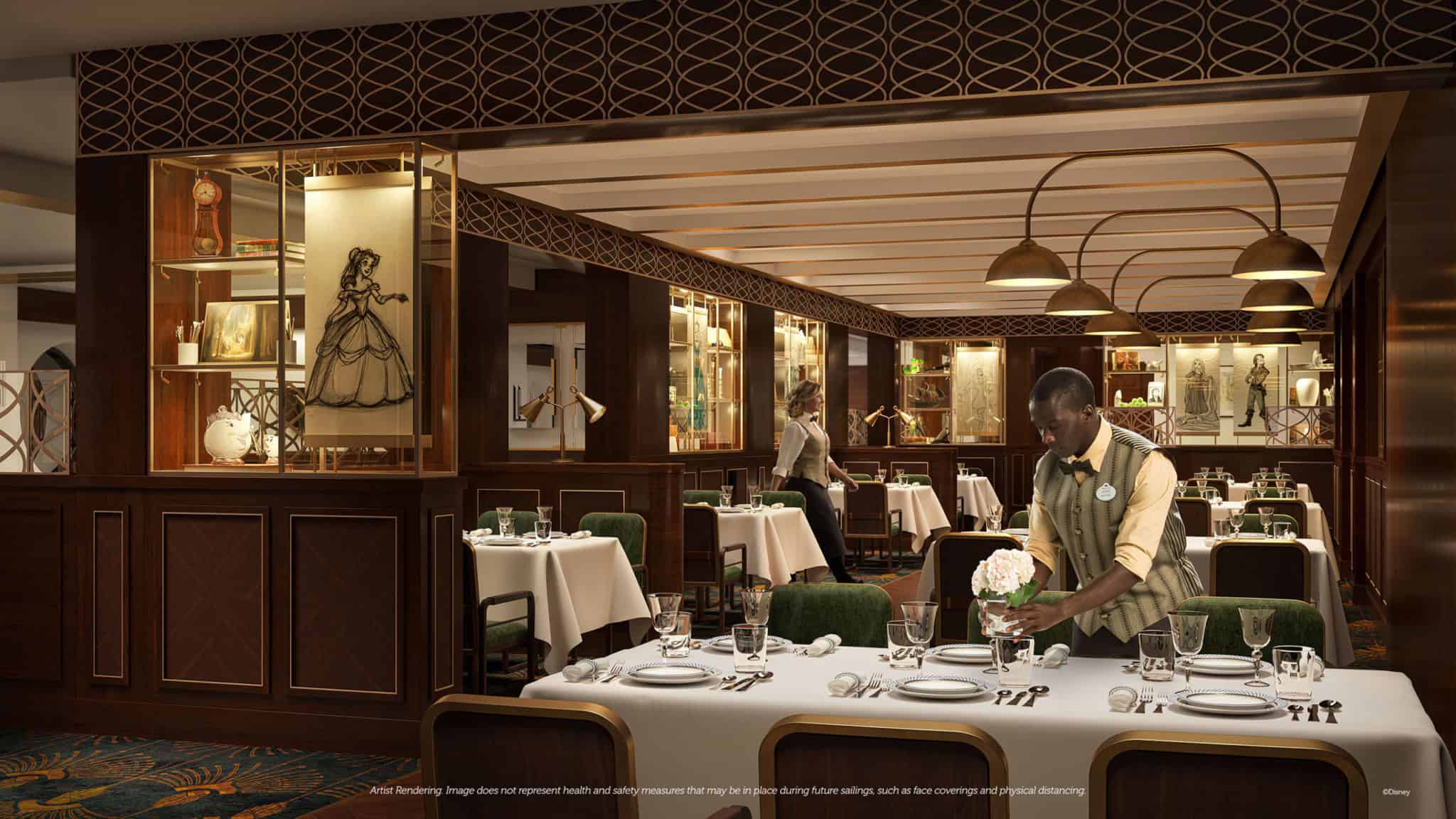 Another main restaurant will be Arendelle, a Frozen Dining Adventure. Here, guests will be invited to attend a royal party celebrating the engagement of Queen Anna and Kristoff, and enjoy live musical performances as well as activities at the table.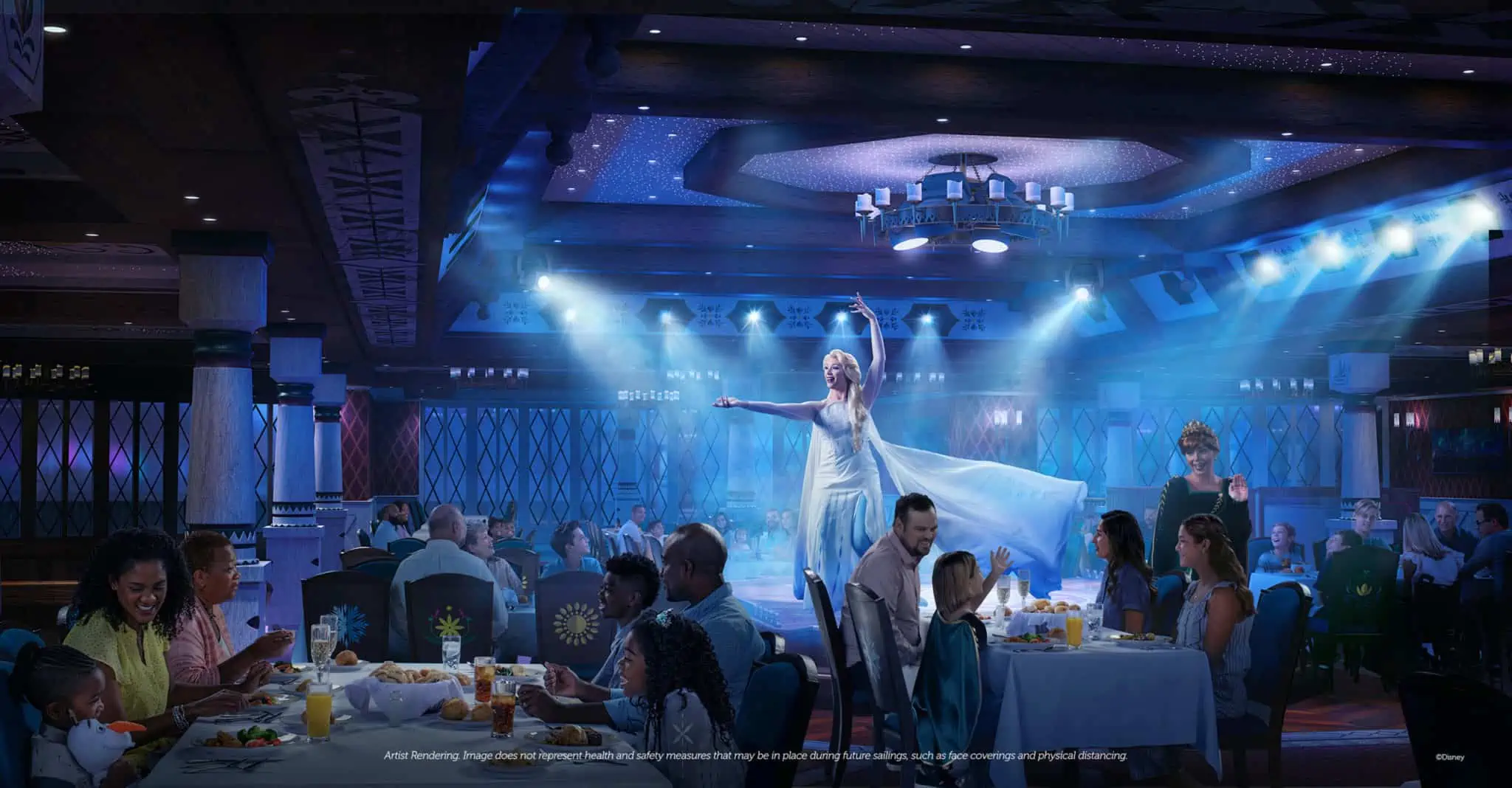 Lastly, Worlds of Marvel will be what Disney describes as a "cinematic dining adventure," where passengers will play a role in an action-packed Avengers mission that unfolds around them. The restaurant will take patrons on a flavorful tour of the real and fictional settings of the Marvel universe, with dishes inspired by African Wakanda, Eastern European Sokovia, and the Avengers' home base of New York City.
Disney Cruise Line's popular AquaDuck water coaster will be getting an upgrade onboard Disney Wish, and be called AquaMouse. The fun upper deck attraction will include its own storyline called "Port Misadventures," told through show scenes as well as lighting and audio effects. At the coaster's conclusion, riders will be treated to a sweet sendoff message from Minnie and Mickey.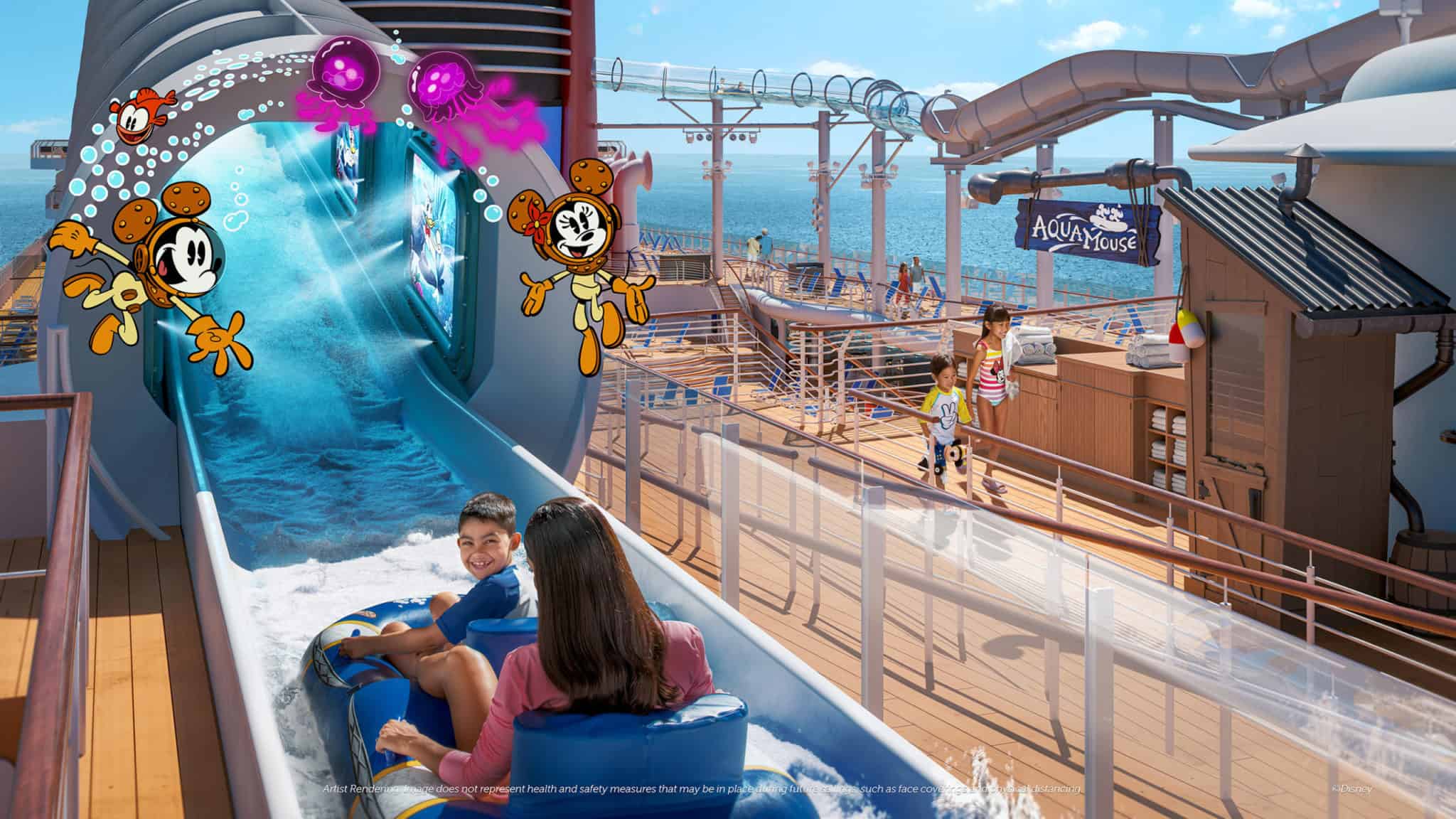 Now let's take a look at a great spot to relax on the ship. The adults-only Quiet Cove sundeck area will feature an infinity pool for the first time on Disney Wish. And as before, the space will also include the popular Cove Bar and a redesigned Cove Café.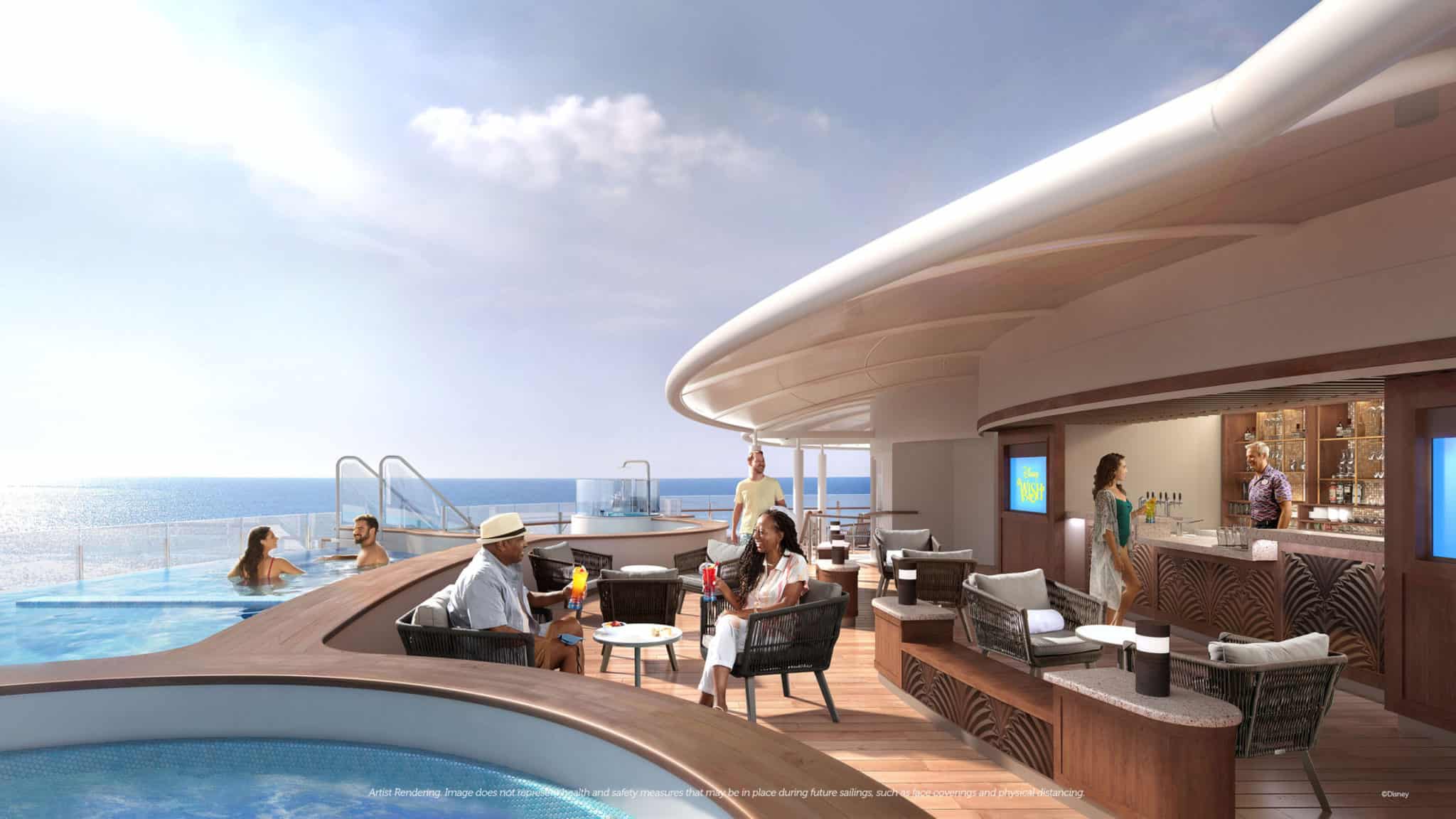 Staterooms on Wish will feature an updated color palette while still offering features that families love including the pull-out couches, pull-down beds, and privacy curtains. 70 percent of the cabins will include balconies, and many will also include the very-popular split bathroom concept — where one side has a toilet and sink, and the other has a shower and sink.
Cabins will also feature stunning murals that capture the essence of Disney stories both classic and contemporary.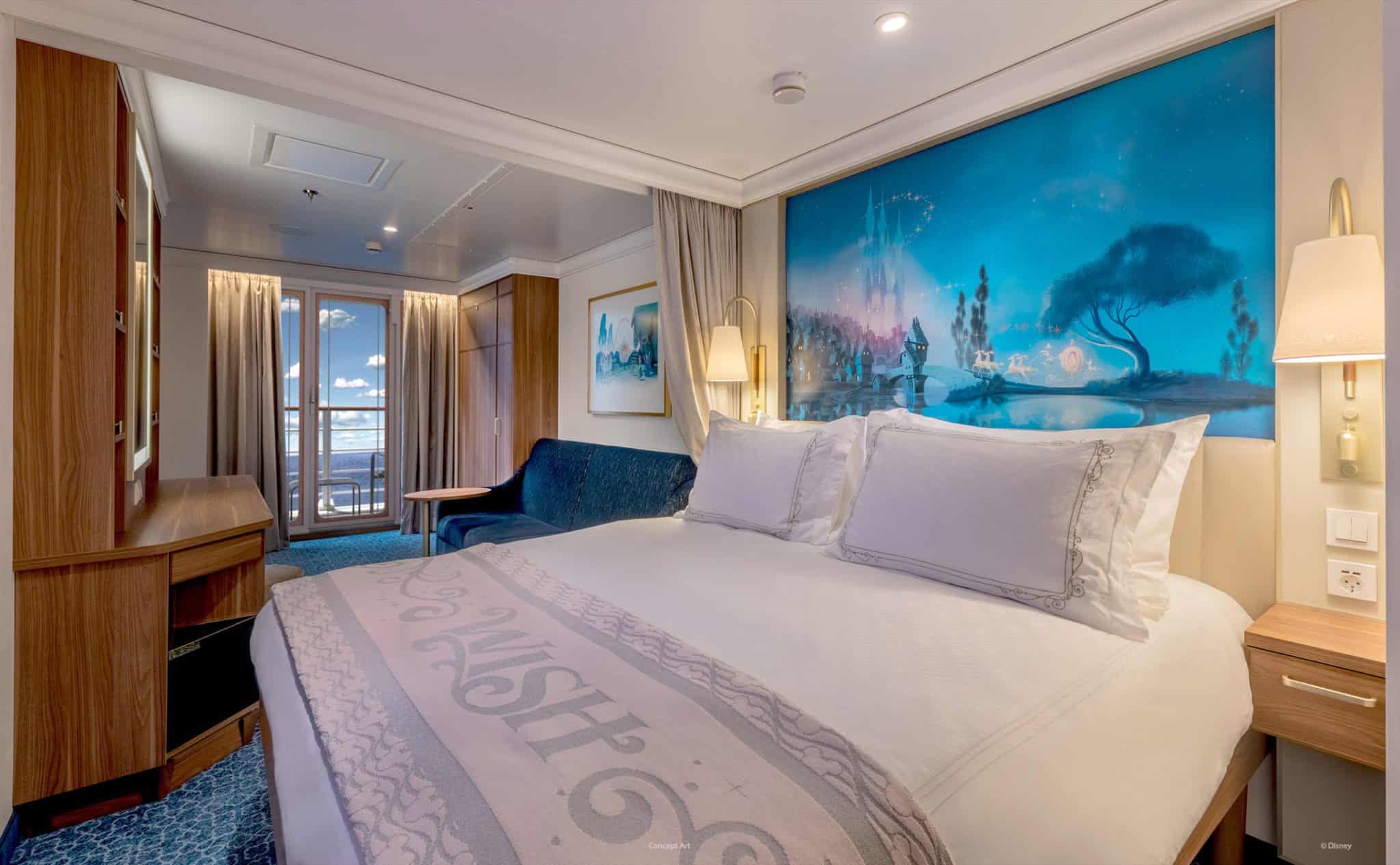 Now that we've talked about standard cabins, it's time to discuss the most luxurious accommodation on the entire vessel — the Disney Wish Tower suite. This nearly 2,000 square foot suite has been inspired by Moana, and will feature a children's room, a library, two bedrooms, and a whopping 4.5 bathrooms. And get this — it will be in the ship's forward funnel. Yes, you read that right! Below are two gorgeous renderings of the space.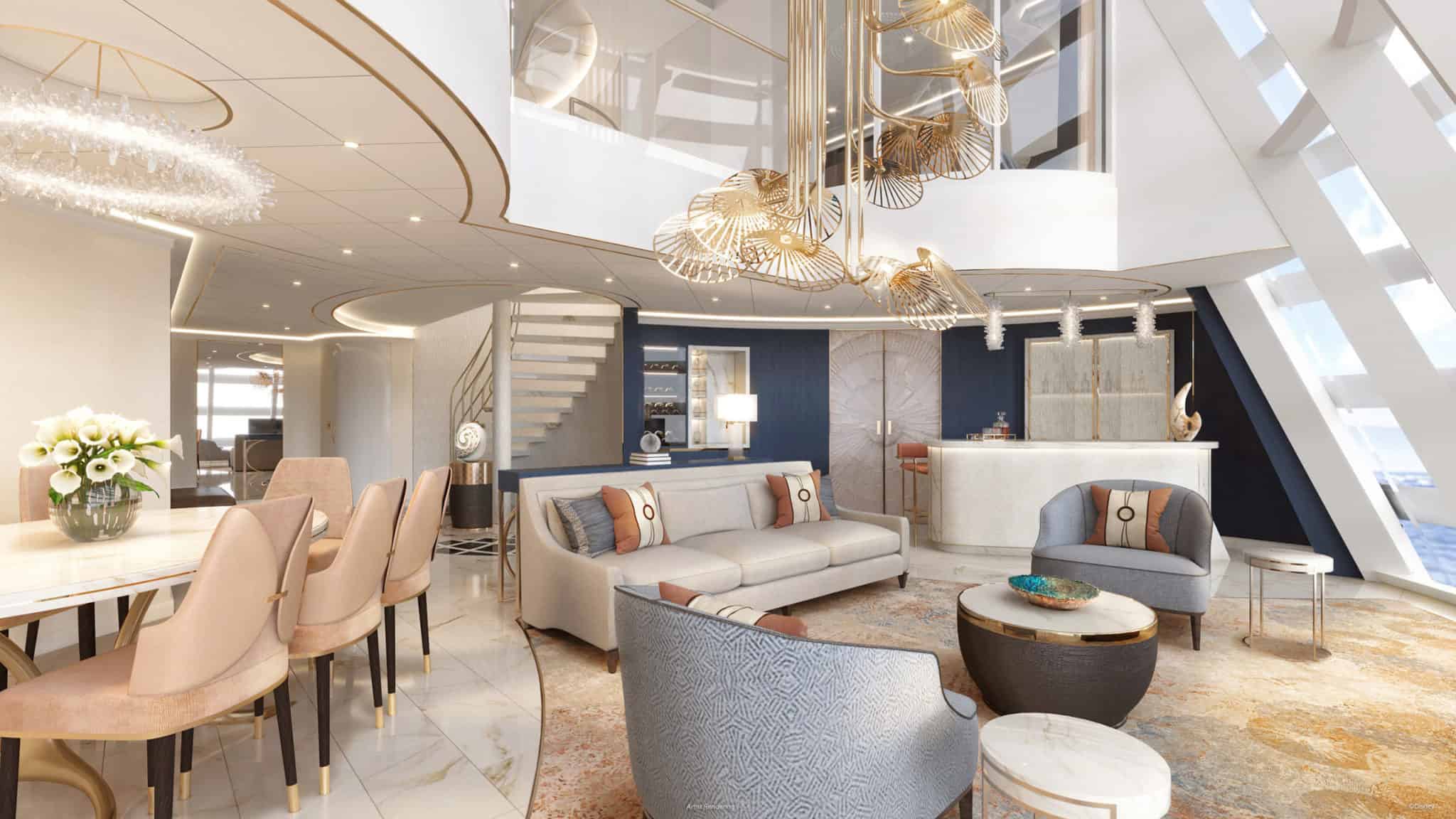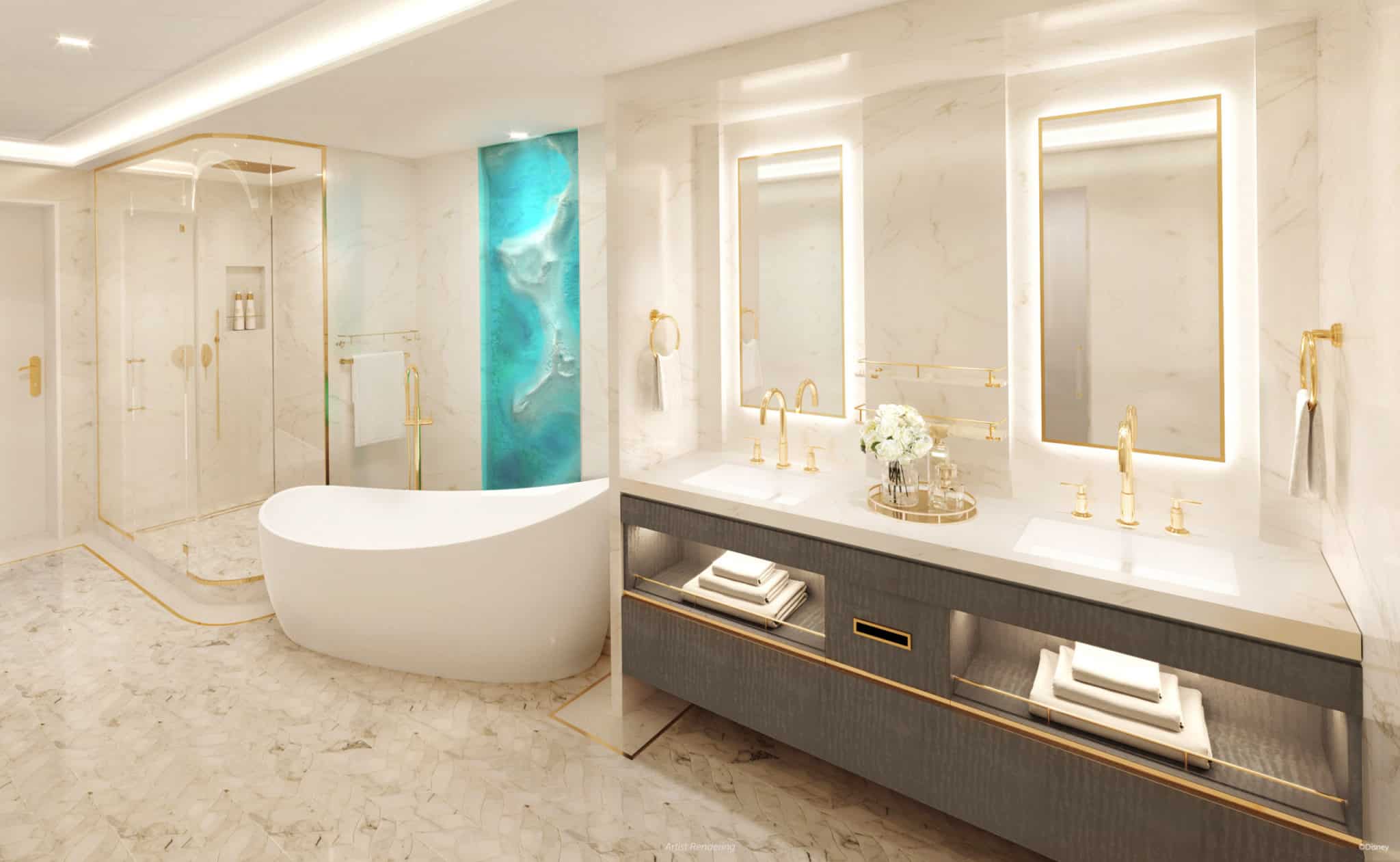 READ MORE: Disney Wish to Feature a Moana-Inspired Suite in the Funnel
Moving into some bars, one of the coolest things that's been announced about this ship so far has to be the Star Wars: Hyperspace Lounge. It is set on a spaceship, and a large screen behind the bar acts as a window so you can see where you are. Throughout the day, the spaceship visits various planets, and you'll even see some familiar space vehicles fly by along the way. The experience will be amplified by surround-sound audio and a holotube that presents holographic models of nearby ships.
And of course, the bar will offer tasting experiences and cocktails inspired by the world of Star Wars.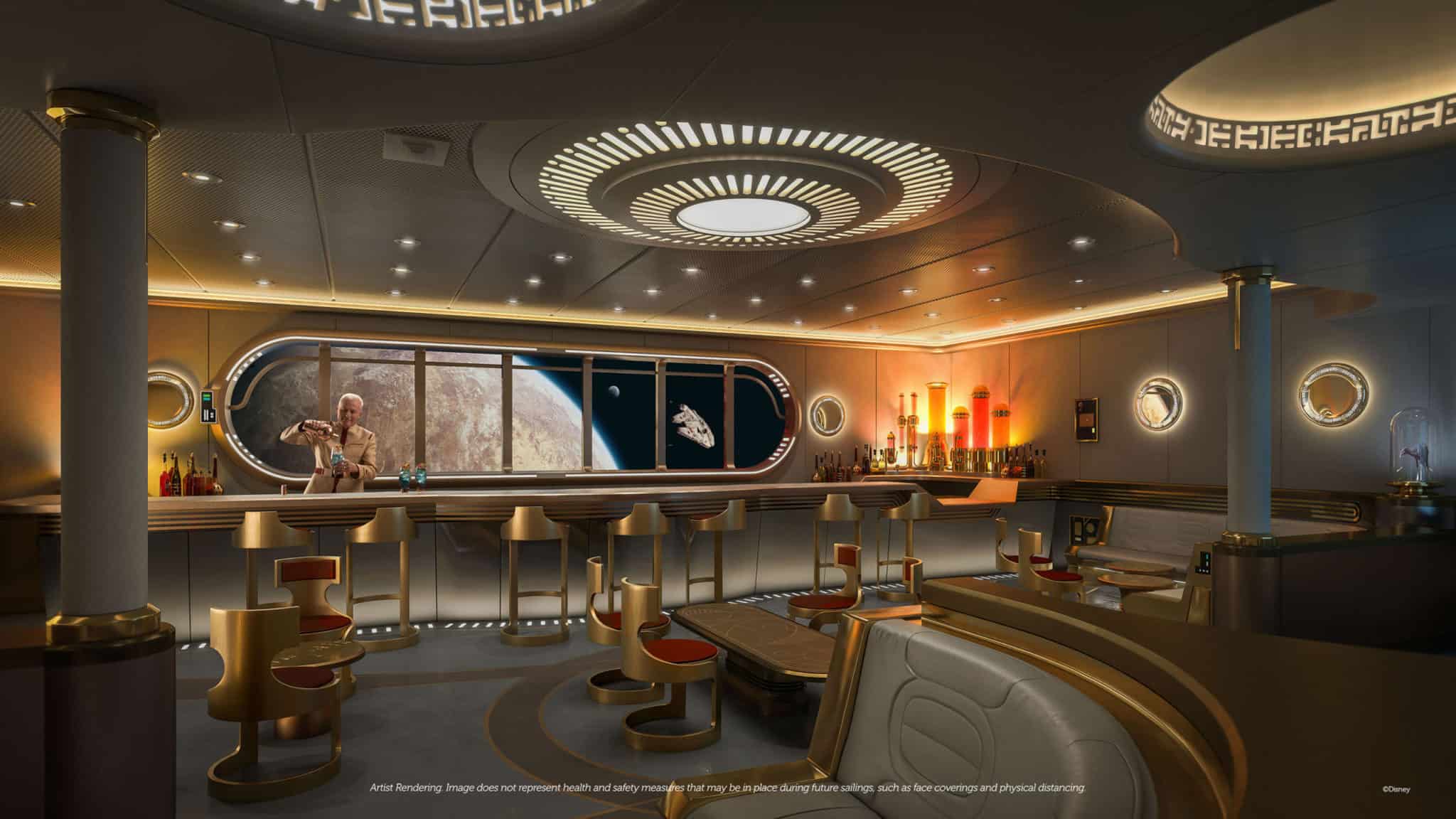 As an introduction to both of the specialty restaurants on Disney Wish (or as a spot for an after-dinner cocktail), passengers can head to The Rose. This bar, as well as the two specialty restaurants onboard, are all inspired by Beauty and the Beast. Knowing that, the inspiration behind The Rose is quite obvious given its name. The venue will feature high-end wines and liquors as well as light bites.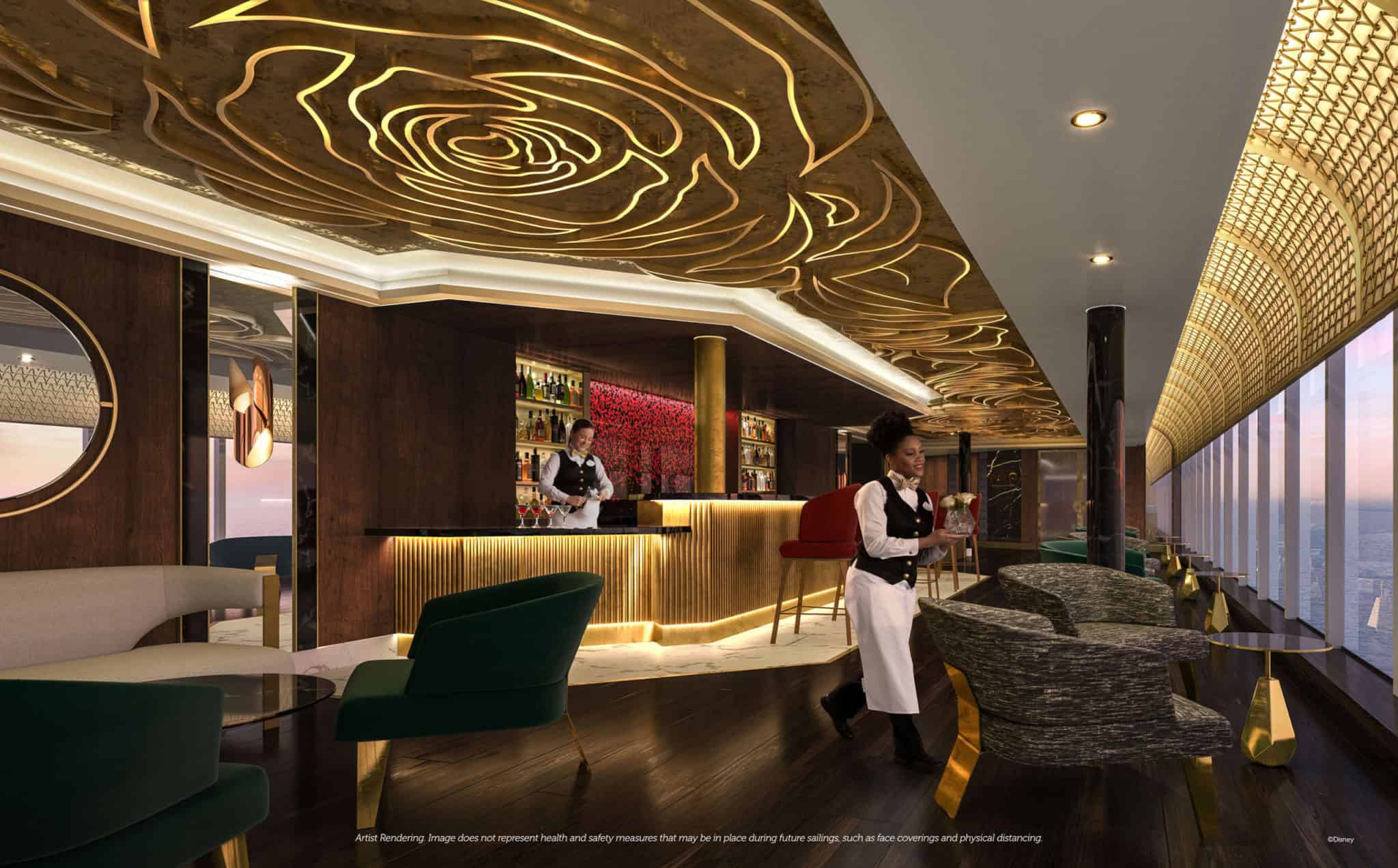 The first specialty restaurant will be Enchanté, the most luxurious dining experience on the ship. The intimate venue will evoke the dazzling candlelight and lavish hospitality of Beauty and the Beast's candelabra maitre d', Lumiere. The menu will feature high-quality and seasonal ingredients sourced from around the world to create a menu of exceptional international dishes.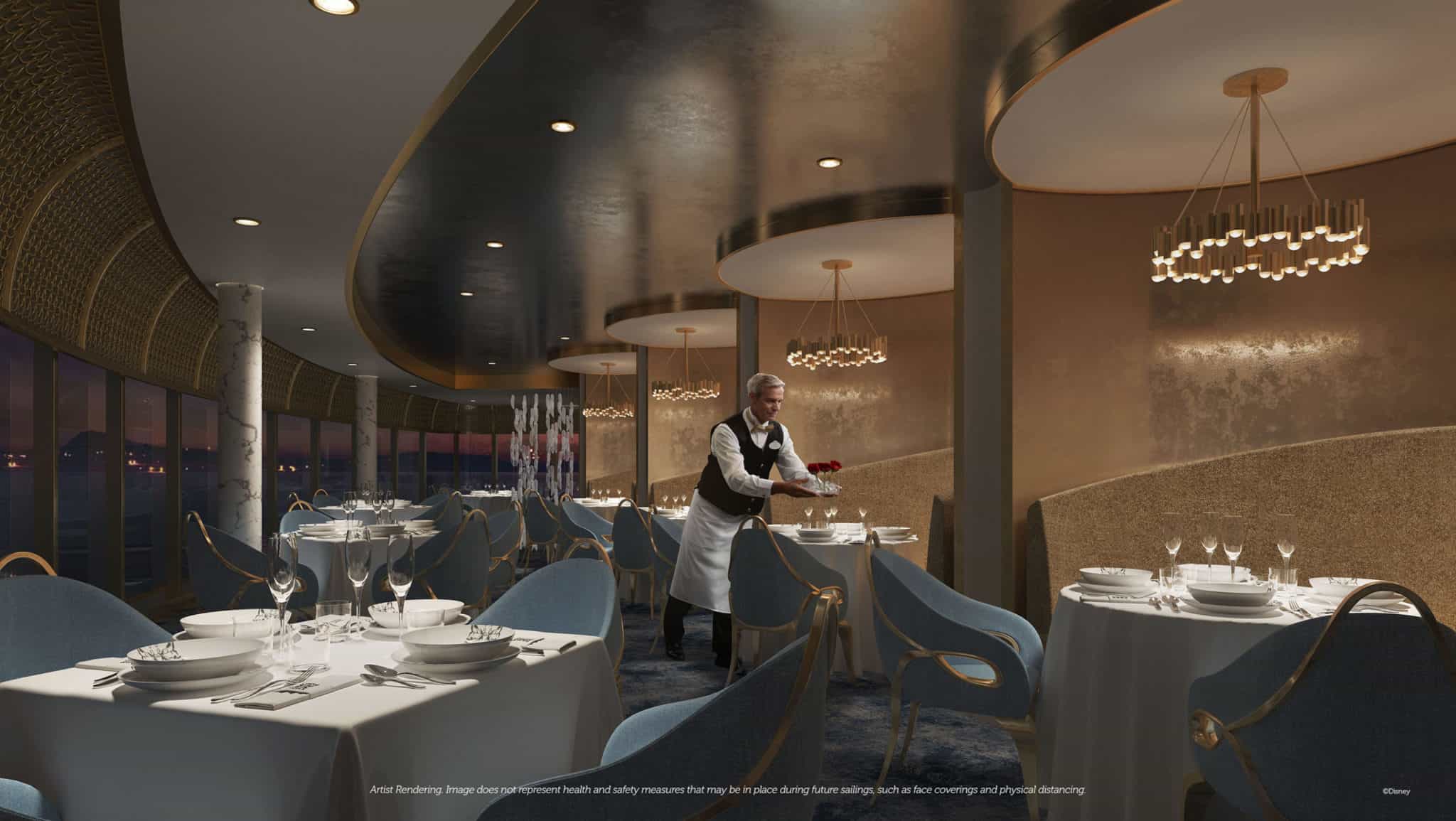 The other specialty restaurant will be a spin on a favorite Disney Cruise Line venue — Palo. Disney Wish's version will be called Palo Steakhouse, combining the sophistication of authentic Italian dining with the refinement of a modern steakhouse. The elegant setting was inspired by the film's enchanted clock, Cogsworth.
Lastly, let's head over to the Walt Disney Theatre — the space where such shows as Disney's Aladdin — A Musical Spectacular will be performed. The elegant, 1,274-seat space was designed to be reminiscent of an enchanted forest, and will span three decks with orchestra and balcony seating.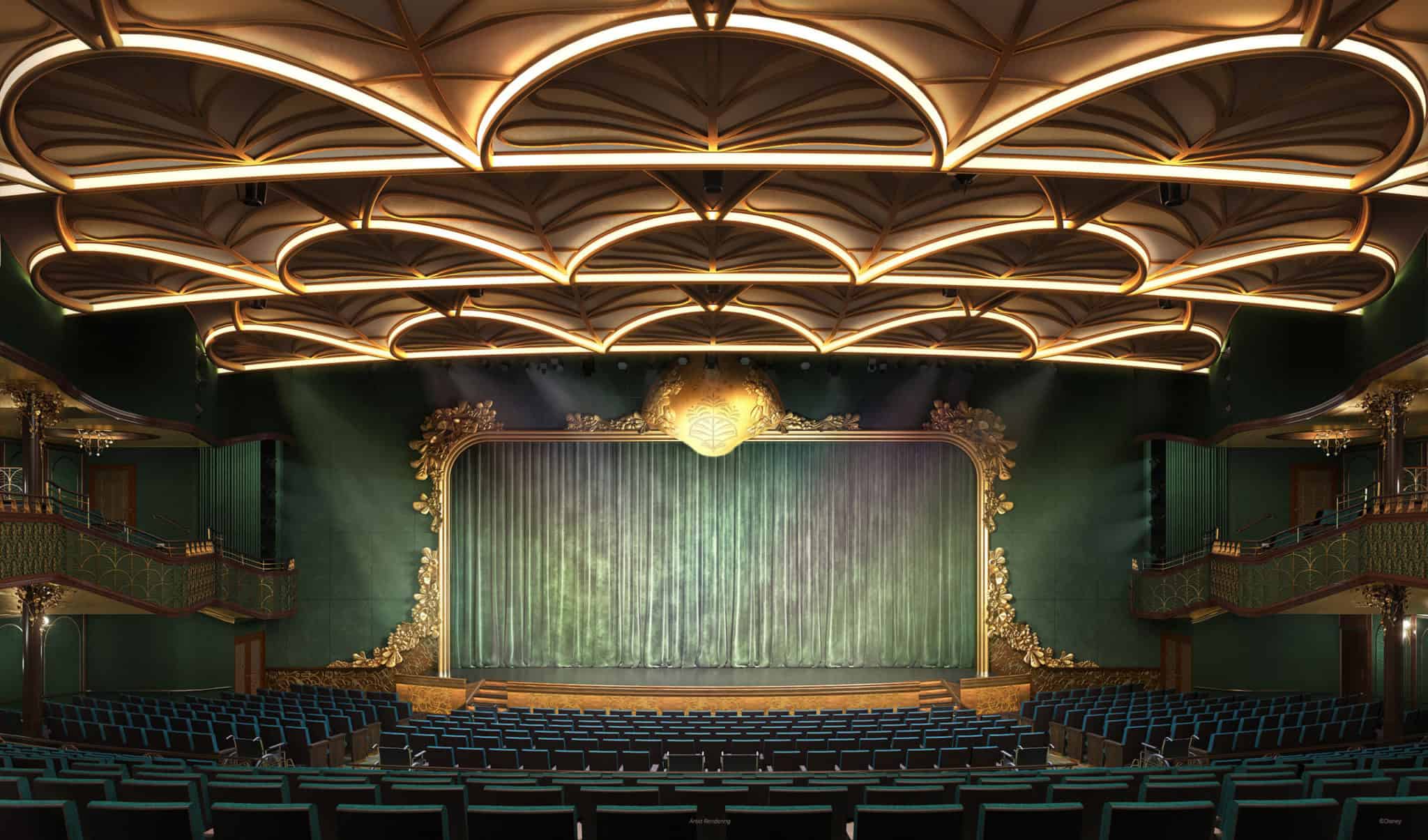 Well, that's it! We hope you enjoyed this tour of what Disney Cruise Line has revealed about Disney Wish so far!
READ NEXT: 5 Things We Can't Wait to Experience on Disney Wish