The nearly 4,000 passengers who were displaced by Hurricane Irma and wound up spending the past few days stuck aboard the Norwegian Escape finally returned to Miami early Wednesday morning.
"Cruise To Nowhere" Finally Ends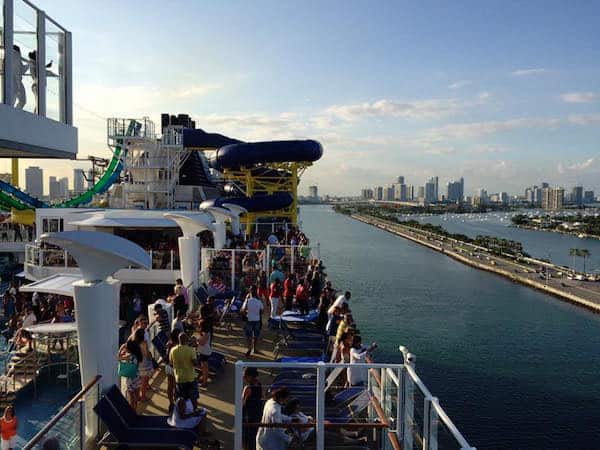 When both the Norwegian Sky and Norwegian Escape sailed into the Miami port last week intending to offload passengers before Hurricane Irma could hit, it quickly became apparent that many of those on board had nowhere to go. With flights being cancelled and hotels either at capacity or closing in anticipation of the storm, execs at Norwegian Cruise Line gave guests the option of riding out the storm aboard the Escape, which then set sail for Mexico. Among those who decided to accept this offer were approximately 500 Norwegian Sky passengers who transferred to the larger ship before it set sail.
The ship spent three days in Cozumel, Mexico, finally setting sail back to Miami late Monday, working on the assumption that the ship would be able to dock — and passengers able to begin making their way home — on Wednesday. That proved true, and the ship finally arrived early Wednesday morning.
Meanwhile, the Miami Herald reports that for the foreseeable future, Norwegian Escape's slated eastern Caribbean sailings will be shifted to Western Caribbean itineraries. It is expected that this will hold true until at least November. Both the Sky and the Escape are expected to sail out of Miami this weekend, with the former sailing on Friday and the latter on Saturday.
"We are working with our partners to assess impacts to the ports we visit in the Eastern Caribbean," Norwegian said in a statement. "Currently, we have changed all of our Eastern Caribbean itineraries to Western Caribbean cruises for the next two months. As it's still early, we will continue to keep in close contact with our partners on the ground and have the flexibility to alter future itineraries to ensure a great guest experience, if needed."
After having been closed for several days, Norwegian Cruise Lines' Miami offices re-opened on Wednesday as well.
Cruisers Face Another Challenge
Although Escape has returned its passengers to Miami, many of those who sought refuge on board may still find themselves unable to actually get home. Thanks to several days of closures and limited flights in the aftermath of Hurricane Irma, many of Florida's airports remain something of a logistical nightmare. The Washington Post reported that "more than 2,100 U.S. flights scheduled on Tuesday were canceled by mid-afternoon, including more than 500 in Miami and more than 400 in Orlando."
In fact, this could also make it difficult for passengers hoping to depart this weekend to get to the ports from which their ships are to sail.