Multi-platinum selling band DNCE is returning to one of Royal Caribbean's mega-ships for a live musical performance.  This time though, it's on Oasis of the Seas to celebrate the Great American Eclipse, a phenomenon that hasn't happened since 1916.  On August 21, DNCE will headline Royal Caribbean's solar eclipse viewing party with a surprise guest for a fun performances aboard the 7-night Total Eclipse Cruise.
Guests will have the viewing spot of the century when the captain of Oasis positions the ship along the solar eclipse's path of totality, where the moon will completely mask the sun for a few minutes of total darkness.  Building up to the moment, DNCE frontman Joe Jonas and bandmates Cole Whittle, JinJoo, and Jack Lawless will perform some of the band's hits, including "Kissing Strangers," "Body Moves," and, of course, "Cake by the Ocean."  Guests booked on the voyage can visit Royal Caribbean's website and reserve their complimentary seats for the show by logging onto their reservation.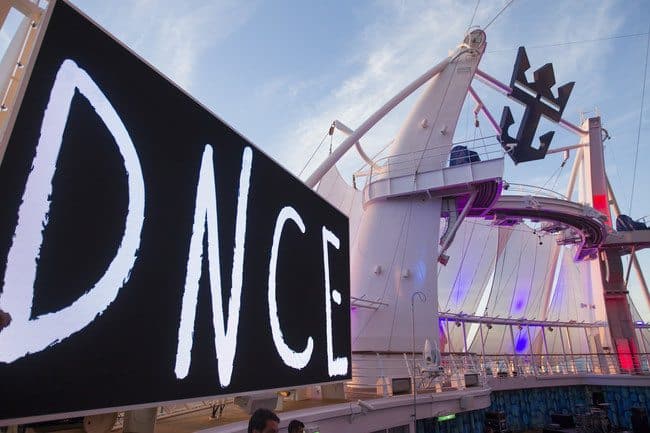 The viewing party will last far into the night, too, with other eclipse-themed activities like dance parties, trivia, interactive science fun, and tasty cocktails and bites.  The 7-night voyage will set sail on August 20, 2017 from Port Canaveral and visit St. Maarten, St. Thomas, and Nassau.
The cruise line's seven other ships sailing to the Caribbean during the total solar eclipse will provide guests with partial views of the phenomenon.  Those vessels are Allure, Anthem, Empress, Enchantment, Grandeur, Harmony, and Majesty of the Seas.