The Alaska cruise season is officially underway!
Guests aboard Ruby Princess received a special welcome today as a team of Alaska sled dogs "pulled" the ship into the port of Juneau, marking the vessel's maiden voyage in Southeast Alaska.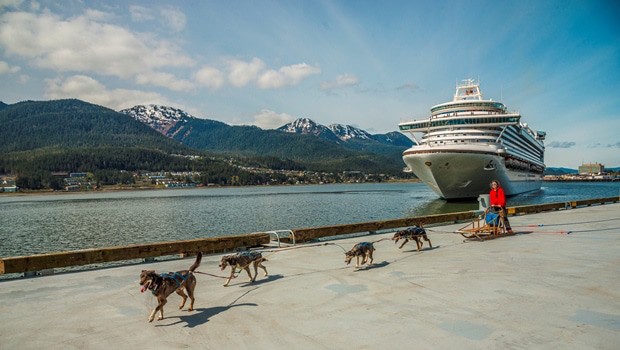 The four-dog sled team, driven by Maliko Ubl of TEMSCO Helicopters Mendenhall Glacier Dog Sledding Tours and Alaska Icefield Expedition, mushed their way alongside the cruise ship giving guests an official Alaska welcome before they disembarked and enjoyed the day exploring Juneau. Princess guests even got the chance to meet and take photos with the dogs before departing for shore excursions to experience the Great Land.
Princess' Alaska cruise season features seven ships offering seven-day itineraries cruising from the ports of Vancouver, Whittier and Seattle; and 10-day sailings from San Francisco.
Source/photo: Princess Cruises