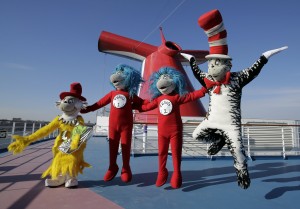 One ship, two ship, three ship – uh – I don't have anything else that rhymes. Carnival Cruise Lines, however, did launch a partnership with Dr. Seuss Enterprises today, bringing family-themed Suess happenings to sea.
HEAR OUR BROADCAST TAPED AT THE ANNOUNCEMENT IN NYC.
Seuss at Sea will offer onboard activities encompassing Camp Carnival, families, dining and entertainment, all in the name of Dr. Seuss.
"Dr. Seuss inspires imaginations across generations and encourages a playfulness and whimsy that is often lost in today's 'always on' society," said Susan Brandt, president of Dr. Seuss Enterprises. "We're excited to be working with Carnival Cruise Lines to bring some of the timeless magic of Dr. Seuss to the families that sail each year. Seuss at Sea will let kids and parents alike explore their imaginations through the memorable onboard experiences we're building together."
Every ship in the fleet will have Dr. Seuss books, activities for kids, Dr. Seuss movies played on the big screen and a character dining option.
For a nominal fee of $5, families will have the option to join the characters for The Green Eggs and Ham Breakfast with the Cat in the Hat and Friends. All the food served will play straight from Dr. Seuss's imagination, like an order of green eggs or a glass of goose juice. Guests will also have table-side interaction with the characters and photo opportunities.
The Dr. Seuss Bookville facility will be installed on Carnival Freedom in 2014 during a renovation and added to the upcoming Carnival Vista in 2016.
This program puts Carnival in line with Royal Caribbean, NCL and MSC Cruises' character partnerships. Carnival is the industry leader in family cruising, carrying nearly 700,000 kids each year.
The Dr. Seuss partnership is expected to roll out fleetwide by 2015.
Subscribe to our Cruise Updates.
Related articles