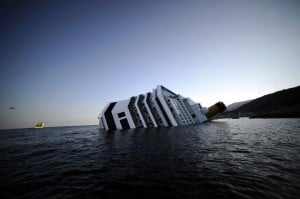 Updated: 1/18/12 7:15PM
A salvage company with over 170-years of maritime service, Smit Tak, has been contracted to the site of Costa Concordia to pump fuel from the ship and begin the salvage process.
This will be the initial process in floating Costa Concordia off the bottom of the sea.
10 ship salvage experts have been sent to the island off the Tuscan Coast to start assessing the project.
"Our immediate priority is  to account for all  passengers and crew, and to secure the vessel to ensure that there are no environmental  impacts," Costa said in a statement this afternoon.
According to Radio Netherlands, "Once the search for survivors and corpses has been completed, the team will begin pumping thousands of tons of fuel from the ship's tanks in order to prevent an environmental disaster."
"In the hours immediately after the accident, Costa Cruises commissioned leading worldwide salvage experts Smit Salvage BV, of Rotterdam, The Netherlands, to draw up a plan to recover the reserves of fuel from Costa Concordia. From the outset, this plan has been shared with the relevant authorities and, as a result of their full cooperation, is expected to be implemented by the end of the week," Costa said Wednesday in a statement.
The company has offered to salvage the whole vessel but an agreement hasn't been reached yet.
Stay informed with our Daily Updates here.