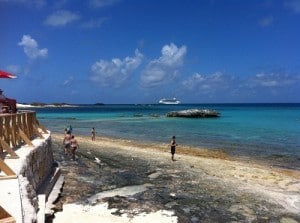 The Eastern Caribbean itinerary provides an appropriate introduction to the entire region because it embodies what cruise travelers expect of choice destinations and provides non-intrusive signposts to what awaits next. In general, the Eastern route is a mature tourist destination, so accommodation, entertainment and retail infrastructures are highly developed. Because ports are closer to each other and the islands are much smaller, cruising on this side of the Lesser Antilles affords first-time travelers endless off-cruise, on-shore adventures on the following stopovers:
Freeport and Nassau. Bahamas has sufficient tourist clout that Caribbean liners ply this route. This is usually the first port of call for 4-day or 7-day trips. Most cruise lines maintain private islands in the 700-island tourist mecca, so exclusive parties on the beach are standard.
The French-Dutch St. Maarten/St. Martin is the only island in the world where two sovereign governments co-exist in surprising harmony. Hence, travelers intent on learning a European language – and planning on staying longer – find this two nation one island set-up a perfect place for business and pleasure. The French boutiques are a haven of olfactory delights, while the Dutch beaches are free-for-all visual attractions thanks to naturalist and clothing-optional bathers.
Charlotte Amalie, the capital of St. Thomas, trumps all when it comes to bargain duty-free shopping. Outdoors, St. Thomas tantalizes with pristine bays that sparkle like pearl-lined sapphire. The island's marine wildlife is also accessible via numerous water parks and chartered islet trips. The more daring ones can put on snorkel or scuba gear and swim alongside the island's underwater denizens.
St. John. The smallest of the U.S. Virgin Islands, St. John awes visitors with its pristine natural park, which is 60% of the island's total land area. Outside this jungle, that is seemingly light-years away from civilization, are posh boutiques that cater to discerning retail fanatics.
St. Croix. The melting pot of Dutch, French, Maltese, Danish and American influence creates a visually arresting collage and distinct aroma like no other Caribbean jewel. St. Croix has everything for everyone, from the high-roller to the backpacker: fine dining, golf and casino for the former, arts, crafts and music for the latter. The island also delights aficionados of world history, and they can still see them standing in the 18th and 19th century homes in Christiansted.
A stone's throw away from St. Thomas, Tortola is increasingly making a strong presence in Eastern Caribbean itineraries. The capital of the British Virgin Islands is famous for its handful of coves and anchorages protected from the hustle and bustle of its capital city so much so that early smugglers found one and named the cove after themselves.
Like any proper introduction, the Eastern Caribbean route does give away all of its secrets at once. As travelers get to know the area better, they will be endlessly surprised that there are no two cruise vacations alike.
Subscribe to our Cruise News Updates.