The day started with an amazing sunrise to the east as the ship was westbound into Boston Harbor.
I decided to give room service a try for breakfast this morning and it came right on time. I did the 6-630 delivery and it was delivered promptly at six. Typically room service only offers a continental breakfast, but Holland America steps the game up with omelets, hot dishes and a large selection of meats.
We pulled alongside dock at 7:30 and cleared customs at 8am. By 9a I was off the ship and walking through the terminal.
There are a couple of ways to get into town from the Black Falcon Cruise Terminal in Boston. You can buy a roundtrip shuttle ticket for $15, take a cab roundtrip from $20 or take the public transportation for much cheaper. I'm not sure how much cheaper but I know once you get into town the T (subway) is $2.50 each ride. I suggest you do your research on where you want to go before you arrive.
I've been to Boston quite a few times so I didn't opt for a cruise line shore excursions, instead I went to explore some places on my own and had lunch with a friend on Boylston Street.
The shuttle drops you off on State street by the aquarium but Quincy Market is only a few minutes walk from there. I snapped some photos of some of the historical buildings (they are all marked), walked the Freedom Trail for a little while and then headed to Cheers for a couple of fall ales.
When I sitting in Cheers there was a little commotion outside so I went to check it out. Jimmy Fallon from the Late Show was there just hanging out, and of course mobbed by people. Me being one of them.
I went to take a photo of him and I had the lens cap on my camera, he says, "dude, take the lens cap off your camera!" He graciously took a photo for me and shook my hand and said he won't tell anyone. Luckily my stupidity helped me stand out.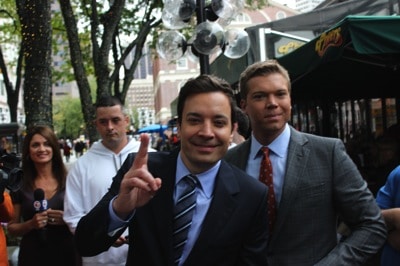 It started raining a little bit when I was heading back to catch the shuttle to the ship so I just jumped in a cab and $13 later was at the cruise terminal.
Dinner tonight was in the Pinnacle Grill and it was amazing as always. I think it might be one of the better steakhouses at sea and for only $25. I splurged a little bit and went with the shrimp cocktail, cold seafood platter, ceased salad, 20oz porterhouse steak and chocolate melting cake. It took about 2.5 hours to get through the whole meal but with all the courses and table side service, well worth the wait.
After dinner I wanted to check out the disco to see how active it was on this sailing – turns out it's not. We were the only people in there for about 30-minutes and then went over to the BB King's Blues Club.
Tomorrow we are in Bar Harbor, Maine. Looking forward to the lighthouse excursion I picked. It's suppose to be a high of 59F, getting colder! The state parks are still closed so a lot of tours to Acadia National Park were canceled because our government is still shut down.
Til then..
Subscribe to our Cruise Updates.