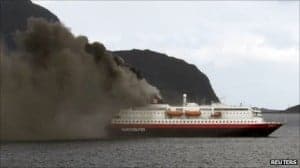 The 691-passenger cruise ship, ms Nordlys', engine room caught fire this morning off the coast of northwest of Oslo, Norway. It's being reported by local authority's that two crew members died in the fire. Passengers were able to evacuate onto the ships lifeboats and have safely made it to shore.
This statement was released on the company's website earlier today, "Following a fire on board the MS Nordlys all guests have been safely evacuated to the Rica Parken Hotel in Ålesund. There were 207 guests on board of varying nationalities and 55 crew."
The Associated Press reports:
The remaining passengers and some crew left the vessel as smoke was still billowing from the burning ship. Hurtigruten ASA, the Norwegian operator of the ship, said eight of its crew were among those sent to hospital.
Police said they sealed off parts of Alesund because of the heavy smoke.
The MS Nordlys, traveling north from Bergen, is one of several ships that ply the Norwegian coast on the popular 1,500-mile cruise between the southwestern city and Kirkenes, high above the Arctic Circle near the Russian border.
The line carries both tourists eager to see the spectacular western coast and locals from coastal cities and hamlets.
Below is video courtesy of NRK:
Photo credit: Reuters