By Amadeus
As we set off on the inaugural sailing of the Fathom Adonia, I really had NO idea what to expect. All I knew was this it was an entirely new form of cruising, called "Impact Travel". But really, what did that even mean?
On our first day at sea, we were broken down into "Cohort Groups". A dozen or so passengers per group, who would meet periodically for training on "impact travel". During our first meeting, we were partnered with someone we didn't know, to learn about each other. This was the start of what would be a recurring theme throughout every group meeting. Not just the Cohort meetings, but for every Impact Activity training class as well.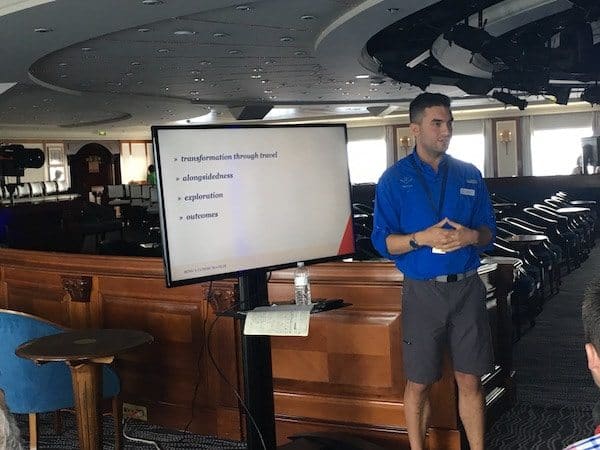 During every class, each of us had to step out of our comfort zones. For example in "Student English Conversation & Learning" class, we were each secretly assigned to be a particular animal. We then had to find the person in the room who was the same animal, without make any sounds. We each had to use actions to discover the person in the class who was the same animal as you. It may sound a little silly, but it taught us that there are more ways to communicate with others than just words.
Impact Travel is about helping others, but throughout the process, you'll also learn more about yourself. Here are a few things I learned, or was reminded of, during my impact activities…
You're never too old to play in the dirt!
The first impact activity I took part in was Reforestation & Nursery. I'm actually quite used to digging in the dirt, as my mom is an avid gardener. Almost every time I visit her, we end up working in the garden or flower beds at some point. As much I enjoy the time spent with Mom, I got a new appreciation for "diggin' in the dirt," knowing that what I was doing was making a difference, on a global scale. I was part of the very first group to work in the nursery area. We had no idea how much we were accomplishing, until we were back on the bus at the end of the day. There, we learned we had planted 1,373 seeds/seedlings in a 4 hour period. The feeling inside FAR outweighed a few body aches and dirty fingernails.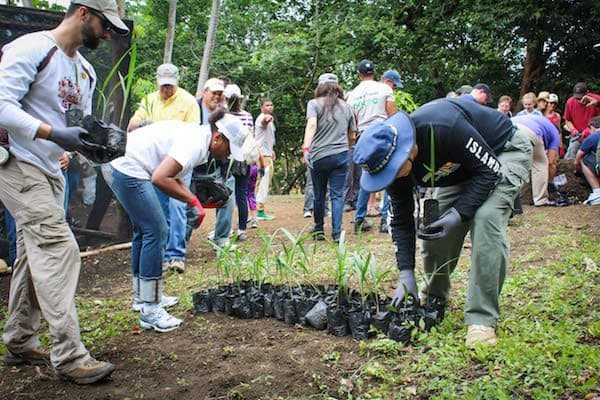 Many hands make light work.
It's an old idea, but never have I seen it more accurately defined as on my second impact activity, Recycled Paper & Crafts Entrepreneurship. On this impact activity, we spent 4 hours assisting a group of enterprising Dominican women, who create and sell arts and crafts, from locally recycled paper. This provides critical income for the women to help support their families. Throughout the day, we also contributed to increasing the ladies' English skills, to help them sell their products more effectively. In just 3 hours of work, we had helped the ladies produce what would have taken them a full week to produce on their own. The gratitude and thankfulness on their faces will resonate in my heart forever.
The soul is healed being with children.
I had no idea how much I would get out of Community English & Conversation. I mean, I'm not even a "kid" person. Sure I have nieces and nephews that I love spending time with, but nothing could have prepared me for what I got out of spending 4 hours tutoring 6th grade kids in English. The time spent during this impact activity, to me, is really what Impact Travel is all about. Planting 1,000 seeds and helping women with a business was amazing, but for me, didn't compare to the impact of tutoring kids in learning a new language. A language that will literally be life-changing for them. As our bus drove away at the end of our time at their school, the kids all lined up to wave goodbye, and were yelling our names and screaming "Gracias!". There's no doubt that a piece of my heart was left there with them.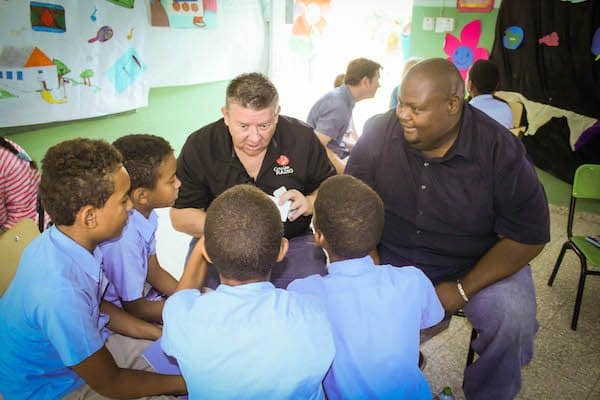 WEAR Sunscreen!
I know, I know…but seriously!
"Whatever you do may seem insignificant, but it is most important that you do it!"
This is an inspirational quote by Mahatma Gandhi, that I learned 32 years ago. It's been kind of a go-to quote throughout my life, but it never resonated like it did as we sailed away from the Dominican Republic. Planting seeds in the rain forest, helping women create goods to sell, and tutoring kids in learning another language… individually they all could seem somewhat insignificant, but in my heart, I know it was MOST important that I did it. Not only for the people in the DR, but for myself as well.