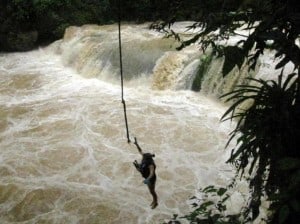 Jamaica is a frequent port of call on Western Caribbean cruises. This tropical Caribbean island offers a wide variety of adventure experiences for cruise passengers. If you're wondering what to do while your ship is docked in Jamaica, here are five top adventure shore excursions to consider while you're in port.
1. Take a Bobsled Run. The cool bobsled ride at Mystic Mountain Rainforest Adventures in Ocho Rios is one of Jamaica's hottest attractions. Here's your chance to star in your own Cool Runnings movie and hurtle along on steel rails 1,000 meters through the forest. Although gravity drives this ride, you can control your bobsled's speed by maneuvering your bobsled's handlebars. Parents who want to manage their child's experience can have two bobsleds connected to each other. (https://www.rainforestbobsledjamaica.com)
2. Saddle Up. Enjoy a leisurely trail ride through Jamaica's lush rural areas, then head along the beach and into the sea to cool off. This popular tour from Chukka Caribbean Adventures takes cruise passengers on a trail ride through Jamaica's countryside and to old sugar plantation estates. After riding through these areas, the horses will come to Chukka's beach where riders (and their horses) can go for a swim in the sea. Children must be at least 6 years of age to participate in this tour. (https://www.chukkacaribbean.com)
3. Fly through the Canopy. Cruise passengers visiting Jamaica have multiple choices for zipline and sky trek adventures. Zipline Adventure Tours features five ziplines including the longest zipline in the Caribbean, the 1600-foot Big Timba. Traversing a jungle bridge and an exciting off-road ride are also part of the package. (https://www.ziplinejamaica.com.) On the Chukka Caribbean zipline tour, guests ride on ziplines through the jungle and rappel as well. A zipline tour that includes six ziplines, a rappel, and a suspension walking bridge is also available at Mystic Mountain Rainforest Adventures as well.
4. Go Rafting on a River. Treat yourself to a rafting trip experience unlike any other. Journey down the Martha Brae River on 30-foot long bamboo rafts built for two. Located about three miles inland from the port of Falmouth, this river rafting tour was started over forty years ago and is the leading rafting excursion in Jamaica. Many famous celebrities have taken this trip. As guests glide along the three-mile stretch of water, they'll learn about the "Legend of Martha Brae" and will have the opportunity to take a swim in the river. (https://jamaicarafting.com) Jamaica's rivers are a delight. If tubing is more your style, take a shore excursion to Jamaica's White River and get in on the fun. Kayaking safaris are available on Jamaica's Great River as well.
5. Get Wet in the Waterfalls. Dunn's River Falls is one of Jamaica's most famous tour attractions. Take a guided climb over 600-feet up to the top of the falls – definitely a great bonding activity. The rocks at Dunn's River Falls can be slippery, so be careful and wear water shoes with good treads for the best experience. Those who don't wish to make the climb can view the human chain ascending the falls from a series of observation decks. There's a nice beach below the falls for swimming and playing before or after your climb. Cruise passengers coming ashore in Montego Bay may have the opportunity to visit YS Falls, another of Jamaica's top natural attractions. The area features seven waterfalls, a rope swing above the river, and the opportunity to take three zipline rides above the river and falls – including one zipline stretching 745 feet in length. It's certainly a cool ride for any adventurous cruiser.
Many adventure shore excursions have height, weight, age, and other requirements. As with any shore excursion, make sure to research providers carefully, evaluate your physical ability to handle the adventure, wear proper clothing and follow the advice of your guide. For more information on what to do in Jamaica, go to https://www.visitjamaica.com.
Nancy Schretter is the Managing Editor of the Family Travel Network.
Photo credit: Nancy Schretter.
Related articles