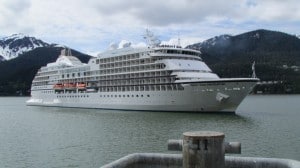 You may or may not want to worry about all the extra costs when it comes to your next cruise vacation. I prefer to pay for everything ahead of time so I am not caught with my pants down when that final bill comes.
Here are five things I choose to pre-pay:
1. Gratuities. Depending on the cruise lines, you're going to pay $11 per person per day and up for services rendered while aboard the ship. The gratuities cover your dining staff, room steward and help on the cruise. To make it easier just choose to pre-pay for these services while making your cruise reservation. This way it's taking care of and if you want to extend extra money on your cruise, you can.
2. Specialty Dining. If you have a big family and want to try out new venues on the ship this one is very important. Research what specialty restaurants are on your cruise and pre-pay for them before you sail. Some cruise lines offer packages where you can get a certain percent off if you pre-purchase a block of specialty restaurants.
3. Excursions. Whether you book your excursion through the cruise line or a company like Shore Excursions Group or Viator, you may want to consider booking and paying in advance. Some excursions can cost up to $200 for flight seeing in Alaska or just $40 for snorkeling in the Caribbean. Do your research and pre-purchase your excursions.
4. Alcohol. There are a couple ways to get around the big alcohol bill at the end of your sailing. You can either pre-pay for a drink package or buy drink vouchers. If you're celebrating a birthday, anniversary or a milestone event you can also hint around for your friends that in lieu of presents they can call the bon voyage department of the cruise line and buy you drink tickets.
5. Transfers. Depending on the port you're in depends on if the cruise line transfer is worth it or not. It is sometimes a lot cheaper to use a Go Shuttle instead of the cruise line transfer. Other times the cruise line has the third party folks beat. Do your research. For instance, a cab maybe cheaper for a family of four in Miami to travel from the airport to the cruise port, it typically runs about $35. With tip that breaks down to $10 per person. So weigh out your options before you commit to a cruise line transfer. Do keep in mind if you think you're going to cut it close, consider using the cruise line transfer because you won't get left if there's major traffic.
These are things that I prefer to pre-pay before my cruises because they help reduce cost when on the actual ship. Believe it or not, I've actually sailed where I've had zero balance on the end – and that's the best feeling in the world!
Subscribe to our Cruise Updates.