With the support of Florida Governor Ron DeSantis, Attorney General Ashley Moody announced Thursday morning that she had filed a lawsuit demanding that the Centers for Disease Control lift the Conditional Sailing Order.
"Florida Is Fighting Back"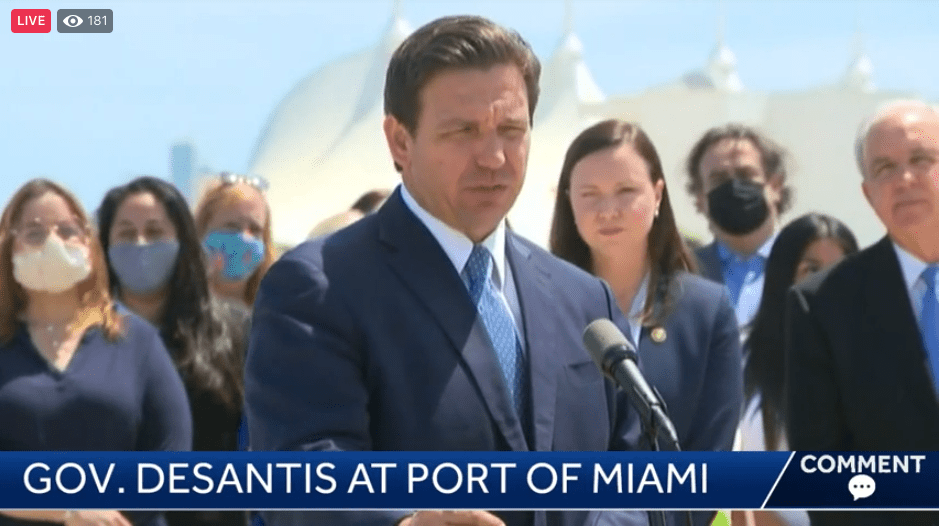 Following through on a threat he made several weeks ago, DeSantis said that his administration was moving forward with a lawsuit against the CDC. "I think legally, we're in the right here," he declared during a press conference. Pointing out that Florida is the largest hub for cruising in the United States, the Governor added, "We're an 800-pound gorilla when it comes to tourism," indicating that he believed others would join Florida's efforts moving forward.
Both he and Moody pointed out the huge economic hit that their state had taken as a result of the shutdown, adding that several cruise lines had already announced plans to literally take their business elsewhere by sailing out of foreign ports. "[People] are still going to cruise if they want to," he said. "They'll just cruise off other coasts."
READ MORE: Cruise Industry Piles Pressure On CDC For Restart Path
Moody stressed the economic hardships being felt by Florida residents thanks to the shutdown. "We have people floundering," she said. "We are losing tax revenue. People's lives are on the line. They are desperate to return to work, and we will not sit back… while the freedom of people's lives and their businesses are at stake."
DeSantis compared the cruise situation to that faced by one of Florida's other big businesses, theme parks. In both cases, he said, they "have every incentive to want to make sure people have a safe and enjoyable trip… they don't need a bureaucrat and the CDC to demand that they do certain things."
The Governor also continued to insist that Florida would not allow the so-called "vaccine passports," saying that they would in essence create "two different classes of citizens."
For now, if U.S. residents want to take a cruise vacation this summer, they can fly to Nassau, Bermuda, St. Maarten, or Cyprus.