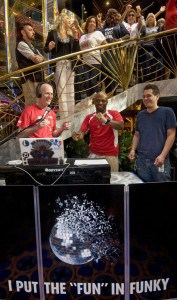 Governor Rick Scott spent some time a the port of Miami last Friday as part of his "Let's Get to Work" tour.  The tour has him traveling around the state working different jobs. The Governor's day ended aboard Carnival's 2,056-passenger cruise ship Carnival Imagination before the ship embarked on a voyage to Bahamas.
According to an release issued by the state, "Governor Scott will demonstrate his commitment to exemplary customer service on Carnival Cruise Lines' Imagination.  He will join employees providing a warm welcome to guests as they arrive and check in for a fun-filled, three-day cruise to the Bahamas. As a welcome host, on board announcer and "Just Ask" host, he will provide guests information about the ship and the cruise."
He also provided a little bit of entertainment to the cruise passengers as DJ Govvy Gov. (photo right)
This was the Governor Scott's fifth "Let's Get to Work" day highlighting the importance of Florida's 14 deep-water sea ports and job creation.
Photo credit: Andy Newman/Carnival Cruise Lines