You've heard the old expression, "When in Rome, do as the Romans do." Well, perhaps there's no more effective way to do that from a culinary perspective than to sail on Silversea's new 596-passenger Silver Moon.
It's the first of the ultra-luxury line's ships to offer the S.A.L.T. (Sea and Land Taste) program, which also will debut later this year on new sister ship, Silver Dawn.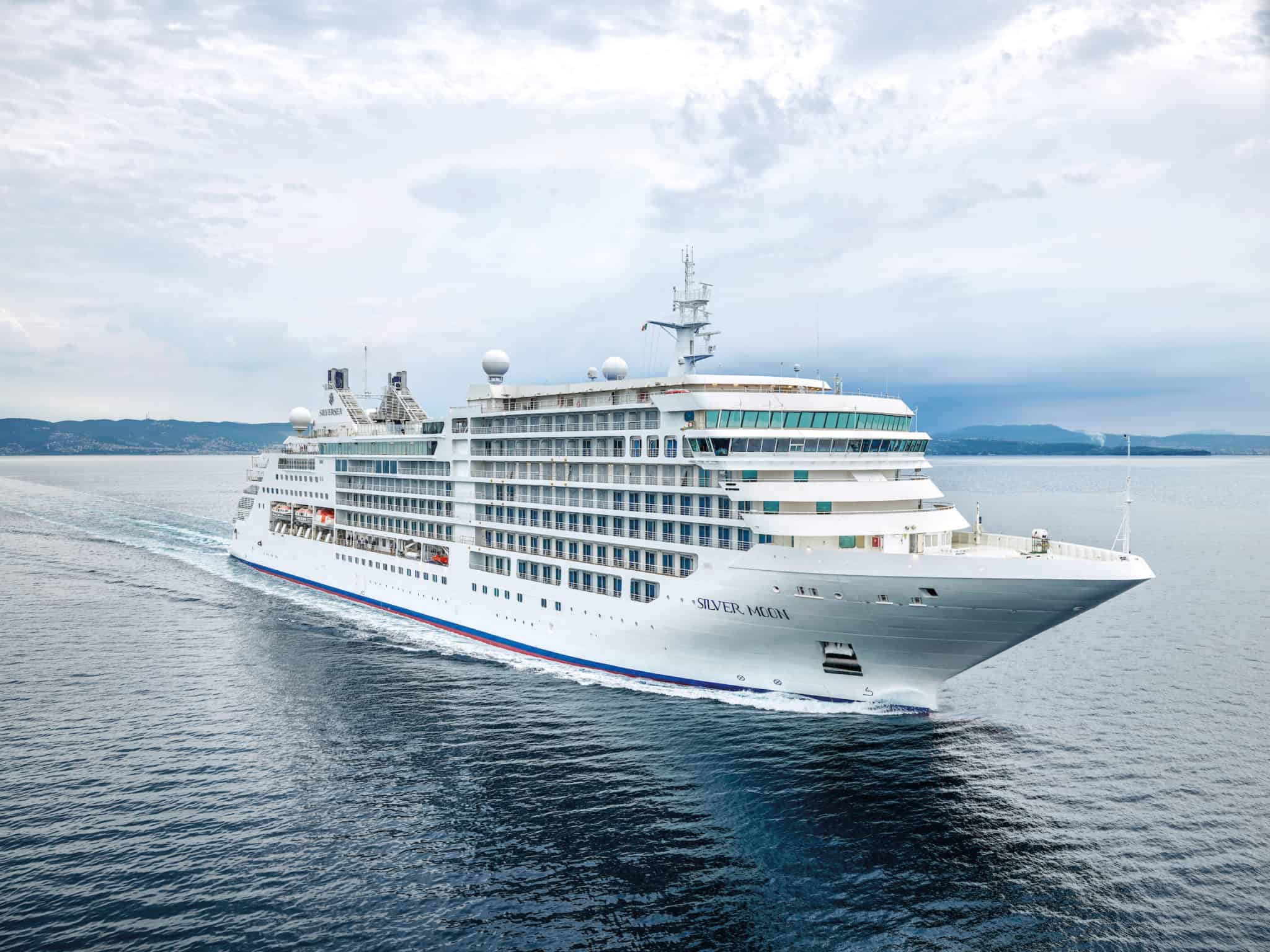 Among major program elements is S.A.L.T. Kitchen, a new specialty restaurant brimming with dishes that are either local classics, locally produced, or resident favorites in the region of sailing. They're even as specific as the port of call. So, for example, when the ship in Mykonos for the day, that evening's menu is brimming with those dishes.
Similarly, in Patmos, Milos, or other ports of call, you'll discover a similar approach. It's an immersive deep dive into local cuisine that's more Bourdain in philosophy than Michelin. Simply put, it takes the concept of "destination immersion" to a new, down-home, totally local and exploratory level.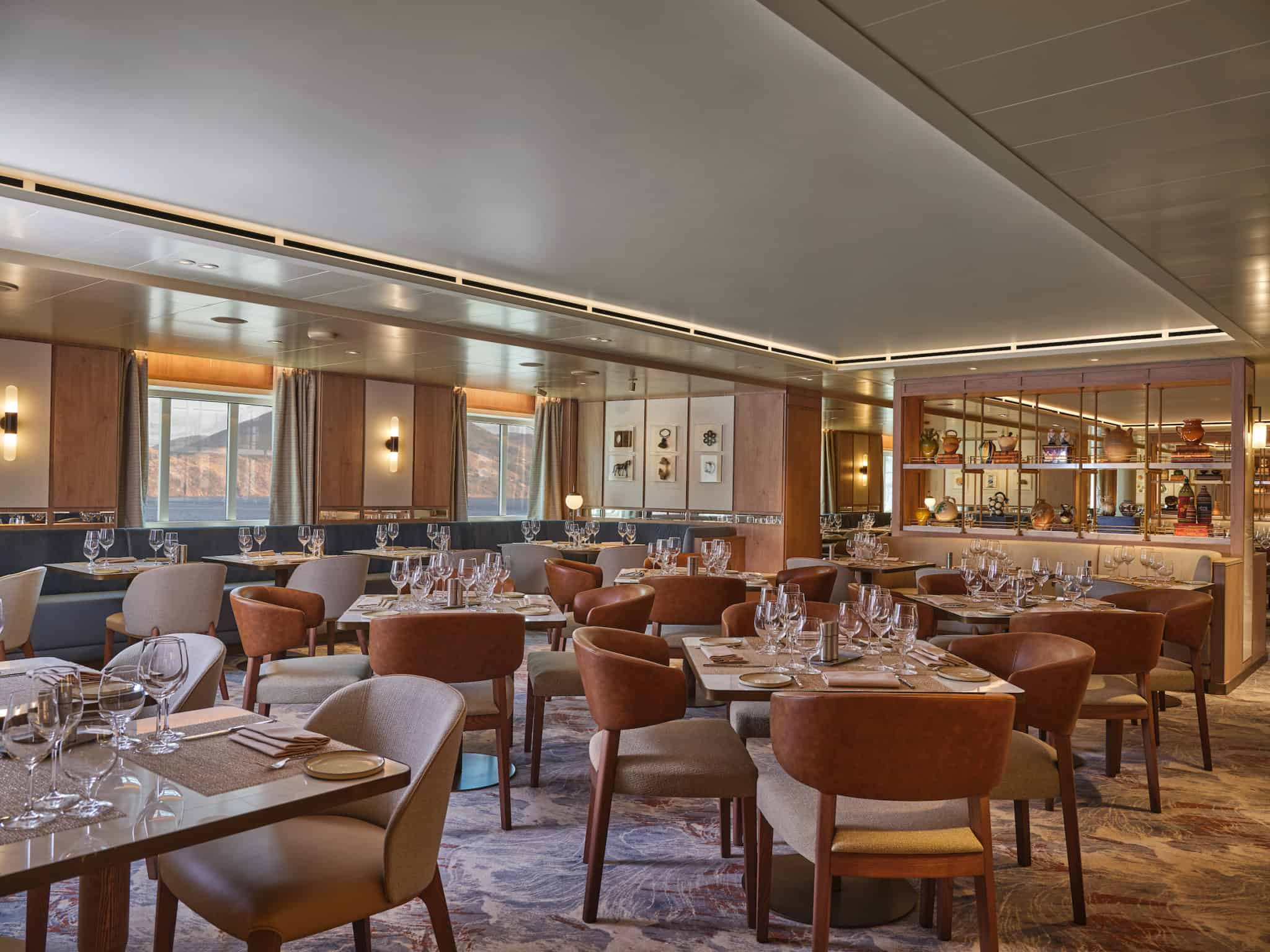 Cuisine of Syros
On the day that Silver Moon called at Syros, Greece, I dined in the evening at a table with Roberto Martinoli, the line's president and CEO. As we were handed our menus, the "local" focus was clearly the star. The menu is split into two sections, a "Voyage Menu," focused on the sailing region (such as the eastern Mediterranean in our case) and the "Terrain Menu," which changes nightly based on the port of call.
Since we were in Syros, starters/appetizers on the Terrain Menu ranged from "Flavors of Syros" with San Michali, a firm cow's cheese, and Aetopita, a flatbread topped with marinated swordfish, tomato, fennel, and Greek olive oil. However, I ordered a starter from the Voyage Menu, "Astakomakaronada," an eastern Mediterranean pasta favorite with lobster. It was quite yummy and just the right portion size.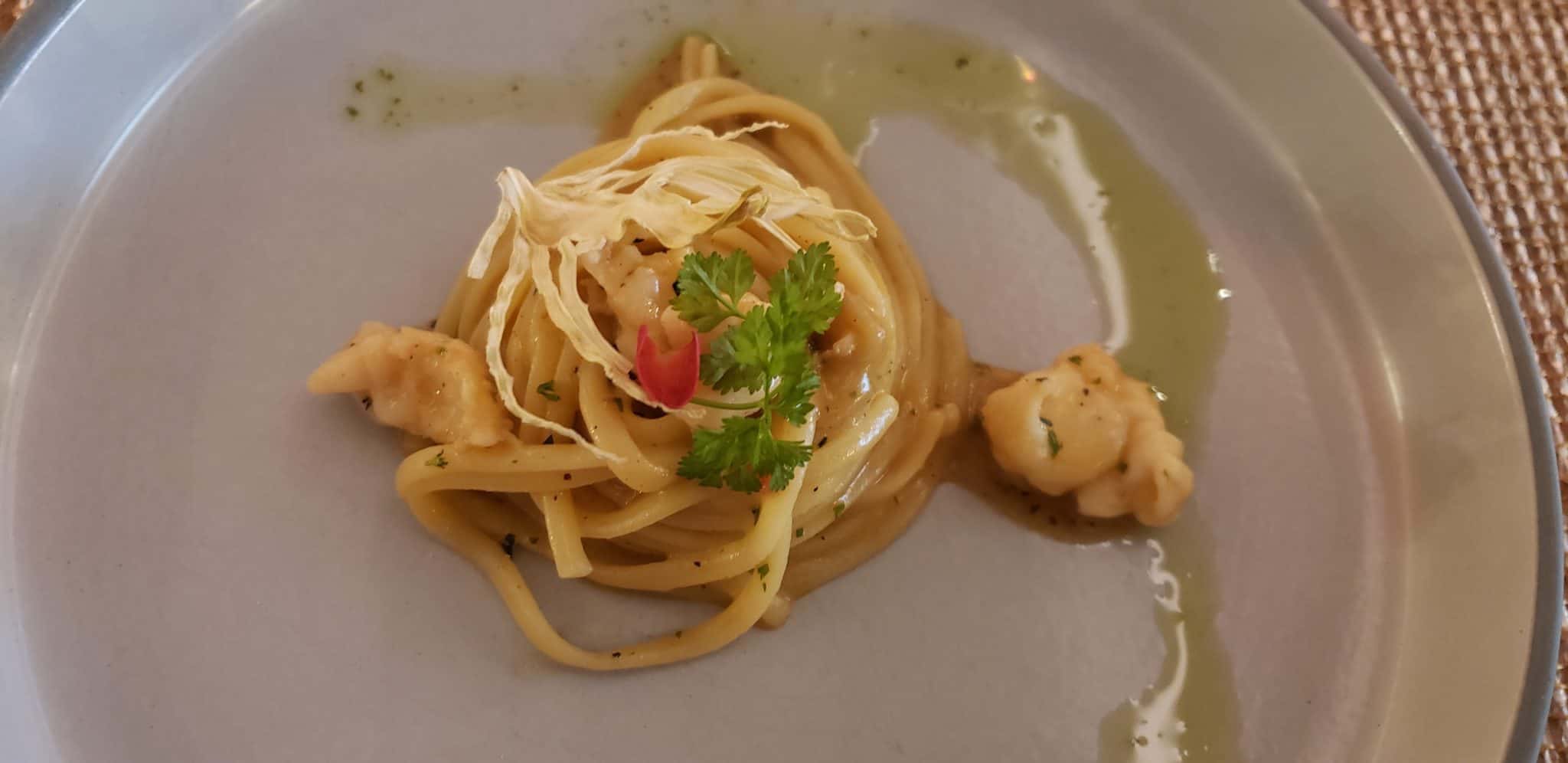 But for the main event – the entrée – I went with a true local specialty – "Syros Loukanika," local sausages with roasted potatoes and braised fennel. Two guests at our table had gone ashore at Syros for touring and mentioned that their guide talked about these sausages being an island specialty, so it seemed fitting to choose this.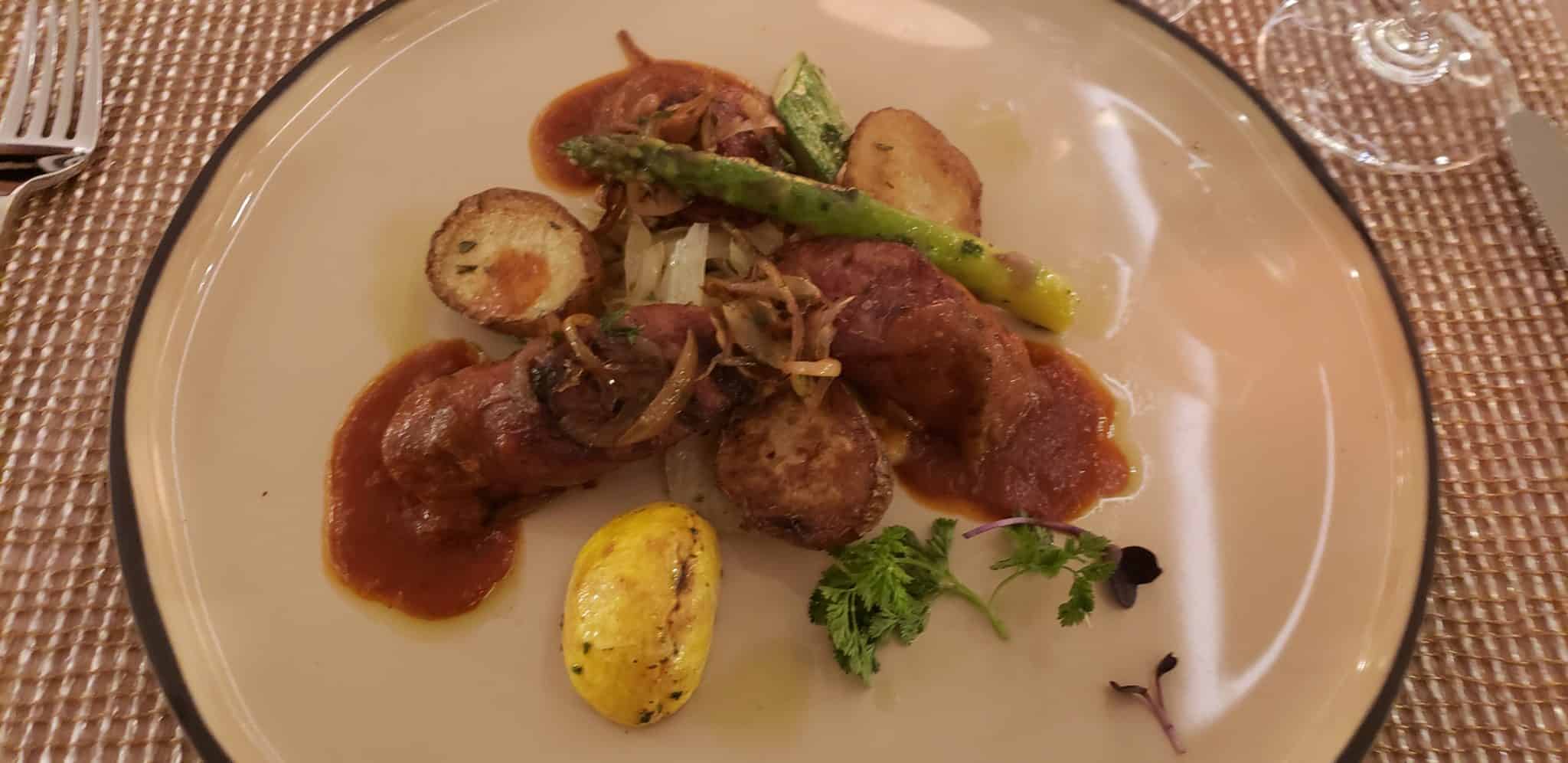 For dessert, I also opted for a Syros specialty, the "Halvadopita," almond nougat between sweet wafers and served with frozen orange yogurt.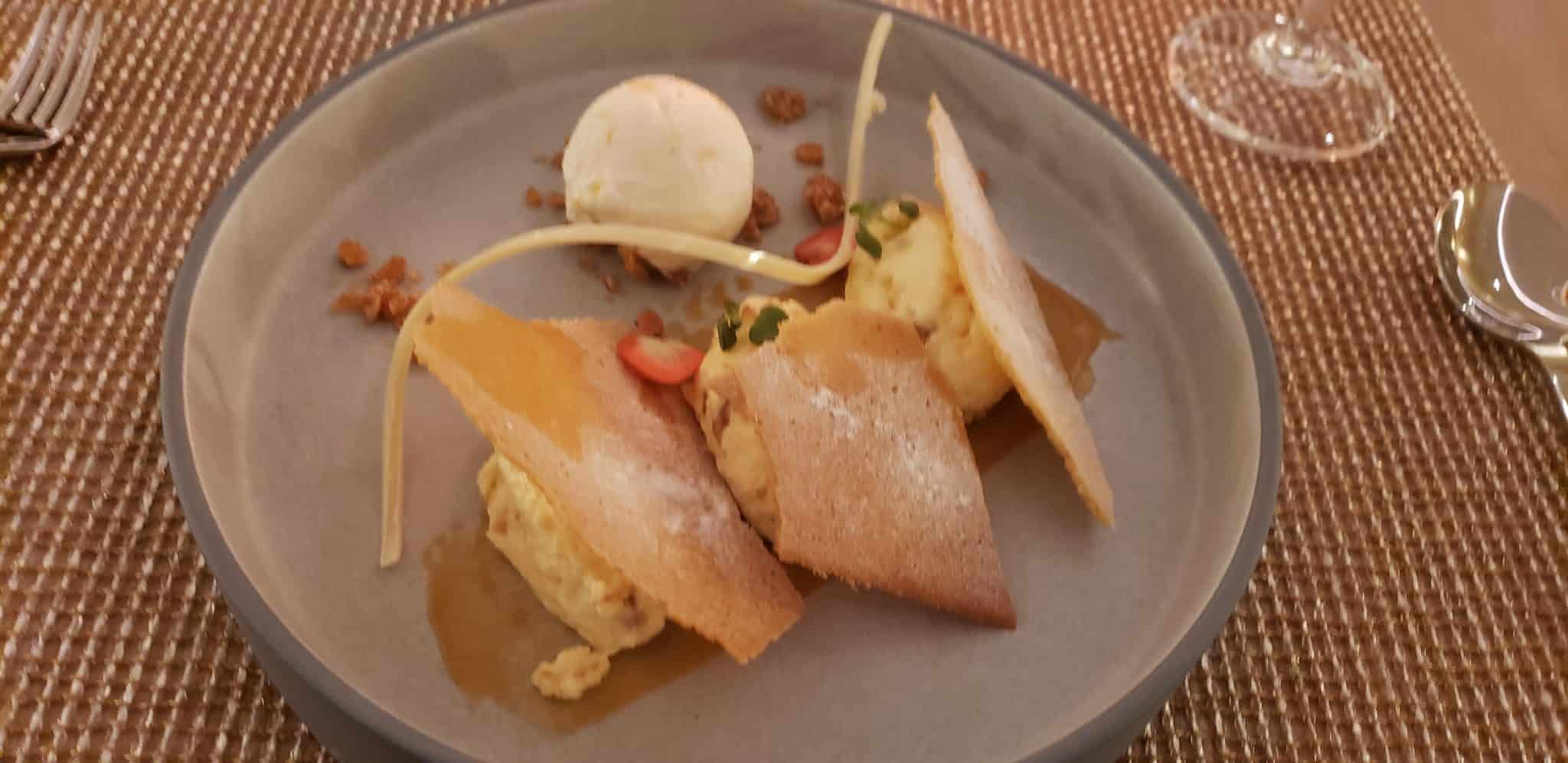 A friend of mine, Tom Baker, president and partner, CruiseCenter, Houston sailed on Silver Moon the week after I did, and during the sea day, he ordered this local fresh fish of the day.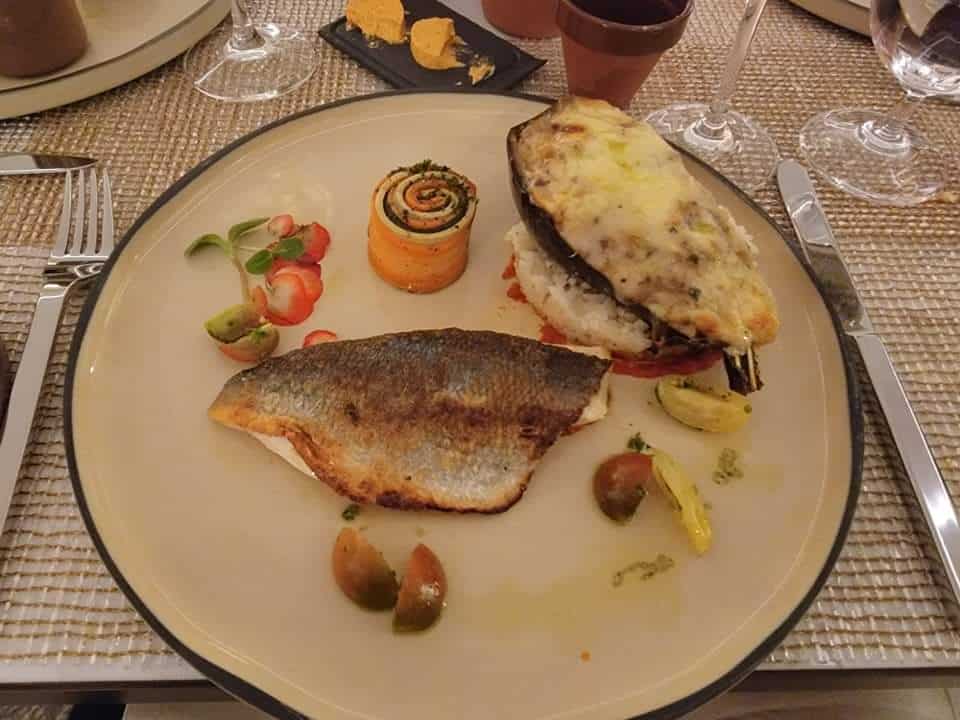 Drinks That Wow
The S.A.L.T. concept of tasting and enjoying "local flavors" extends to drinks too. S.A.L.T. Kitchen has an extraordinary Wine List of no fewer than 70 wines, all highlighting wine-making skills found in Greece and Cyprus.
But there's a totally new bar venue too — S.A.L.T. Bar (located near the S.A.L.T. Kitchen on Deck 4). It's an intimate, small venue that's perfect for a pre-dinner drink. Yes, you still can order your favorites such as wine, beer, spirits, and cocktails, but I'd suggest checking out the pretty, locally-inspired drinks. Case in point?
One fellow traveler ordered a "Selene, the Moon," inspired by Selene, the ancient Greek Moon goddess. As the bar waiter sat the creatively designed drink in front of her, she couldn't help admiring its unusual shape with a top "dome." But when she leaned in a bit to check it out, "poof," the drink's dome instantly collapsed and disintegrated. It was a surprise so everyone in her party and at adjacent tables instantly broke into loud laughter. A twist on the classic Aviation drink, the Selene is concocted with moonshot gin, maraschino, fresh lemon, peach bitters, rue berry and "citrus smoke."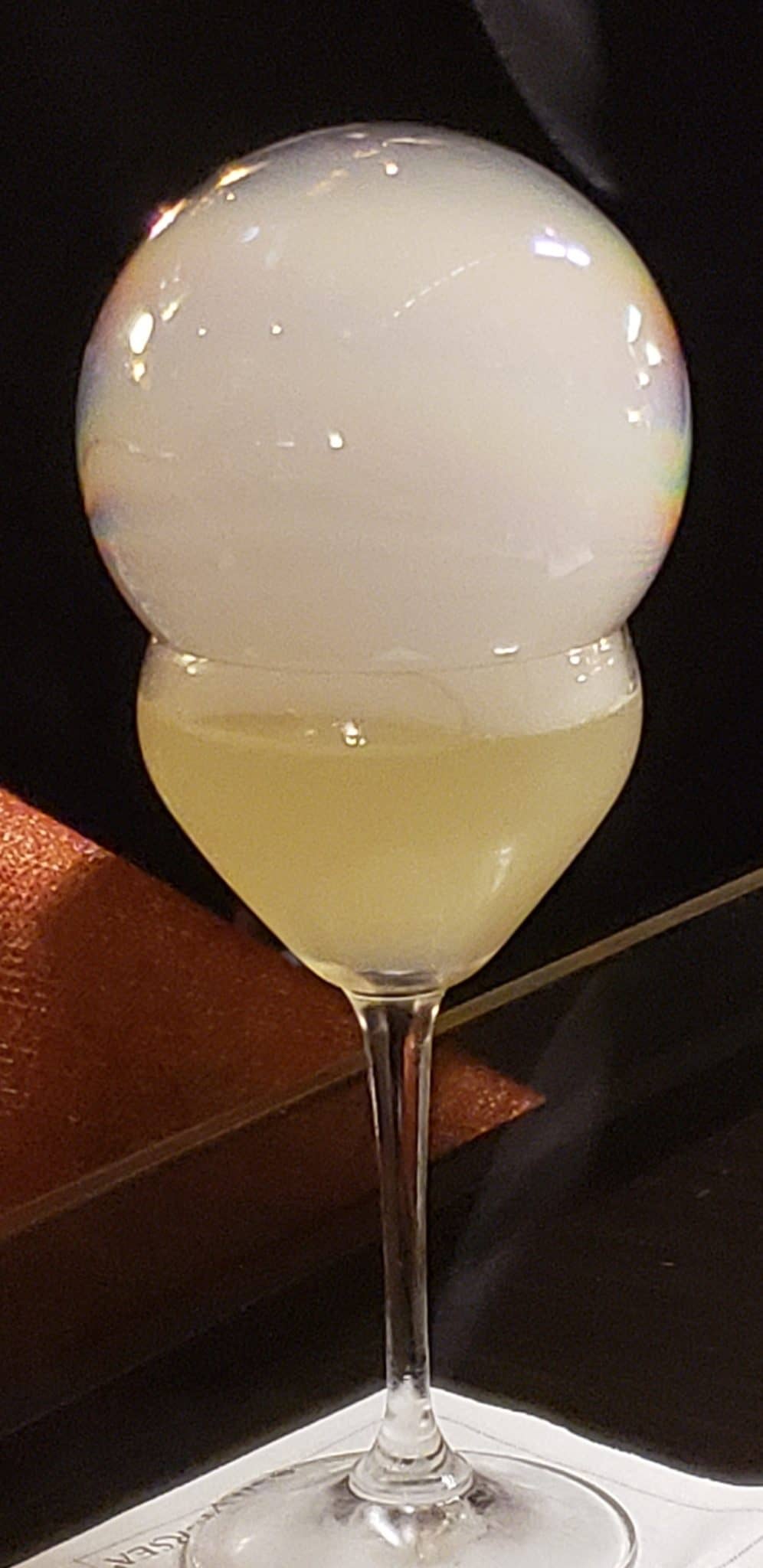 One traditional drink on the menu is Adolo Ouzo Plomari, consisting of ouzo distilled on the island of Lesbos, Greece. The S.A.L.T. Bar menu suggests that guests enjoy the local ouzo in this highball cocktail with Greek Mastiqua Sparkling Water and a slice of lemon.
I liked that the menu also offered a colorful, non-alcoholic drink, "Fork in the Road," inspired by an eastern Mediterranean tale. When a Byzantine Princess and Venetian Doge married, the bride used her own golden fork to dine, which wasn't appreciated by the Venetians who – at the time – dined with their hands, not silverware. This drink is concocted with alcohol-free Prosecco, apricot jam, orange juice, fresh lemon, and nonalcoholic Aecorn bitter aperitif.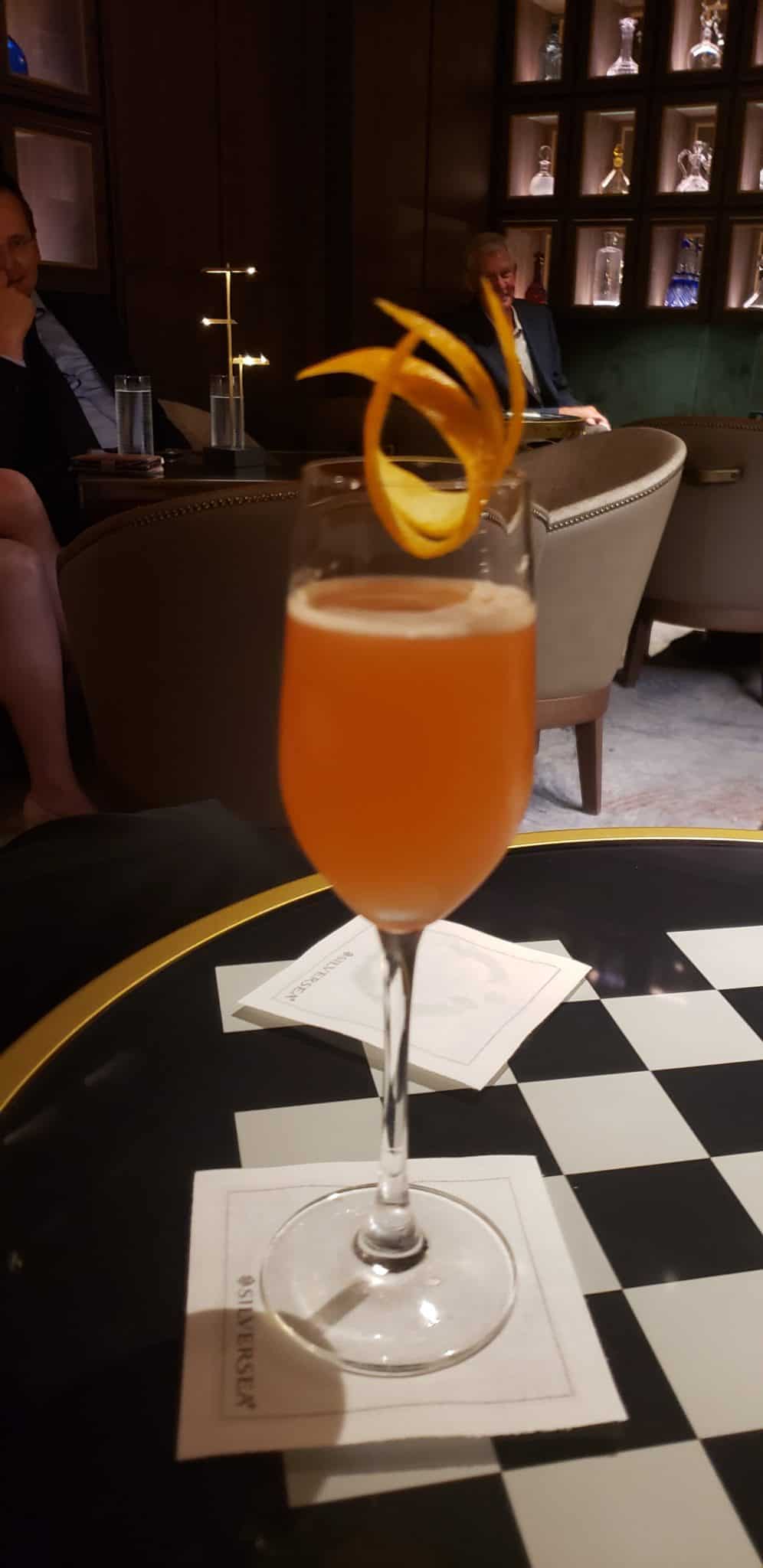 MORE: 8 Tips For Preparing to Cruise in 2021
Even More S.A.L.T.
The extensive S.A.L.T. program was developed by Barbara Muckermann, Silversea's chief commercial officer, and Adam Sachs, S.A.L.T.'s director, a James Beard award-winning food writer and former editor in chief of Saveur. What's neat is that the S.A.L.T. concept encompasses dining, drinks, and activities, but does so both aboard the ship and ashore in the destinations visited.
Besides the S.A.L.T. Kitchen and S.A.L.T. Bar, Silver Moon's daily menu of onboard activities include new hands-on cooking sessions for up to 12 guests at the new, high-tech S.A.L.T. Lab. On our cruise, guests made reservations for everything from "Rediscovering Phyllo: A Hands-On Approach to a Versatile Dough" and "How to Mezze," to alternatively, "Cook the Menu: Moussaka" and "Beyond Borders: The Food and Flavors of Cyprus."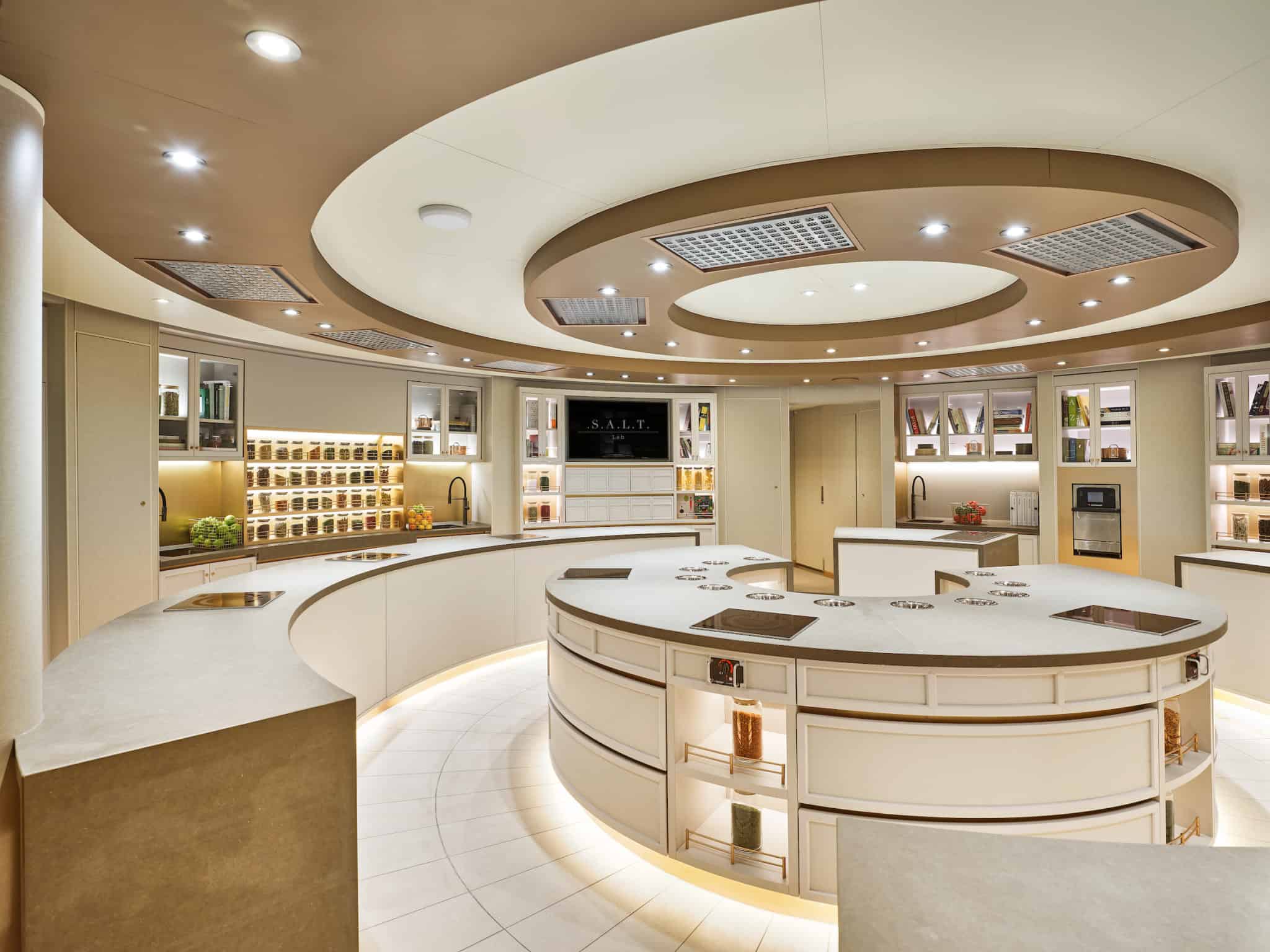 In addition, guests who are passionate foodies or those interested in a shore trip that's not the usual fare can check out the line's new S.A.L.T. Ashore excursions. I didn't experience these, but those who did seemed to really like them for an in-depth look at a particular place or type of cuisine. For example, during a port day in Paros, some guests headed ashore on the S.A.L.T. Ashore program, "Tastes of the Cyclades."
First, the tour visited an organic, biodynamic farm specializing in olive, pomegranate, almond, acacia, and carob trees. Cruise guests who so desired could pick and eat figs right from the tree; smell fresh Cretan oregano, sage, and other spices; explore a greenhouse; and sample olive oil, dried herbs, bakery items, and much more.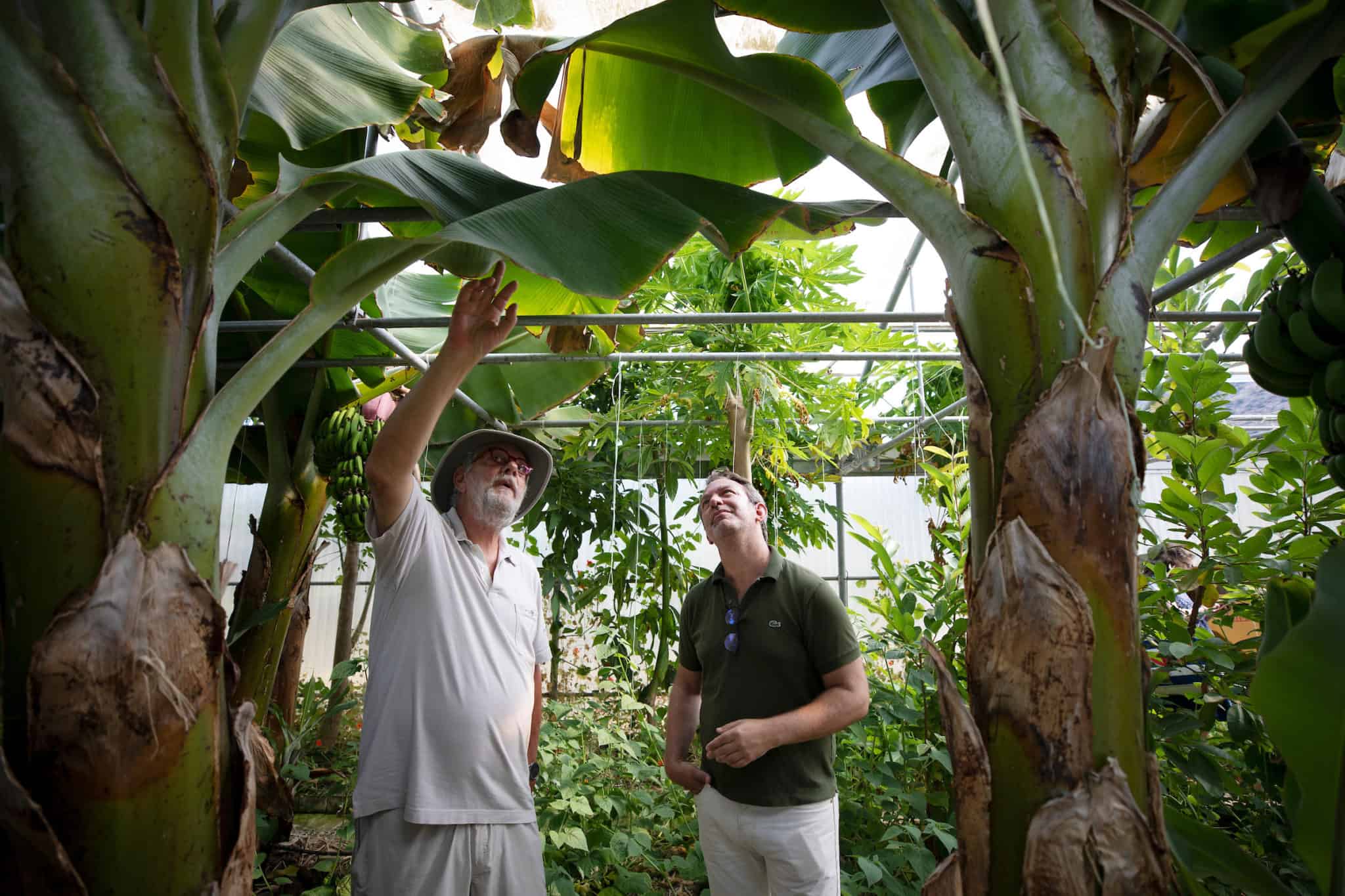 The tour then continued to Thalassamou, a local restaurant personally selected by Sachs, to watch a phyllo making demonstration, taste breads cooked over a wood burning stove, and enjoy "mezze" — the small plates of Greece.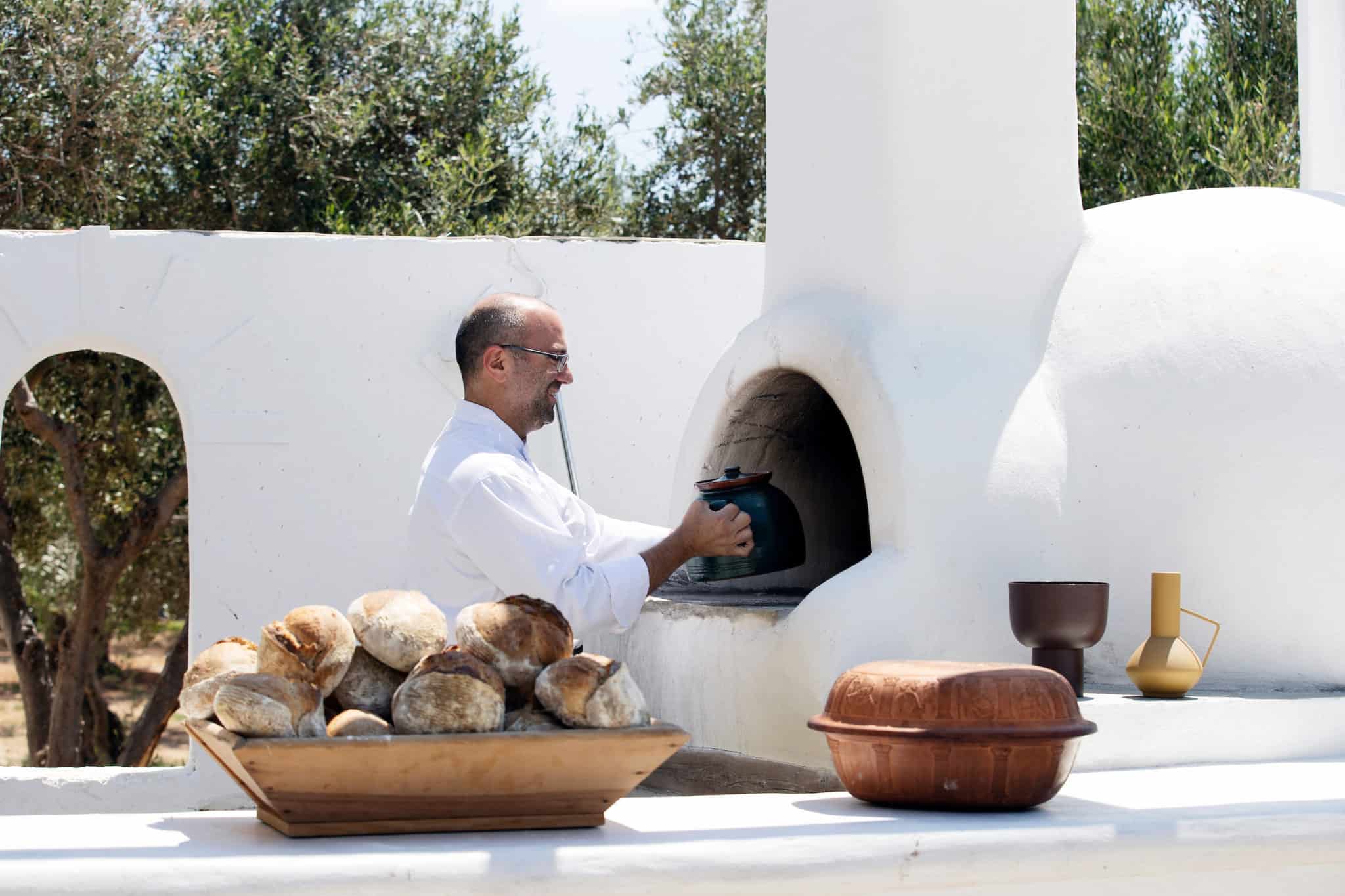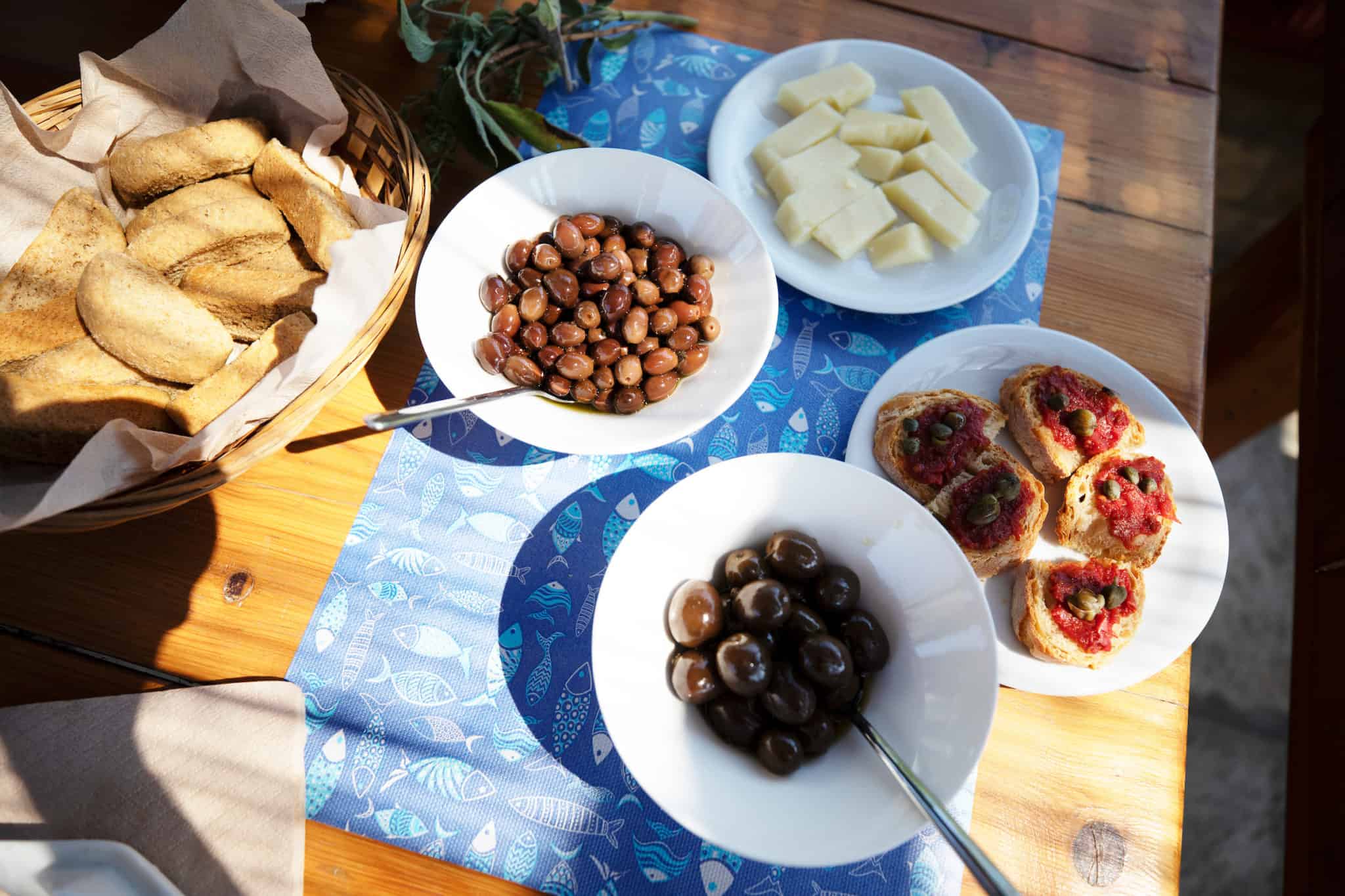 According to Martinoli, generally every ultra-luxury line has great food, but S.A.L.T.'s deep dive from a culinary perspective into local foods and drinks is already proving irresistible to foodie fans – which he believes is giving Silversea a differentiating offering in the marketplace for luxury cruises.
In other words, this isn't just a program with one or two dishes on the main dining room menu. It's an immersion into the food culture of the region of sailing – by dedicating stand-alone venues, new programming, and shore options. It's also not about celebrity chefs. In contrast, the line now has a food anthropologist on staff.
Martinoli estimates that up to 10 percent of all guests are such die-hard foodies they likely will do S.A.L.T. activities daily, while all guests are likely to do a few S.A.L.T. options throughout the cruise. So, it gives more choices, no matter whether you love "everything food," or in contrast, like to dabble by participating in just one or two culinary activities.
Other Cuisine
As for other Silver Moon dining venues, I had a phenomenal meal one evening in La Dame, Silversea's fine French restaurant. I loved starting out with the "Caviar and Condiments," a one-ounce portion of signature, farm-raised caviar served with buckwheat blinis, Jersey potatoes and traditional condiments.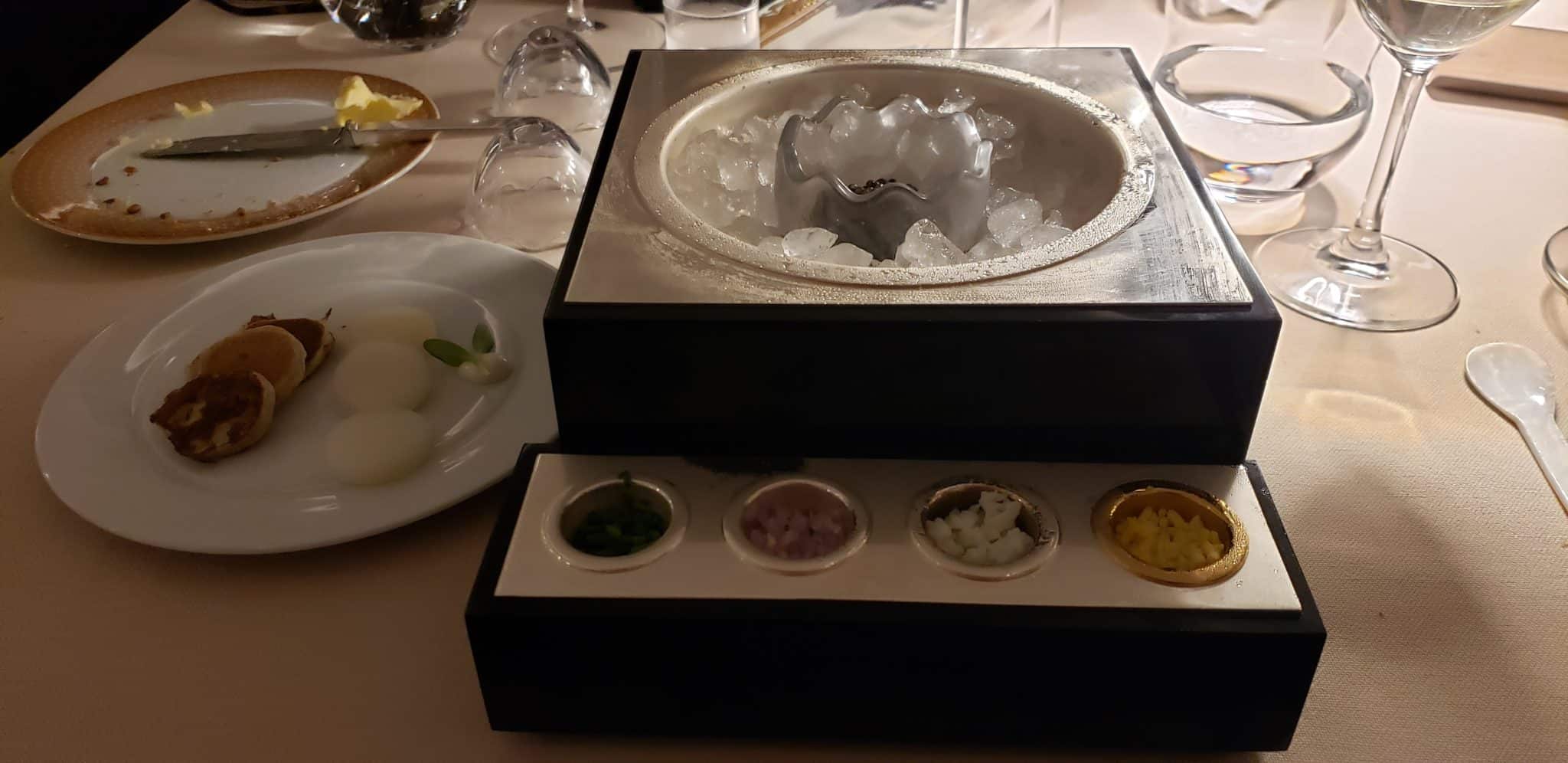 Monte Mathews, a well-known food writer, publisher at Brick Kiln Kitchens, and blogger who also sailed on my recent Greek Isles cruise, says: "La Dame excels at superb service, a phenomenal wine list and French specialties from Foie Gras to Profiteroles," and he adds that it's also been expanded on Silver Moon and offers a new al fresco dining option, with guests perched aft to watch the ship's wake.
Another favorite eatery on Silver Moon is Kaiseki, which exudes an intimate Japanese look and feel and serves up sushi, sashimi, and other Japanese dishes. "Everything from the presentation to the food itself is of the highest order," from Mathews' perspective.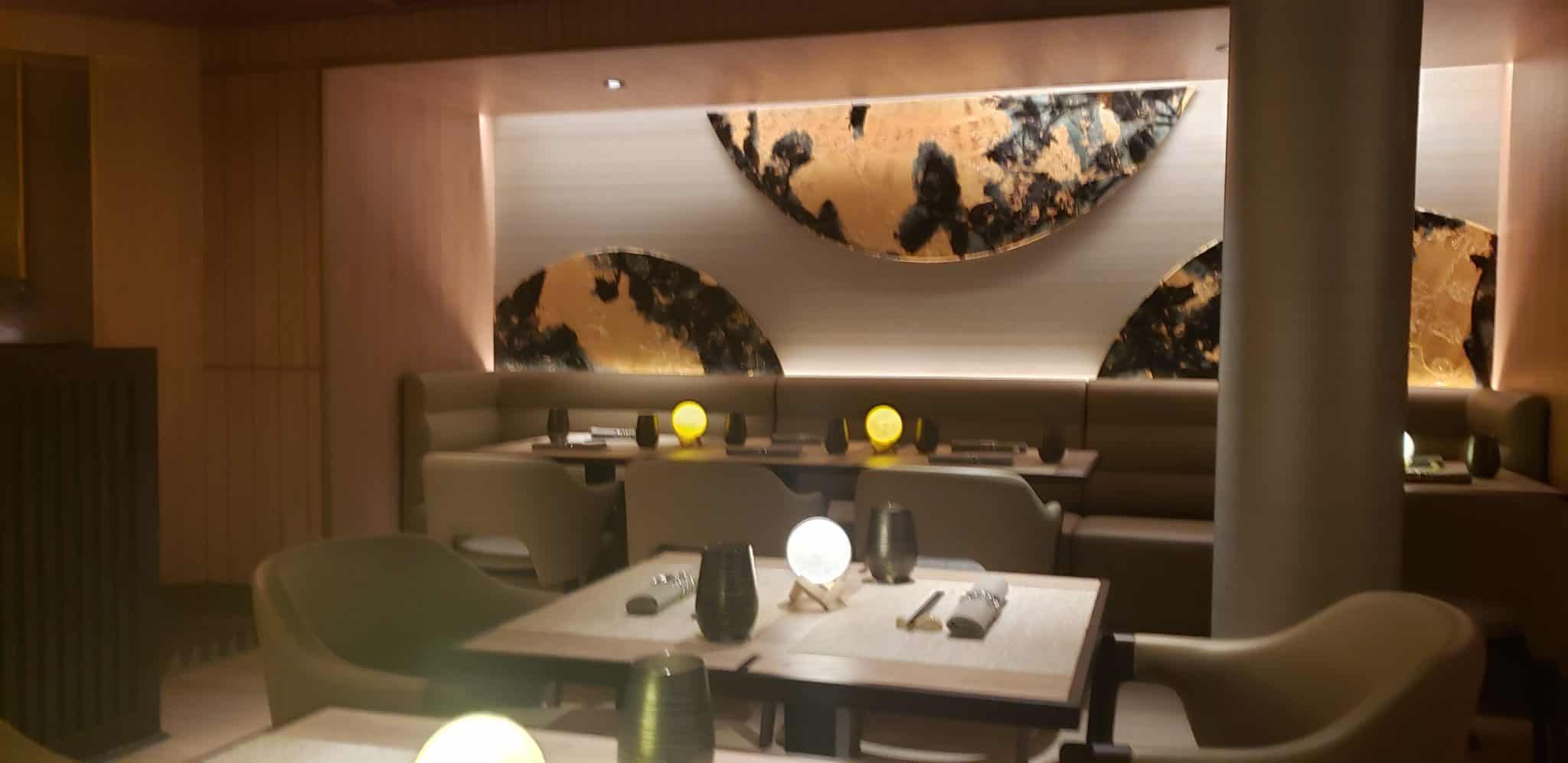 I'd have to agree. For dinner one night, I ordered the King Crab Tempura (king crab balls), which were terrific; note, I asked for them not to include the sauce, so normally you would also see that on the photo.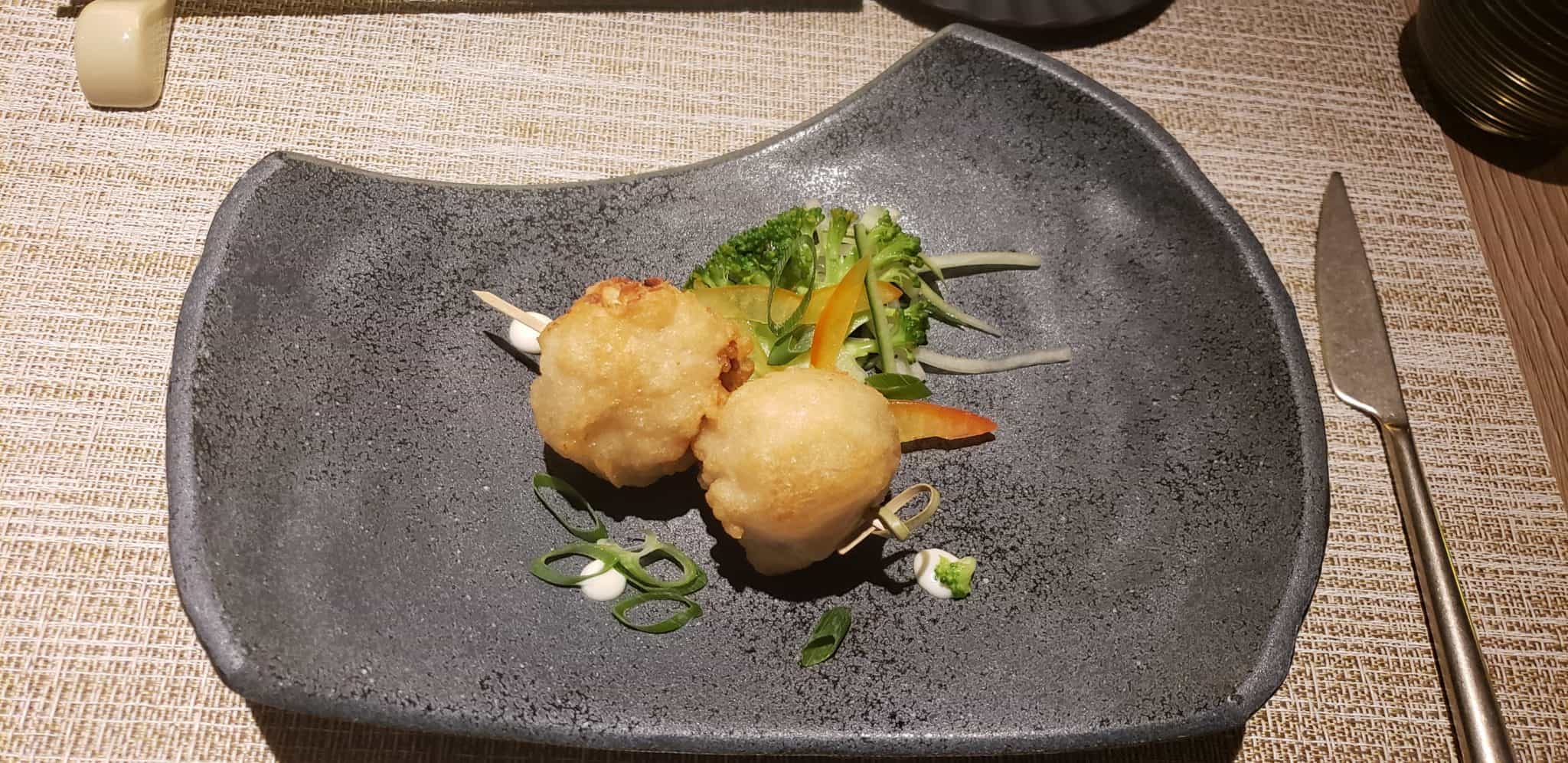 Then I followed up with the Lobster soup, consisting of lemongrass and yuzu-infused seafood consommé with Lobster medallions.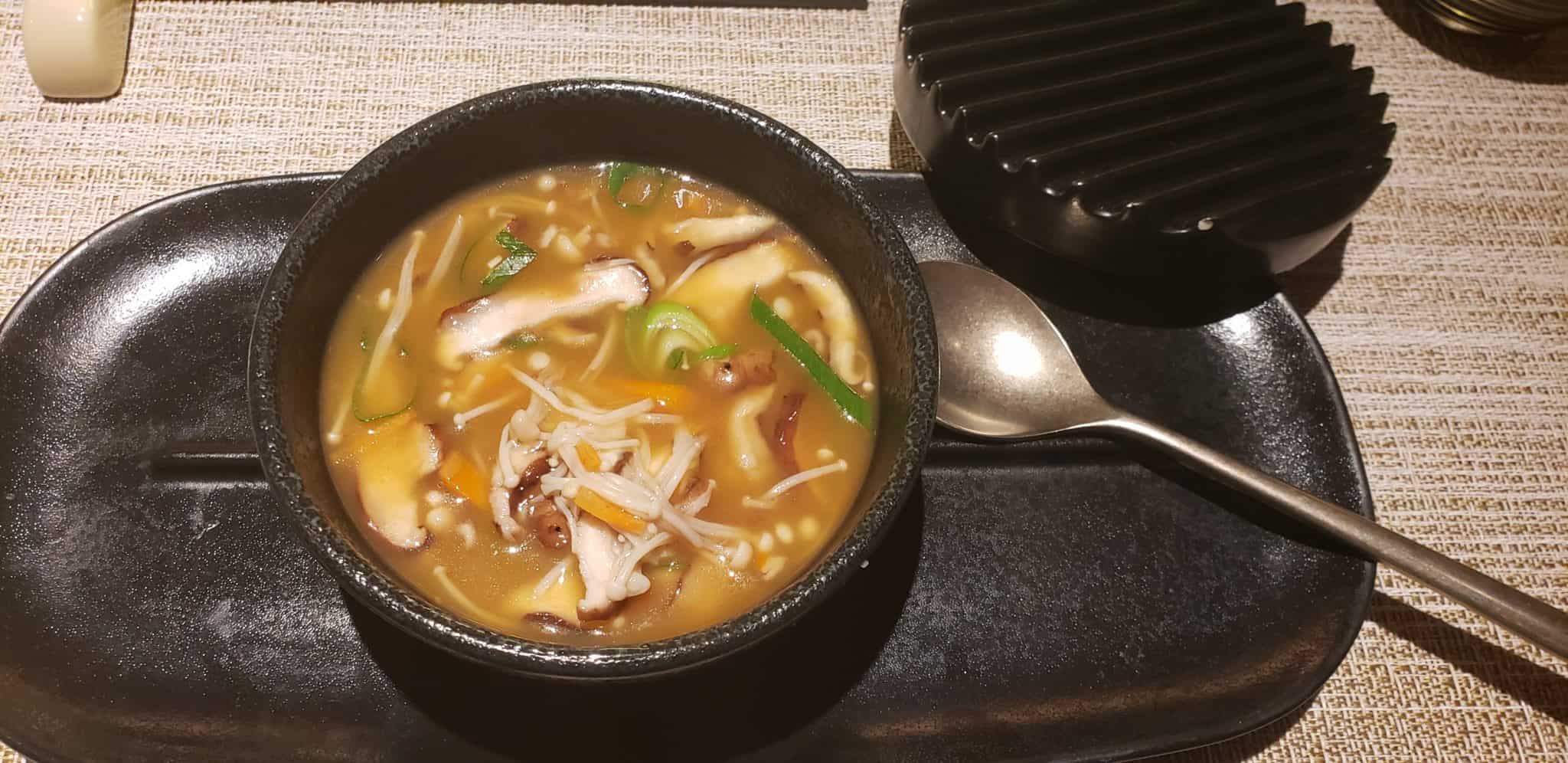 As an entrée, Mathews suggests to potential diners to "try the Wagyu beef served both on its own and as a component in Kaiseki's version of 'Surf and Turf.'" Since I had seafood on the brain the night I dined here and wanted a taste of beef too, I took his suggestion and ordered the "Maine Lobster Tail & Wagyu Surf and Turf." Let's just say that it lived up to the billing.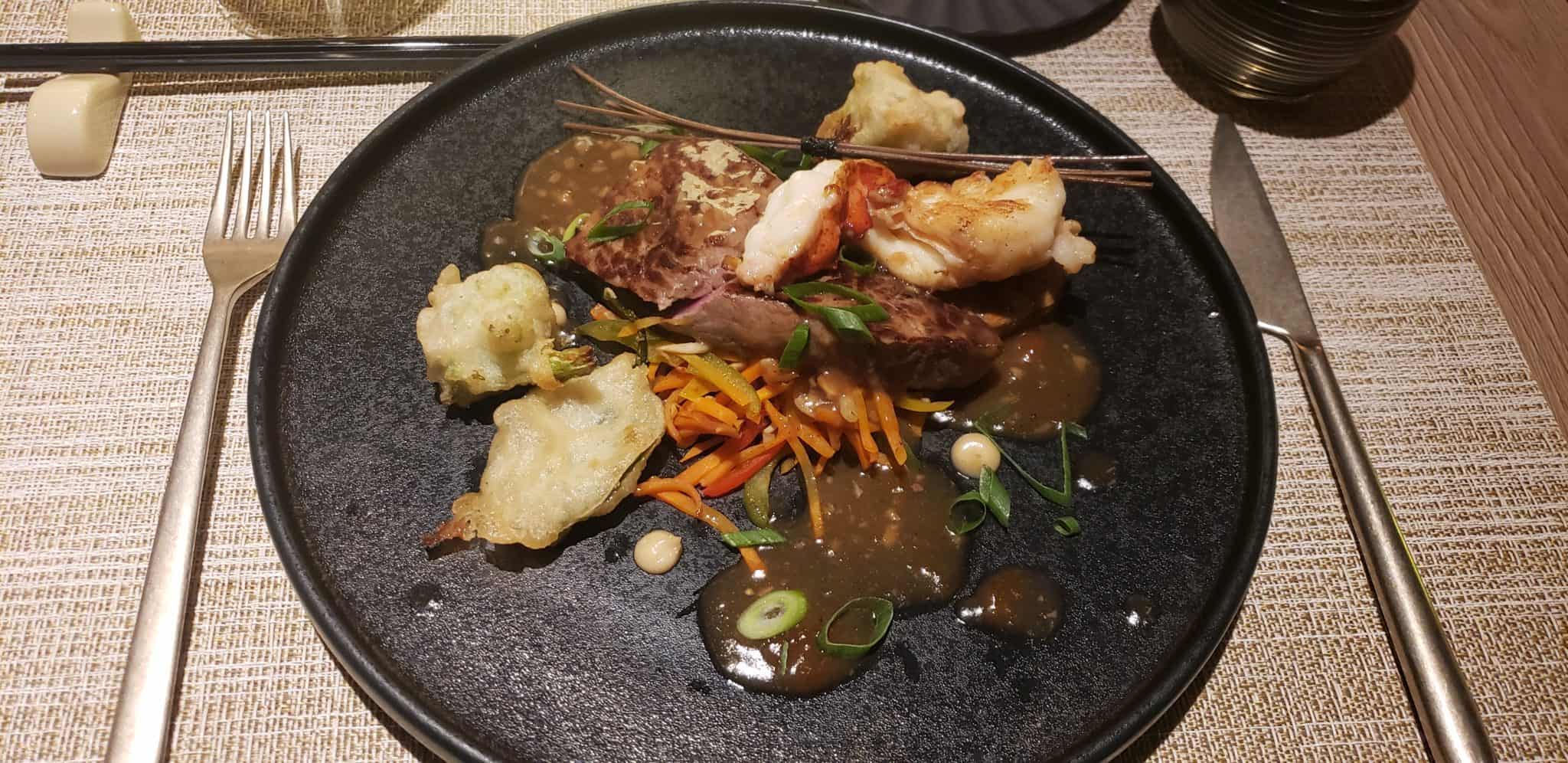 Service throughout the meal was impeccable. I liked the soothing tones and music in this restaurant. I was dining alone but it put me at ease. I had a delightful time at Kaiseki.
Mathews recommends not passing up Kaiseki's Passion Fruit Crème Brulee for dessert. Another good choice from my perspective is the Green Tea Fondant, consisting of a green-tea infused dark chocolate fondant, Yuzu-flavored Crème Anglaise, and exotic fruit Brunoise. It was creatively presented and melted in one's mouth.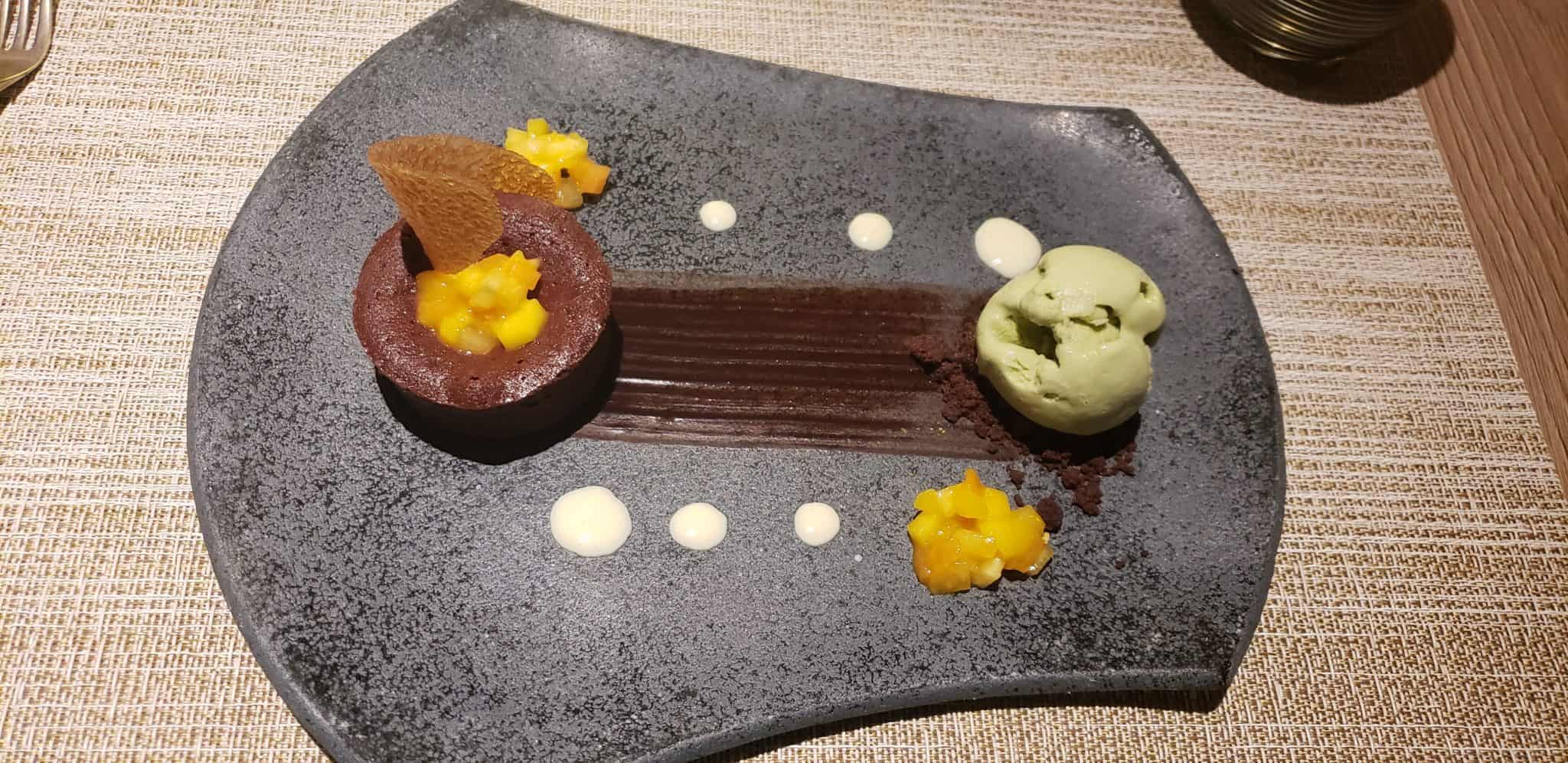 Throughout my cruise, I personally loved the Arts Café for quick bites, a glass of wine, prompt service, and a lovely, relaxing aura with books, a bar, comfortable seating both inside and outside, and eclectic art to peruse.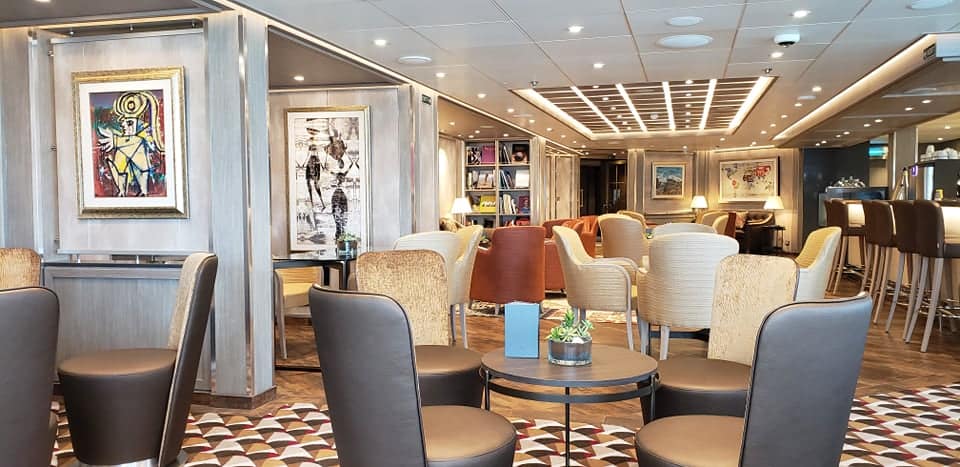 I dined multiple times at Atlantide, Silver Moon's main restaurant on Deck 4. Mostly, it was a very good experience. On one occasion, when a Thai curry dish's taste didn't meet my expectations, I informed the server. She was friendly, seemed appreciative of the information, and immediately offered to bring me something else. Bottom line? She handled the situation in a classy way.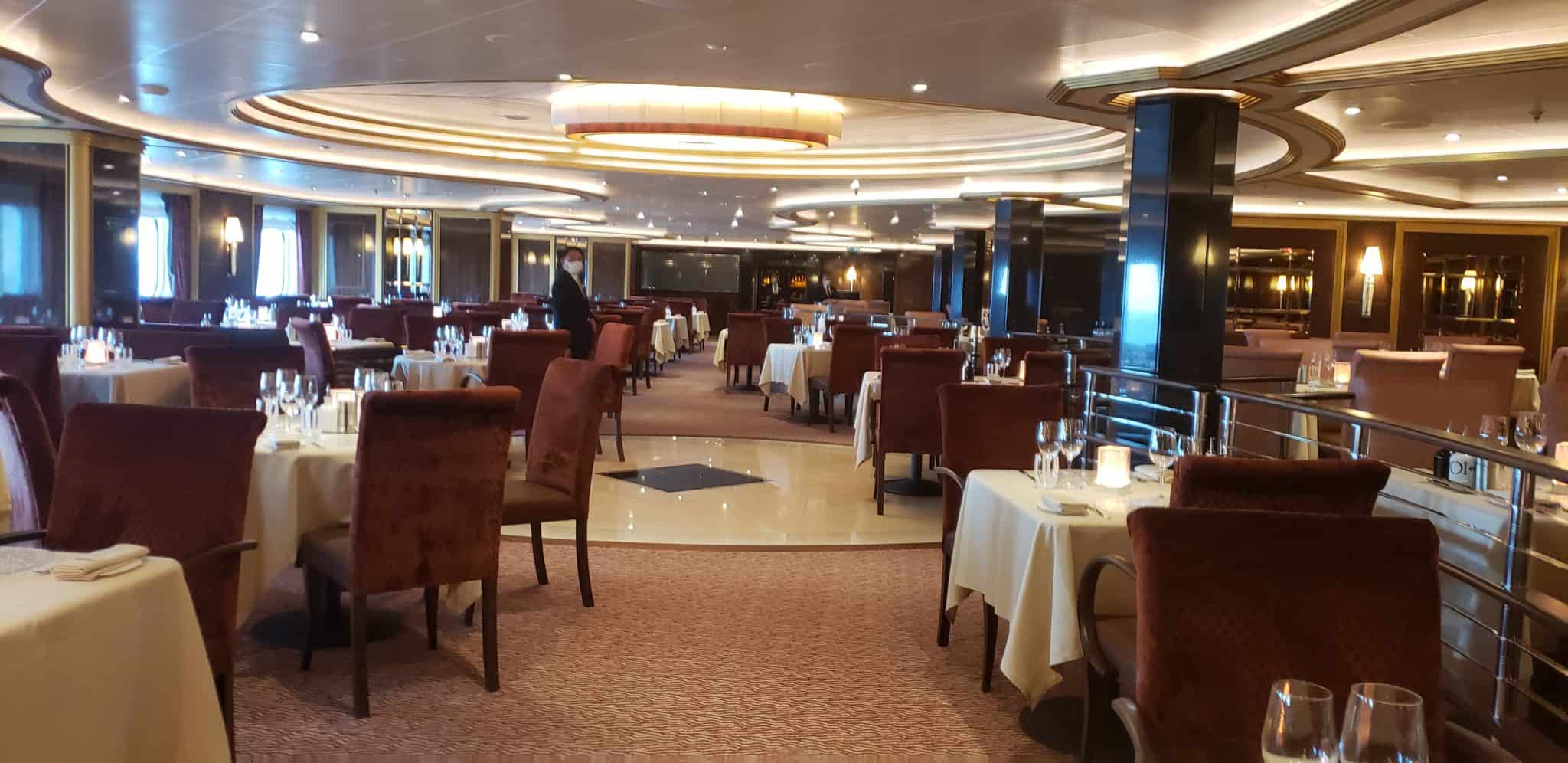 A friend and I dined together one evening poolside at the casual Hot Rocks. If you go, expect to see tabletop lights of varying colors, attentive table service for food and drinks, and a menu specializing in "hot rocks cooking." Essentially, a lava rock slab is heated to 420 degrees, then brought to the table, along with the raw fish, seafood, meat, or veggies.
The server puts a "bib" around your neck to keep you from ruining your clothing with drips and drizzles. With a few words of instruction, the staff then leave cruisers to "do the honors" — placing their desired dinner choice on the hot surface to sizzle and snap. My friend ordered a rib eye, I had prawns, and we each added onion rings, fries, or a salad on the side. Overall, this is a fun, aromatic, and tasty experience.
Perhaps one of the best spots for comfort food, though, is Spaccanapoli. Located on Deck 11, this pizzeria is nestled into the open, covered deck above the adjacent pool area. Its freshly made, traditional pizza pies were incredible. I'd suggest the "Porcini E Carciofi," with San Marzano tomatoes, Mozzarella di Bufala, Porcini Mushrooms, and 26-Month DOP Parmigiano Reggiano.
Another option is the "Diavola" with San Marzano tomatoes, fior di latte, spicy salami, fresh basil, and spicy extra virgin olive oil. There are at least 15 choices, five of which (including Margarita, Bufalina, and Marinara) hail from "Napoli."
I did not dine at Silver Note during my stay aboard Silver Moon, but I did enjoy room service on multiple occasions, mostly for breakfast and lunch. It's available 24 hours a day. My deliveries were prompt and meals were exactly as ordered. The room service menu is on the in-suite entertainment system, so it shows up on the big screen.
Parting Thoughts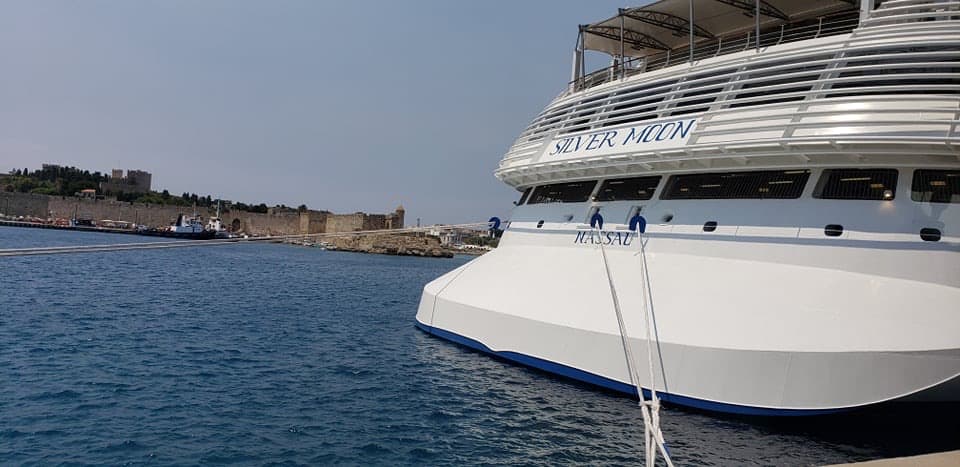 Foodie fans will likely love the S.A.L.T. concept on Silversea's Silver Moon, for both onboard and shoreside "deep" culinary diving in the local foods, drinks, and agricultural traditions. Other guests will likely – as I did – enjoy the option for tasting a local dish, learning how to cook this or that, or enjoying a cocktail popular in the region.
I also like the accompanying S.A.L.T. "tidbits" or longer "tales" that delve into historical, cultural, and culinary traditions. All are designed to help travelers assimilate with the local cultures and peoples of the region visited and to give travelers a more robust understanding of the destinations they're visiting.
From caviar to pizza, from local dishes to international favorites, though, Silversea also delivers an appealing diversity of cuisine both in S.A.L.T. and non-S.A.L.T. venues. So, whether you're a die-hard culinary connoisseur or someone who just likes a good meal after a hard day of exploring ashore or relaxing aboard, you'll find many tasty options day after day on the new Silver Moon.
Read my previous entries about Silver Moon: