LISTEN

Royal Caribbean's Freedom of the Seas suffered an engine room fire while the ship was docking in Falmouth, Jamaica on Wednesday morning.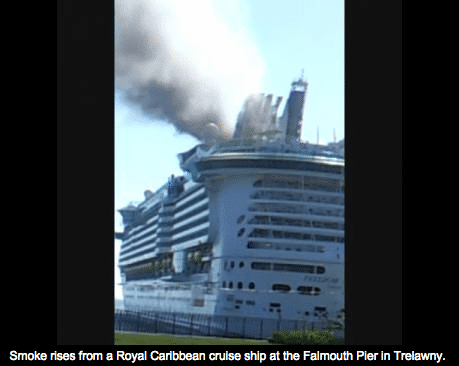 Company Statement
Freedom of the Seas experienced a fire in a mechanical space as the ship was pulling into Falmouth, Jamaica.  The ship's fire suppression system was immediately activated, which contained and extinguished the fire. In an abundance of caution, the Captain mustered all guests at their assembly stations.  The ship is currently alongside in Falmouth and all systems are functioning.
Passenger Reaction
A guest on the ship, CruiseCritic user Lynmae75 posted, "I'm on the Freedom now. There was a fire in one of the engines. We reported to our stations. It's out now. They've sent us to different venues, theater, studio b, etc. Since we can't go back to our stateroom just yet."
Freedom of the Seas is on a seven-night Western Caribbean itinerary from Port Canaveral that departed Sunday, July 19.
Upcoming sailings will not be affected.
Feature Photo: Twitter/JuandWPTV