Every week we roundup the top five cruise news stories for you.
1. Carnival Repositions. Carnival Cruise Line announced that they are making some more moves in the Caribbean in 2016. Carnival Fantasy will leave Charleston and head to Miami. Carnival Ecstasy will leave Miami and replace Fantasy. Carnival Victory will head to San Juan. This continues to give Carnival a US homeport advantage and the leader in the Caribbean. Read more here.
2. MSC Divina calls in NYC. The MSC Divina made her inaugural call in NYC this week. MSC Divina overnighted in New York City as part of her transatlantic crossing. She is now headed to the Mediterranean where she will stay for the summer season.
Upon her return from the Mediterranean in November 2015, MSC Divina will start year-round Caribbean sailings from Miami.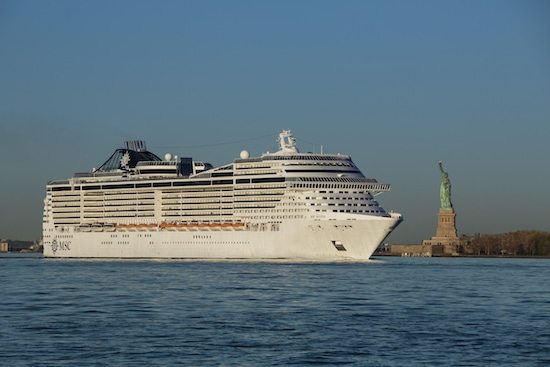 3. Norwegian Epic starts Europe. Miami recently bid farewell to Norwegian Epic recently as she repositioned to her new year-round homeport in the Mediterranean as Miami makes room for Norwegian Escape in November. For the past five years Norwegian Epic has been splitting time between Europe and the Caribbean.
4. Royal Caribbean canceled cruise. Royal Caribbean had to cancel a four-night cruise aboard Majesty of the Seas out of Miami on April 27 because of an oil leak. The ship was sent to a dry dock in Freeport, Bahamas for the repairs and is now back to operating her regularly scheduled itineraries. Guests effected received a full refund and a future cruise certificate valued at 100% off their next sailing. Read more here.
5. Norwegian makes Room Service fee permanent. Effective fleet-wide on May 1, 2015, passengers who are ordering room service on Norwegian Cruise Line ships will be charged a $7.95 fee. With the fee comes new hot menu items. Norwegian first tested this fee last month aboard Norwegian Getaway and Norwegian Breakaway.
You can hear more cruise news every week with Stewart Chiron The Cruise Guy on Cruise Radio.
Listen
[smart_track_player url="https://traffic.libsyn.com/cruiseradioshow/CR_APR_29_15_AU.mp3″ title="Cruise News and Carnival Dream Review" artist="Cruise Radio" ]