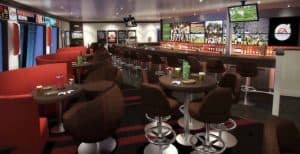 Just how much do guests like the EA Sports Bar on Carnival Liberty after the Fun Ship 2.0 enhancements? Just ask any one of the dozens of guests in there for a Sunday or Monday night football game. It was almost like being at the game itself, after-all this is the first EA Sports bar at sea.
There were so many people in the EA Sports Bar during our Carnival Liberty sailing that you could barely move, and that's a good thing. Passengers love the concept. It has sixteen 46-inch flat-screen TV's, a 24-7 sports ticker, finger foods, Carnival's signature ThirstyFrog Red draft beer, and interactive games by EA Sports being played on the big screen, a combination for fun.
The bartenders in the EA Sports Bar are a big part of the atmosphere adding to the chill vibe. Even the drink menu is catered to the EA Sports theme. The decor is like a typical sports bar and figure memorabilia line the wall.
As if all that isn't enough, the official-voice guy of EA Sports recorded sound bytes to be interactive with the games being shown. Most major games are shown all season, and when they're not being played EA Sport interactive games are. The screens can also be divided to feature more than one game at a time.
"Carnival is leading the way in their category and keeps raising the bar. The cruise industry has come so far and they [Carnival] keep finding ways to enhance themselves," said cruise industry veteran Art Sbarsky.
After spending 7-nights aboard Carnival Liberty in early December, it's clear that the EA Sports Bar — "it's in the game."
Stay informed with all the Fun Ship 2.0 stories with our Daily Updates, here.
Source: Doug Parker/Cruise Radio