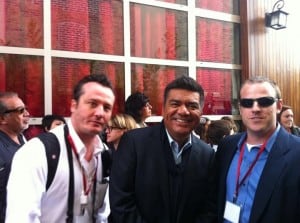 Comedian and Television personality George Lopez is partnering with Carnival Cruise Lines, becoming the Creative Director for Comedy.
"Carnival's guests absolutely love comedy which is why we are already the cruise industry leader in fleet-wide comedic programming and, in fact, we host more guests in our shipboard comedy clubs than any land-based comedy chain in the U.S.," said Gerry Cahill, Carnival's president and CEO. "By partnering with George Lopez, an exceptionally talented, respected and popular comedian, Carnival's comedy offerings will be taken to an entirely new level."
The name of the venue will be transformed to the Punchliner Comedy Club presented by George Lopez, offering five 35-minute shows through-out the voyages. Lopez will offer passengers pre-recorded video and audio in the clubs as well. Aside from the comedy club, Lopez will have constant in room entertainment running on the cabin televisions. A Punchliner Comedy Brunch will also be added on their Fun Day at sea.
"Carnival's ships offer a huge audience that truly appreciates comedic performances and the on-board clubs are fantastic," said Lopez. "I intend to help build and nurture an understanding among up-and-coming comedic talent that these ships represent a phenomenal environment to work and gain experience."
The partnership is part of Fun Ship 2.0, a multi-year initiative valued at more than $500 million. Hear our interview with George Lopez from Carnival's Fun Ship 2.0 event in NYC. You can check out the fleet roll-out schedule here.