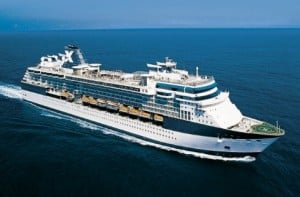 MIAMI – January 5, 2012 – Grammy Award-winning artist Kenny G has chartered modern luxury line Celebrity Cruises' Celebrity Millennium to create a special vacation experience in Alaska,  May 17-24, 2013.  The world-renowned saxophonist will not only offer multiple performances during the sailing, but also will mix and mingle with guests onboard throughout the cruise. Other recognized artists yet to be announced will perform during the sailing, as well.
In a recording career spanning nearly three decades, Kenny G is the biggest-selling instrumentalist of all time, with sales of more than 75-million records worldwide, and more than a dozen climbs to the top of Billboard's contemporary jazz chart. In the past year alone, Kenny performed in more than 100 concerts in the U.S., Asia and Russia. He continued his iconic status with recent appearances on Saturday Night Live, performing with Foster the People, played a prominent role in pop artist Katy Perry's video hit, "Last Friday Night," and appeared on several Audi TV commercials featured during the 2011 Super Bowl. Since the early 1980s, Kenny G's combination of unparalleled instrumental talent and enduring melodies have resulted in him being recognized as one of the most successful music icons of his generation.
"I'm excited for the opportunity to cruise with my closest fans aboard Celebrity Millennium," said Kenny G. "The experience of playing with my band and sharing the breathtaking sights of one of the most beautiful destinations in the world will be one I'll remember forever. This cruise will allow me to spend quality time and get to know the fans onboard, just as they've gotten to know me through my music. Sailing with them on a week-long Celebrity Cruises vacation will be a highlight of my career, and I can't wait to share the journey."
To make a booking, or for further information about this special sailing, visit www.KennyGcruise.com or call 1-800-952-2991.
Source: Celebrity Cruise Lines