Grand Turk Update From Jack's Shack
In the wake of the devastating hurricanes which tore through some of our favorite ports, many cruisers have found themselves not only keeping the residents in their thoughts, but worrying about some of the locals who have over time become like members of their extended family. With that in mind, we reached out to Topher — the world's most photographed dog — and his human pal Jack (of Jack's Shack) for an update on Grand Turk.
Grand Turk Update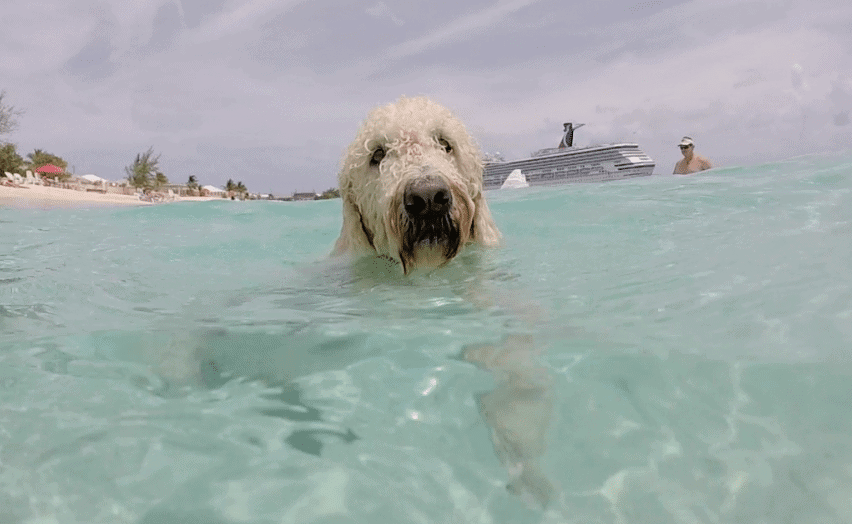 For those who've not yet had the pleasure, Jack's Shack is a bar located a short walk from the Grand Turk cruise port. A favorite among visitors, the bar is known as a great place to meet friendly strangers who'll likely become lifetime friends as well as the aforementioned Topher. No stranger to bad storms, Jack has seen his share of hurricanes… and the damage they can do to the island. "I went through Ike, a category 4 hurricane, in 2008," he writes.
"Although Irma was a category 5, in some ways the damage was less. The electric polls were not all down like in Ike. It took us 26 weeks to get power back at Jack's Shack after Ike."
This time around, he reports that "it looks like lots of the power should be back in late October."
Because the two hurricanes hit so close together, there was no time for residents to really regain their footing between the attacks. "Irma was worse because we lost both telephone and internet for a week," Jack says. "Maria was the frosting on the cake, causing a little bit more damage and lots more dampness, with winds hitting the other side of the island that Irma had not impacted."
"Everyone Is Out Of Work"
In the aftermath of the storm, Jack says that the "damage is devastating to the islands. Almost every home had water driven into it, making for wet clothes, mattresses… and potential mold everywhere." If there is a bright side, he says it's that "the week after the storms are usually dry and hot."
But what the islands really need is for things to get up and running as soon as possible. "As tourism is our only industry to speak of and everyone is out of work for practically two months," the barkeep explains, "the devastation has to be solved with savings. For those who lost their whole home, the situation is bleaker. For those with minor damage and generators, life still involves clean-up and paying for gasoline with money you can't spare."
The good news? "No one was hurt or died," he says. "The island has had assistance from other governments and charities, so no one is starving. Building materials are scarece, so instant rebuilding is not realistic."
"We Are All Hoping The Cruise Ships Will Return Soon"
As far as Jack's Shack goes, the much loved hot spot emerged relatively unscathed, at least when compared to what others have experienced. "Jack's Shack has only minor damage," he reports. "It should take a week of clean-up, re installation of sun shades and tiki hut roofing, which we took down to avoid losing. The kitchen was not damaged, [it] just as 12 inches of sand in it."
Now, he — like his fellow islanders — just wants things to go back to normal. "We are all hoping the cruise ships will return soon so we can start making salaries again and having fun with our cruising friends!"