We know some people with pretty great jobs. Heck, as someone who gets to spend all day watching, discussing and tweeting about soaps as the executive editor of Soaps in Depth magazine, I have a pretty fantastic gig.  And yet, when it comes to having the coolest job ever, we're gonna have to give that title to Colin Presby, the brewmeister aboard Carnival Vista. After all, his official job is to cruise the world and make beer! In fact, he landed the job after responding to an ad on the website probrewer.com which, he tells us, said "Travel the world and brew some beer!"
What They're Making!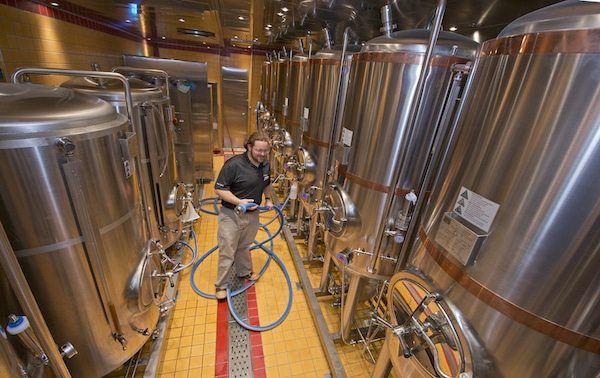 Lest you think you, too, can simply click on an link and wind up brewing beer on a cruise ship for a living, it's worth noting that Presby holds a BA in mathematics — with a minor in chemistry — from Franklin & Marshall college. And the man knows his way around beers, having been active with the Brewers Association, the Master Brewers Association of the Americas and the Brewers of Pennsylvania!
So how, exactly, does a cruise line decide what type of beer to make in their onboard brewery? "We started with these three flagship beers," says Presby. "The ThirstyFrog Caribbean Wheat, the ThirstyFrog Port Hoppin' IPA and the FriskyFrog Java Stout."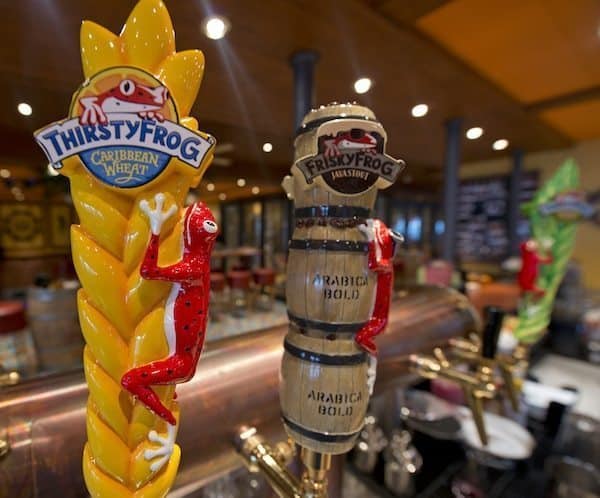 The goal, he explains, was to "brew beers that were definitely approachable" to folks who might not normally wander too far astray of traditionally popular brands. "Our Java Stout is 5 percent alcohol, and the IPA's around 6 percent. With the IPA, we're focusing more on aroma than sheer bitterness. So it's bitter, but we're looking for a smooth bitterness and a really good, citrusy aroma."
READ MORE: 19 Places to Eat on Carnival Vista
Explore His World!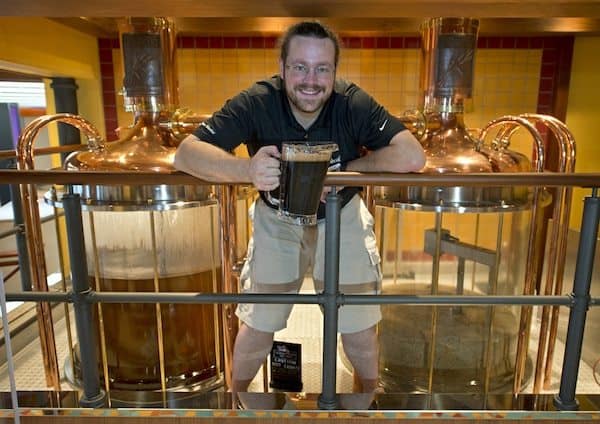 One of the exciting things about having a brewery onboard Vista is that passengers can actually sign up to take a tour of the facilities. "I did have guests the other day tell me it was the least walking they've ever done on a brewery tour," laughs the brewmeister, "because it's a small space." That said, the process itself is pretty similar to what takes place on land. "The actual brewing is the same science, the same process. There's a few tweaks we make in the process to facilitate working on the ship, but for the most part, the hardest part is actually getting what we need in order to brew!"
Presby says the tour lasts "about an hour," and features tastings of several beers as well as a close-up look at the brewing process and a question-and-answer session. Among the beers tasted is the wildly popular Thirsty Frog Red. "That's Carnival's fleet-wide beer," he explains, "so that's brewed for us, not on the ship."
If he could offer one piece of advice to passengers who might be wary? "Give it a try!" he says enthusiastically. "The stuff we're making is definitely approachable and full-flavored, so we're hoping to appeal to the draft beer drinkers and some of those borderline draft beer drinkers." And if you want to read more about his adventures — or, as he jokes, get a look at his equipment — you can find his blog here!
Pin this!