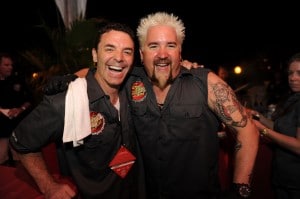 Over the weekend TV personality Guy Fieri took home an award for his signature hamburger Straight-Up With a Pig Patty at the South Beach Wine and Festival's Amstel Light Burger Bash.
The burger can be found exclusively on Guy's Burger Joint aboard Carnival Liberty and includes a ground chuck and bacon patty with lettuce, tomato, onion, and a pickle topped with donkey sauce.
You can see the menu of Guy's Burger Joint here. Over 1,000 of Guy Fieri's burgers are served each day aboard Carnival Liberty and soon to debut on Carnival Breeze this summer.
Guy's Burger Joint is part of Carnival Cruise Line's Fun Ship 2.0 enhancements.
Source: Carnival
Subscribe to our Cruise News Updates.