Harmony of the Seas has arrived in Southampton today, and the port was flooded with onlookers gathered to see the world's largest cruise ship.  After 32 months under construction, the ship's arrival marks a milestone for Royal Caribbean – as she is the 25th ship in the fleet.
Harmony was built with over 500,000 individual parts (who keeps track of these things?!) and is nearly four soccer fields long (1,188 feet); weighing over 226,000 gross registered tons.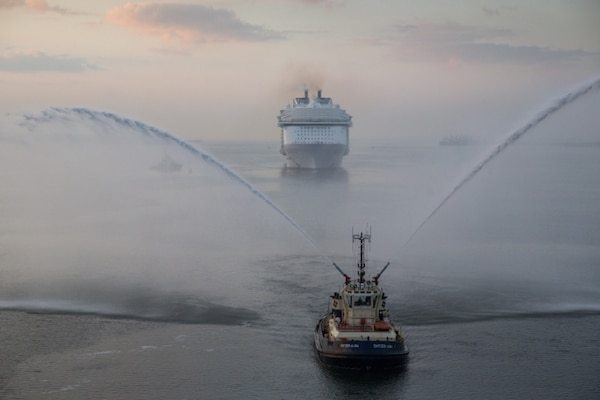 The newest ship in the family combines the seven-neighborhood concept aboard Oasis-class ships, with innovative features like what would be found aboard the Quantum-class ships.  It features the tallest slide at sea with a 10-story plunge: The Ultimate Abyss, virtual balconies with real-time views of the destination for interior cabins, and robot bartenders at the iconic Bionic Bar.
Harmony of the Seas will sail from Southampton, UK on a series of short cruises to northern Europe, before embarking on a sailing May 29 to arrive in Barcelona on June 5.  She will them officially launch her inaugural summer season with the first of 34 week-long western Mediterranean sailings on June 7.
In November, the ship will arrive at her homeport of Port Everglades, Florida where she will offer week-long eastern and western Caribbean sailings.  Harmony will join sister ships Oasis and Allure of the Seas, homeported in Port Canaveral and Port Everglades on the east coast of Florida.
photos: Royal Caribbean