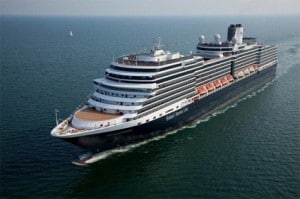 Holland America Line has added three new segments to ms Amsterdam's 75-day Grand Asia & Australia Voyage in fall 2012. Ranging from 20 to 30 days, the new segments set sail in October and November and span from China to California.
The full voyage departs Seattle, Wash., Sept. 21 and explores the wonders of Asia, Western Australia and the South Pacific on a 75-day cruise. The new segments still offer comprehensive and intriguing voyages, just shorter.  Guests on any of these new segments will enjoy overnight calls, late departures and plenty of time to discover this magical part of the world.
The first new segment is a 30-day voyage from Xingang (Beijing), China, to Sydney, Australia, departing Oct. 12, 2012. Guests begin their voyage with an overnight call in  Beijing where they can visit historic sites such as Tiananmen Square, the Forbidden City, Great Wall and National Stadium/"Bird's Nest" from the 2008 Olympics. Three additional overnights in Shanghai, Hong Kong, China, and Singapore, provide guests with an in-depth experience and allow for time to take a tour, visit the sites, go shopping and indulge in local cuisine.
Additional highlights on this segment include calls in  Vietnam, three ports in Indonesia —including Semarang with the impressive Borobudur Temple and Komodo Island, home to the infamous Komodo dragon — a call in  Papua New Guinea and three calls in Australia.
Fares for the 30-day segment from Xingang (Beijing) to Sydney begin at $4,499 per person, double occupancy.
The new 20-day segment from Hong Kong to Brisbane, Australia, embarks Oct. 20 and departs Oct. 21 following an overnight alongside in the bustling Chinese city.  This segment also calls in Vietnam, Semarang and Komodo, Indonesia, with an overnight in Singapore. Following calls in Darwin, Australia, and Papua New Guinea, the voyage concludes in Brisbane.
Fares for the 20-day segment from Hong Kong to Brisbane begin at $2,999 per person, double occupancy.
Guests looking to combine exciting port calls throughout Eastern Australia, New Zealand and the South Pacific with leisurely days at sea can embark on the new 27-day segment sailing from Brisbane to San Diego on Nov. 9, 2012. In addition to Eden, Australia, guests will have an overnight call in Sydney where they can visit the famed Opera House, climb the Sydney Harbour Bridge or go in search of a cuddly koala.
New Zealand is the ship's next destination, with calls in Waitangi (Bay of Islands) and Auckland, the City of Sails. Amsterdam continues to sail across the Pacific Ocean with calls in Lautoka, Fiji; Apia, Samoa Island, and three ports in the Hawaiian Islands before arriving in San Diego. Guests will achieve two cruising milestones while on this segment: crossing the international dateline and crossing the equator.
Fares for the 27-day segment from Brisbane to San Diego begin at $4,199 per person, double occupancy.
Source: HAL
Subscribe to our Cruise News Updates.
Related articles