Guests aboard a Holland America ship can now experience some of the world's natural wonders like never before, test their knowledge of our planet, and participate in some family-friendly competition.  Furthering their partnership with BBC Earth, the unique programs are currently available aboard Koningsdam, Noordam, Rotterdam, Oosterdam, Zuiderdam, and Eurodam, and will be rolled out to the rest of the fleet (except Prinsendam) by early 2017.
BBC Earth Experience Details
The new offerings will immerse travelers in the wonders of our world with captivating music and stunning video experiences.  One highlight is "Frozen Planet Live," a concert based on the "Frozen Planet" TV series.  On each ship's main stage, live musicians will play a specially orchestrated musical score by composer George Fenton as the images unfold on the screen.  Guests are taken on a journey into the wilderness of the polar regions, where life thrives in the most extraordinary conditions.  More activities include "Inside Earth" documentary films, game shows, trivia, kid's activities, and BBC Earth feature cruises.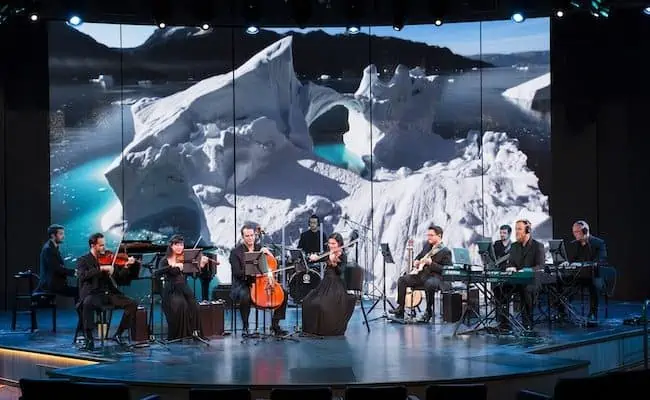 Travelers can also participate in the "What on Earth!" family game show.  The activity uncovers all that's weird, wonderful, and obscure in the natural world.  Teams compete on the main stage, guessing the location in "Where on Earth!", uncovering content hidden beneath puzzles in "What on Earth!", and figuring out which animal makes that sound in "Who on Earth!"  "Trivia from Earth" is an informal, team-based competitive quiz that allows guests to show off their knowledge, and provide entertaining new facts for fellow cruisers.
Junior travelers can also get in on the adventure with BBC Earth's countdown fact shows, "BBC Earth for Club HAL Tweens." Kids will discover cool facts about land animals, dinosaurs, and sea creatures.
Sail with BBC Earth Experts
Guests who want an even deeper BBC Earth experience can join select feature cruises each year that bring them behind the scenes on BBC Earth's documentaries by sailing with producers, cameramen, and presenters.  The experts will host master classes and Q&A sessions in their field so guests can learn directly from the show's creators.
In 2017, four BBC Earth cruises have been scheduled.  Featured guests will be announced soon, and voyages include:
January 29 on Koningsdam – 7-day eastern Caribbean roundtrip from Fort Lauderdale.
April 7 on Oosterdam – 18-day Panama Canal transit from Tampa to San Diego.
July 8 on Maasdam – 7-day Canada/New England cruise from Montréal to Boston.
October 27 on Volendam – 14-day Taiwan and Japan sailing from Shanghai to Hong Kong.
For Holland America's 70th anniversary in Alaska, a new BBC Earth Alaska show will debut for the 2017 Alaska cruising season.  Details will be revealed early next year.