In honor of National Burger Day today, Holland America is paying homage to the American classic that has become a worldwide favorite.  Both meat lovers and vegetarians will find a burger to love among the cruise line's gourmet options at Dive-In at the Terrace Grill, as well as in the Pinnacle Grill and main dining room.  There's even a burger featured in America's Test Kitchen.
With 20 unique options onboard, Holland America's selections take guests on a tasty adventure that goes far beyond cheese, pickles, and ketchup.  There are four styles at Dive-In, a signature burger at Pinnacle Grill, and 14 rotating selections on the main dining room lunch menu.  On a seven-day cruise, it's estimated that the line serves over 4,000 burgers!
Dive-In Temptations
Dive-In on the lido deck offers a menu of made-to-order beef burgers that are served with Holland America's secret Dive-In sauce.  These are the four choices:
Cannonball: the most popular burger is served with gouda cheese, applewood smoked bacon, caramelized onions, chop-chop lettuce, and sliced tomato on a toasted brioche bun
High-Dive: American cheddar cheese, chop-chop lettuce, and sliced tomato on a brioche bun
Gainer: A mound of crispy, frizzled onions, chop-chop lettuce, and sliced tomato on a brioche bun
Freestyle: This vegetarian "burger" consists of a grilled portobella mushroom topped with cheddar and gouda, chop-chop lettuce, avocado, and sliced tomato on a toasted whole wheat bun.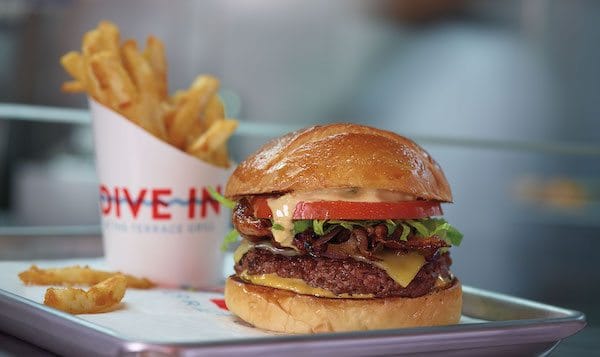 Pinnacle Grill Perfection
Guests looking for the ultimate gourmet burger will find it in the Pinnacle Grill.  The burger includes bacon jam, garlic chipotle aioli, Beecher's cheddar cheese, cabernet red onions, and avocado.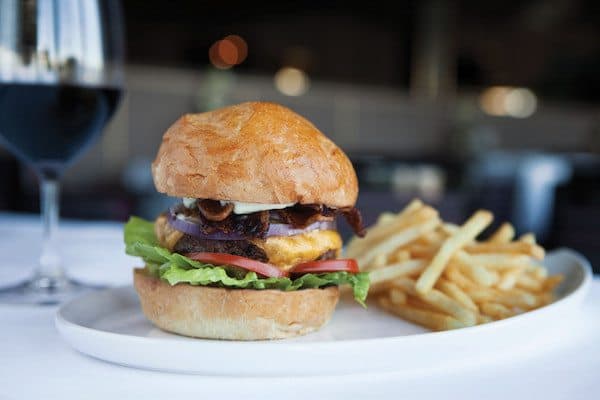 American's Test Kitchen
Through Holland America's partnership with America's Test Kitchen, guests can attend onboard cooking shows produced with the long-running television show. One featured recipe is a black bean burger with chipotle mayo.  In the show kitchen, guests can learn how to make it from the onboard chefs that were trained by America's Test Kitchen culinary experts.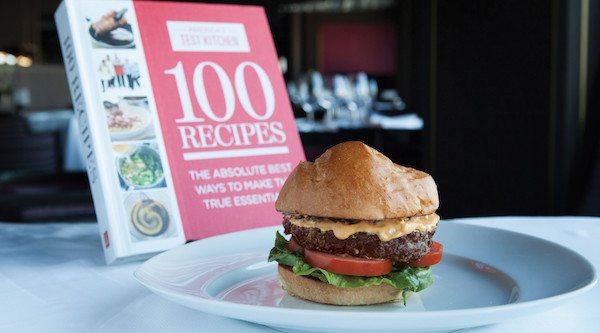 Main Dining Room Options
For lunch in the main dining room, 14 burgers are offered in a cycle; one per day.  Guests on most cruises could try a different one every day and not run out of choices.  The options are:
Trattoria Burger with Roasted Bell Pepper, Pesto Mayo, and Mozzarella
Melted Brie Bistro Burger
Mushroom Fontina Burger
Bacon Egg Burger
Gouda Burger with Cabernet Onions
Andouille Burger with Crumbled Blue Cheese
Avocado and Bacon Burger
Cheeseburger on Sourdough
Cowboy Burger with Grilled Mushrooms
Onion Barbecue Burger
Cordon Blue Burger
Mozzarella Burger with Arugula Pesto
Mushroom and Onion Burger
Blue Cheese Burger with Crispy Onions
What's your favorite type of burger?