Holland America Line president Orlando Ashford presented a $25,000 check to Seattle Children's Hospital earlier this month at the Seattle Mariners' home game at Safeco Field.  The donation was made as part of the cruise line's partnership with the Seattle Mariners baseball team and the "K's for Kids" program that debuted during the 2014 season.
With K's for Kids, each strikeout (marked as a K on a baseball scorecard) recorded by a Mariners pitcher at Safeco Field throughout the season equals another step in the goal toward the cash donation for the Seattle Children's Hospital.  Ashford was joined on the field during the presentation by 6-year-old patient and cancer survivor Mason Nettleton and his family.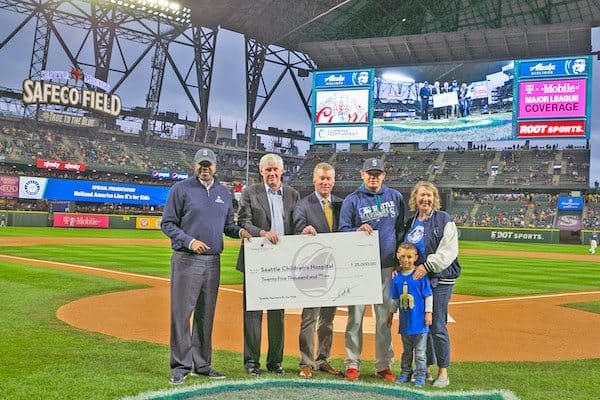 For the past five years, Holland America and the Mariners have enjoyed a partnership that expanded at the beginning of this year's season.  In addition to "K's for Kids," Seattle's hometown cruise line became the presenting sponsor of the "Salute to Those Who Serve" program honoring the men and women of the US military.  The line also continued to sponsor "Get Well Tours" to area hospitals and the annual Fan Appreciation Night, where two lucky fans won Holland America cruises.