In honor of World Cancer Day today, Holland America Line has announced that to date, their guests and crew have raised over $4.7 million for cancer support through "On Deck" programming.  The program On Deck for a Cause benefits six cancer organizations throughout the world.  They're located in Canada, the US, Australia, Germany, the Netherlands, and the UK.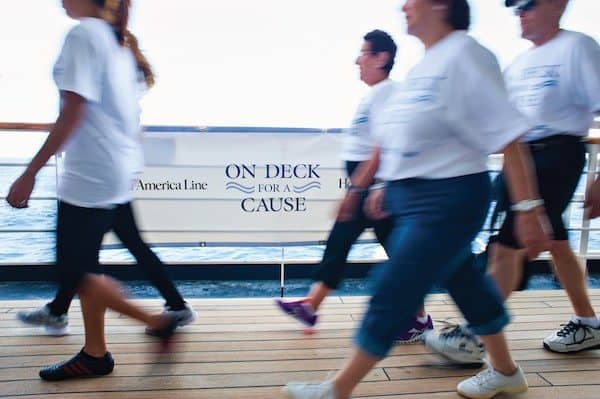 During each sailing on the line's ships, the program invites guests to participate in a recreational 5k walk for the cause.  Hundreds of thousands of cruisers have walked in support of the program since it's beginning in 2006.  Proceeds go to the American Cancer Society, Canadian Cancer Society, Cancer Council Australia, Cancer Research UK, Deutsche Krebshilfe (German Cancer Aid), and KWF Kankerbestrijding (Dutch Cancer Society).  Previously the program also supported Susan G. Komen for the Cure.
Guests are invited to donate $20 to the Holland American Line Foundation, where no less than $15 of each $20 goes to the organizations.  The remaining amount covers administration and program expenses.  On sea days, participants in the 5k walk around the decks.  Guests who participate also receive an On Deck for a Cause T-shirt and wristband, and are welcomed to join an after-walk reception.  Depending on the ship, the 5k is 9-12 laps.
This year, over 500 walks will be held across the fleet on every cruise.  For more information about Holland America, visit hollandamerica.com.