Holland America's ship ms Eurodam arrived at the Port of Seattle yesterday, marking the first vessel to arrive for the beginning of this summer's Alaska cruising season.  This year the cruise line increased its Seattle calls to 58, and three ships will sail roundtrip itineraries there.
In addition to Eurodam's arrival, Oosterdam arrived today and Amsterdam will arrive on May 15 to begin Alaska sailings.  Zaandam will also make one call in Seattle on May 12 on a one-day cruise to Vancouver to reposition to its summer homeport.  Noordam will be making a visit on September 25 during a Pacific Coastal sailing, too.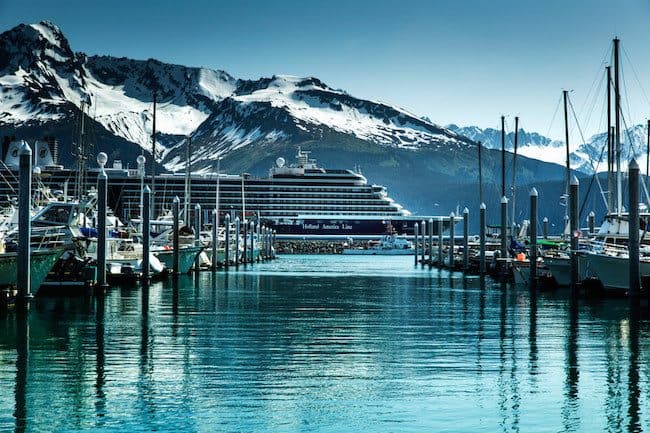 2017 marks 70 years for sailing to Alaska for Holland America.  It all began in 1947 with a simple, spontaneous tour in Fairbanks and has grown into the line's Alaska Land+Sea Journeys that combine a cruise with a land-based adventure to Denali and the Yukon.
During this year's season, Eurodam will operate 22 roundtrip 7-day cruises, Oosterdam is slated to sail twenty-one 7-day voyages roundtrip, and Amsterdam is scheduled to sail one 7-day itinerary followed by nine 14-day Great Alaskan Explorer voyages from Seattle.
Provisioning costs each time a ship calls in Seattle averages about $300,000 per visit.  Holland America works with almost 700 Washington vendors for everything from office supplies to food, piano tuners, and more.  As an example, Oosterdam requires over 23,000 eggs and 1,375 gallons of milk each week – all of which come from local farmers.