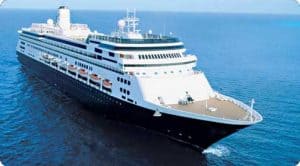 Seattle, Wash., Dec. 8, 2011 — When Holland America Line's ms Volendamheads to Asia in 2013, the ship will sail a series of 14-day itineraries between Singapore and Hong Kong, China; Kobe (Osaka), Japan, and Hong Kong, as well as a roundtrip Kobe cruise. Guests will have the opportunity to also visit the countries of Vietnam, South Korea, Thailand and Cambodia on the Far East explorations, including the option to take an overland tour to the Great Wall of China.
The nine voyages — including a 16-day Great Barrier Holiday sailing Sydney to Singapore via Indonesia departing Dec. 22, 2012 and a 17-day trans-Pacific crossing from Kobe to Vancouver, British Columbia — will sail from December through April and offer extended ports calls and overnight stays at some of the most historical and exciting cities in the region, including Bangkok, Thailand; Shanghai and Xingang (Beijing), China, and Yokohama (Tokyo), Japan.
"Travel research continues to indicate that interest in the Far East is rising and Asia explorations remain on the wish lists of our guests," said Richard Meadows, executive vice president, marketing, sales and guest programs, for Holland America Line. "Our Asia itineraries offer everything, from interesting shore excursions and cultural encounters to ports with deep historical roots and unique experiences."
Itineraries can be combined to form longer 28- or 31-day Collectors' Voyages, enabling guests to experience a more in-depth exploration of Asia's landmarks, as well as explore its mystical allure.
14-day Far East Explorer Voyages
Volendam's three 14-day Far East Discovery voyages sail between Hong Kong and Singapore and feature port calls at Koh Samui and Bangkok (overnight), Thailand; Sihanoukville (Kâmpóng Saôm), Cambodia, and Phu My (Ho Chi Minh City), Nha Trang, Da Nang, and Halong Bay, Vietnam. Departure dates are Jan. 7 and 21, and Feb. 4.
14-day China and Japan Discovery Voyage
Four 14-day China and Japan Discovery voyages sail between Hong Kong and Kobe (Osaka) and roundtrip Kobe, and include two overnight calls at Shangahi and Xingang, China. Additional ports of call include Dalian, China; Busan (Pusan), South Korea, and Nagasaki, Japan. Departure dates are Feb. 18, March 4 and 18, and (roundtrip Kobe) April 1.
17-day Trans-Pacific Repositioning Voyage
The 17-day trans-Pacific repositioning voyage departs April 15 from Kobe and sails east to Vancouver. In addition to exotic ports of call, the itinerary features scenic cruising through Glacier Bay and the Inside Passage in Alaska, and relaxing days at sea. Following an overnight at Yokohama (Tokyo), the ship calls at Hakodate and Kushiro, Japan, and Kodiak and Ketchikan, Alaska, as it makes it way to Canada for the start of the Alaska sailing season.
Cruise fares begin at $1,899 per person, double occupancy for the 14-day Far East Explorer and 14-day China and Japan Discovery sailings, and $1,999 for the 17-day trans-Pacific sailing.
Memorable Shore Excursions
Guests can maximize their experience in Asia by booking notable optional shore excursions including a visit to the bustling city of Ho Chi Minh to explore the major highlights or discovering the Cu Chi Tunnels Discovery near Phu My, Vietnam; enjoying a cultural-experience at either Beomeosa or Tongdosa Temple complete with tea ceremony outside of Busan; and from Nagasaki, exploring the magnificent Shimabara Castle and Fugen Volcano.
Source: Holland America