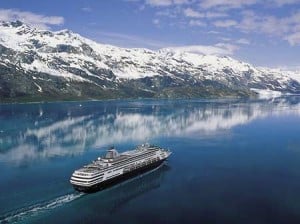 Holland America Line announced three new Alaska land tours today to add to their 2012 Alaska schedules, including the industry's only three-night Denali experience.
The tours, that are designed to highlight Alaska's wildlife, wilderness, and culture range from 10 to 20 days and combine a three, four, or seven-day inside passage cruise with Holland America.
The tours:
Express Tour U1& U2, the lines first ever Seattle CruiseTour offering guest one or two nights at Denali and a cruising throughout Prince William Sound and the inside passage.
Express Tour U3, guests will board the McKinley Explorer train where the can spend the day on their own before heading to 53-miles into Denali National Park. Guest also will visit Skagway, Juneau and Ketchikan – famous for its rich native culture, salmon fishing and scenic fjords – before returning to Vancouver, B.C., Canada. 
Denali Sampler Tour U4, the line's first ever one-night Direct to Denali Adventure, with just enough time to have the essential Denali experience. During this tour guests will sail from Vancouver and enjoy scenic cruising throughout Alaska's Inside Passage before calling at Ketchikan, Juneau, Skagway and Glacier Bay. Park Service Rangers narrate for a full eight hours as guests enjoy the breathtaking scenery of Glacier Bay. While in Denali, guests can spend the day exploring Denali National Park before boarding the McKinley Explorer train bound for Anchorage.
For more information you can contact your travel seller.
Source: HAL
Subscribe to our Cruise News Updates.