Holland America's chefs are learning sushi from the best in their collaboration with renowned Sushi Chef, Andy Matsuda.  He will train the shipboard chefs in sushi trends and techniques, and four of his signature rolls will be featured in Tamarind; the line's Asian-fusion restaurant. The chef, born in Japan, has been making sushi for over 35 years, and has been teaching the cruise line's crew for 15 years.  He began his collaboration and training aboard Holland America's newest ship, Koningsdam.  At his institute in Los Angeles, he teaches aspiring chefs and professionals from around the world about sushi and Japanese cuisine.  Over 1,300 graduates have gone on to careers in sushi restaurants, or have opened restaurants themselves.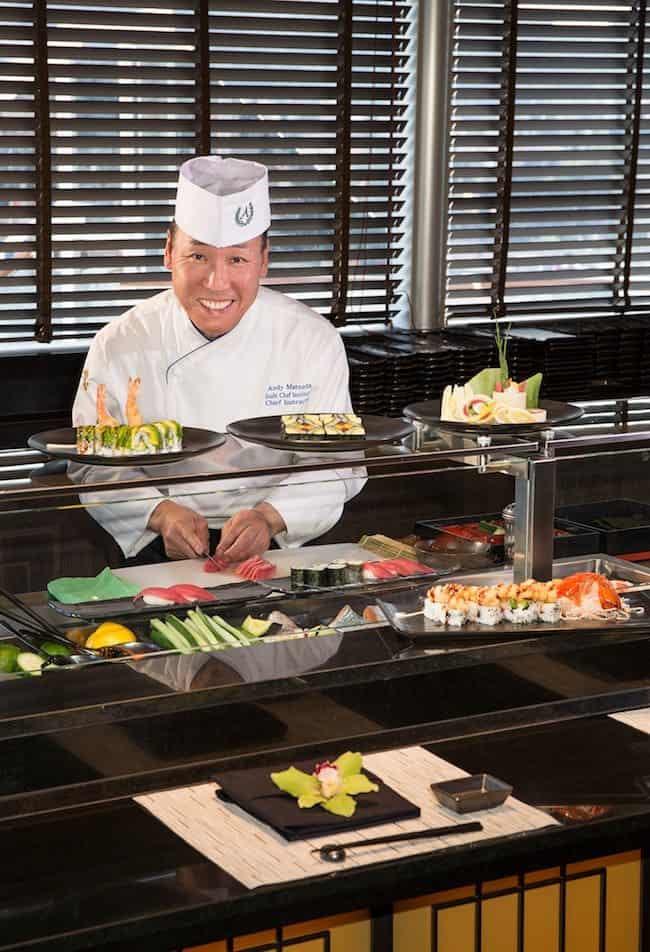 Matsuda's four signature rolls on Tamarind's dinner menu include:
Tempura Lobster Roll – with lobster tail, unagi sauce, avocado, and asparagus
Nigiri Seared Salmon – with green olives and capers
Dragon Roll – with tempura shrimp, unagi sauce, avocado, and asparagus
Nigiri Tuna Zuke – with yuzu-flavored tuna and guacamole sauce
Tamarind also serves other sushi selections on the full dinner menu, and these include:
Spider Roll – with soft shell crab tempura
California Roll
Tsutsumi Roll – with snapper and avocado
Spicy Tuna Roll
Veggie Rainbow Roll
Volcano Roll – with sesame-marinated salmon and Thai chilis
Nigiri Sushi – with tuna, salmon, and ebi shrimp
Tamarind is on board Koningsdam, Nieuw Amsterdam, and Eurodam.  The one aboard Koningsdam also features a sushi counter with eight seats where guests can watch the chefs prepare their meal. Matsuda learned the art of cooking at his family's Japanese restaurant when he was little, and went on to apprentice at Genpachi, one of the most famous restaurants in Osaka, Japan, before bringing his skills to LA.  Following a bout with cancer, he looked for a deeper understanding between food, health, people, and the environment, which he parlayed into becoming one of the world's foremost sushi experts.