The captain and crew of Holland America's ship ms Veendam were honored for a 2015 rescue at sea.  The Association for Rescue at Sea with a AFRAS AMVER Award was given to the vessel's crew for saving a pilot who ditched his aircraft in the ocean near Hawaii.  The Automated Mutual Assistance Vessel Rescue System was created in 1958 ,and the AMVER Awards were created in 1971 to recognize vessels that participate in it.
The award was given at the annual Coast Guard Award Ceremony last month in Washington DC.  The ship's Captain Eric van der Wal accepted it on behalf of the cruise line.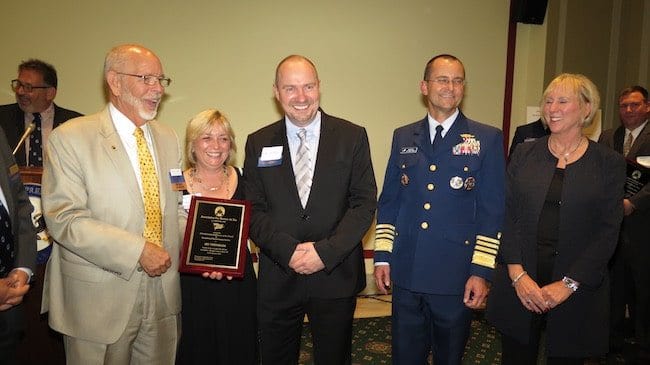 The AMVER awards honor the heroism of those who go the extra mile to rescue those in distress at sea.  On January 25, 2015, Veendam rescued a pilot 225 miles off the coast of Maui.  The airplane had a malfunction with its fuel system, and he escheated into a life raft where Veendam found him.
The AMVER is a computer-based global ship reporting system that is used worldwide by search and rescue authorities, and is sponsored by the US Coast Guard.  This was the third rescue that a Holland America ship performed in 2015. On January 3, Zuiderdam rescued crew from a sinking vessel in the Caribbean, and on January 4, Zaandam came to the aid of seven stranded crew members at the Arctowski Polish research station at King George Island in Antarctica.