Guests who want to transit the lakes and locks of the Panama Canal will have eight Holland America ships and 19 voyages to choose from, between this fall and spring 2018.  In addition to the full transits, ms Zuiderdam will offer two Southern Caribbean & Panama Canal Sunfarer itineraries that feature a partial transit.  Ranging from 14 to 23 days, the transit cruises that Holland America provides offer more ways to experience the famous waterway than any other premium cruise line.
See Two Oceans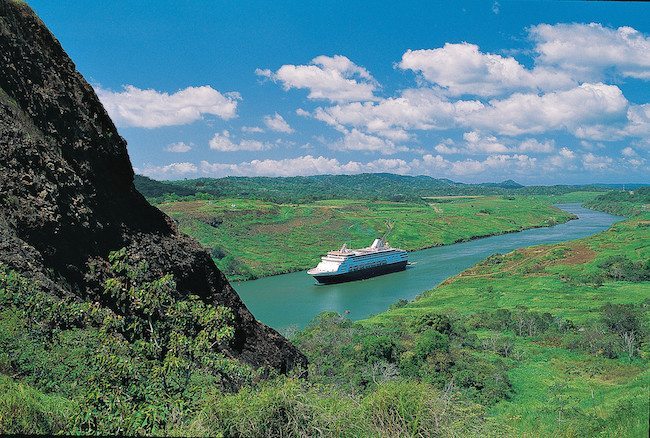 From September to May, ms Amsterdam, ms Eurodam, ms Maasdam, ms Nieuw Amsterdam, ms Oosterdam, ms Westerdam, and ms Zaandam will make 19 transits between the Atlantic and Pacific from five departure cities.  Guests can sail from Boston, Fort Lauderdale, San Diego, San Francisco, and Vancouver.  Rates begin at $1,199 per person.
In addition to going through the canal, the 14-23 day voyages include a variety of calls along the way.  Travelers can visit destinations in Mexico, Colombia, Costa Rica, Guatemala, Nicaragua, and the Caribbean.  Most sailings also visit the company's private island Half Moon Cay in the Bahamas.
Partial Transits
In addition to the full transits, Zuiderdam will make 16 partial transits between November and April.  The 10 and 11-day Southern Caribbean & Panama Canal Sunfarer itineraries include an exploration of the Canal's Gatún Lake and a combo of southern Caribbean calls in Aruba, Bonaire, Colombia, Costa Rica, Curaçao, Grand Cayman, Panama, and Half Moon Cay.  Rates start at $1,099 per person.
Explorations Central Brings Panamanian Culture Onboard
Throughout the cruises, EXC programming will bring Panama's local traditions, culinary dishes, and cultural experiences to life onboard the ship.  Guests can practice their language skills, learn about local customs, and enjoy storytelling.  Those who want to learn even more can attend an EXC Talk where a Panama Canal expert recounts the history and drama of constructing the waterway.  A Panamanian market on the Lido Deck is a highlight, where travelers can sample empanadas, arroz con pollo, ropa vieja, and pastel de tres leches.
The EXC Team will provide more guidance for ports of call and offer tips and information for each destination.  The in-room EXC channel will also include a selection of curated films, documentaries, and TV shows exploring destinations on the ship's itinerary.