Holland America has won an award for their new Denali Square complex in McKinley Chalet Resort in Alaska.  The line was presented with an Alyeska Award by the Alaska Tourism Industry Association, and Bill Fletcher, Holland America's director of Alaska sales accepted it a banquet in Anchorage.
The Award
The Alyeska Award is presented to a business or organization for its outstanding leadership, group contribution, and professional excellence in the Alaska travel industry.  Over the past three years, Holland America has been refining the guest experience at the resort, and last year a new property layout and remodeled guest rooms were revealed.
About Denali Square
McKinley Chalet Resort provides accommodations for guests on Holland America's Land+Sea Journeys that combine an Alaska cruise with a land adventure there as well.  Denali Square is at the heart of the resort, and contains the reception hall, dining facilities and guest rooms, and the guest rooms right by the Nenana River.
The square is the new gathering area where visitors can relax, shop, dine, and enjoy music and entertainment.  The largest building in the complex is Karstens – a two story restaurant showcasing mountain views for dining guests, as well as fire pits and outdoor seating for a unique Alaskan experience.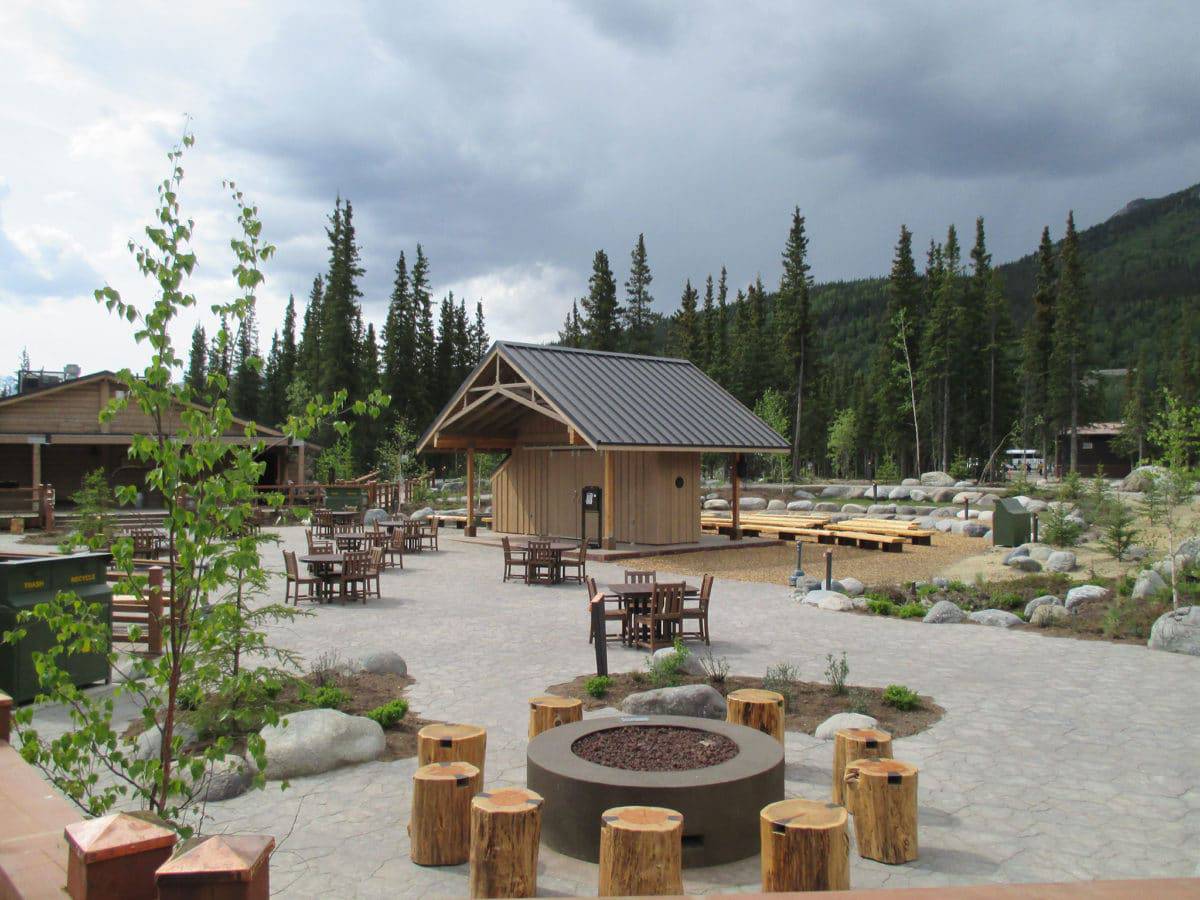 At the center is an amphitheater with a covered stage and bench seating.  Here, guests can enjoy local shows, ranger talks, and demonstrations.  Guests wanting a drink or live music can visit Gold Nugget Saloon, home to the Music of Denali Dinner Theater that becomes a bar and music venue when the show has concluded.
Denali Square also features fire pits where travelers can gather for s'mores, retail shops with local goods, and an artist-in-residence cabin where Alaska native and local artists display their works.  Walking paths throughout show off the property's mountainous landscapes and beautiful location, nestled just across the Nenana River from Denali National Park.