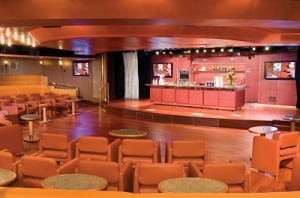 During Holland America Line's summer cruise season, the Culinary Arts Center program presented by Food & Wine magazine will host five of the world's most celebrated chefs who will showcase their expertise and share tips with guests.
Chef Kevin Sbraga, Food Stylist Denise Vivaldo, Entrepreneur Sonia Hunt, Chef Angelo Sosa, and Chef Jonathon Sawyer will be aboard five of the line's premium ships in July and August.
During their cruises, the experts will perform complimentary cooking demonstrations in the Culinary Arts Center, the line's state-of-the-art show kitchens aboard each ship. The interactive sessions include recipe handouts, food tastings and the opportunity for questions and answers and photos with the culinary celebrities.
Chef Sbraga is scheduled to sail aboard ms Noordam's 10-day Roman Empire cruise departing July 17. He opened his first restaurant, Sbraga, in 2011 on Philadelphia's iconic Avenue of the Arts.
Vivaldo is scheduled to sail aboard ms Westerdam's July 21 seven-day Alaskan Explorer cruise. She founded Food Fanatics, a catering, recipe-development and food styling firm based in Los Angeles. Vivaldo has catered more than 10,000 parties and styled food for various television shows including "The Ellen DeGeneres Show," "The Tonight Show with Jay Leno" and "Inside Dish with Rachel Ray." Vivaldo is the author of several best-selling culinary books including "How to Start a Home-Based Catering Business," "The Entertaining Encyclopedia: Essential Tips for Hosting the Perfect Party," and "The Food Stylist's Handbook."
Hunt is scheduled to sail aboard ms Oosterdam's seven-day Alaskan Explorer cruise departing July 22. She is the President of Noie Media, LLC a multimedia production company, and creator and host of "Stirring It Up!" — a lifestyle entertainment show. She has been a healthy living expert on the "Art of Living" celebrity radio show and continues to host and perform cooking demos in celebrity food and wine events around the country.
Chef Sosa is scheduled to sail aboard ms Prinsendam's 14-day Norway and British Isles voyage departing August 8. His most recent project is Social Eatz where he works as executive chef and owner, designing a menu that blends New York City staples with flavors from across Asia.
Chef Sawyer is scheduled to sail aboard ms Zaandam's seven-day Alaska Inside Passage cruise departing Aug. 19. He is executive chef at The Greenhouse Tavern in Cleveland, Ohio. The eatery was Ohio's first "green" restaurant and was named one of the top 10 best new restaurants in the U.S by Bon Appetit magazine and best new restaurant by Cleveland Magazine.
Video:
Source: Holland America
Subscribe to our Cruise News Updates.