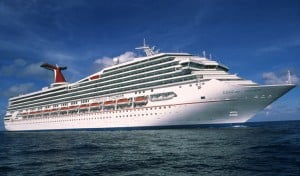 SAN FRANCISCO – To kick off wave season, Hotwire.com®, a leading discount travel site, today announced their first ever Cruise Savings Indicator. An extension of their already popular Travel Savings Indicator, the Cruise Savings Indicator features the top five cruise destinations where prices have dropped the most. This guide is aimed to help cruisers score some of the best deals during wave season, which runs from December through March and is prime booking time as cruise lines are competing to fill cabins far ahead of embarkations.
"Recently, there has been significant shift as to where many cruise lines are sailing causing some stiff pricing competition to destinations that are seeing more traffic. This prompts some significant price drops, and lately we've seen them in destinations like Australia/New Zealand, Hawaii and Europe," said Clem Bason, president of the Hotwire Group. "Unfortunately, there aren't many resources that surface this kind of trend information for cruisers and sometimes customers miss out on these great deal opportunities. To help, we decided to sift through our extensive pricing data and create our new Cruise Savings Indicator, a guide that pinpoints the exact destinations where you can save the most."
Below are the Top Five Cruise Destination Price Drops from Hotwire.com*:
1. Australia/New Zealand
The land from down under comes in at first place as this popular cruise destination has seen more than a 35 percent increase in sailings being offered vs. last year. This rise in popularity has driven prices down, leading to double-digit savings on Royal Caribbean. Compared to this year, the average daily rates in 2012 for Balcony cabins on Royal Caribbean are down a whopping 25 percent.
2. Hawaii
Always a prime destination, Hawaii remains at the top of cruisers' wish lists for 2012. Hawaiian cruises have seen more than a 20 percent rise in sailings in the upcoming year, resulting in some fantastic deal opportunities. Prices for Interior and Oceanview cabins on Celebrity Cruises have fallen 25-30 percent for sailings in 2012 as compared to this year.
 3. Caribbean
Rich with sandy beaches and blue waters, cruises throughout the Caribbean have remained stable over the last two years, but the prices have not. Travelers can find great savings to these islands this wave season with average daily rates down 25 percent versus last year on Norwegian Cruise Line.
 4. Pacific Coastal
Pacific Coastal cruises are becoming increasingly popular, ferrying cruisers from the sandy shores of Southern California to some of the most beautiful ports in Canada. These sailings offer accessible and flexible options for duration and locations, but more importantly they offer stellar savings. On Celebrity Cruises you can find double digit savings on most cabins, and the average daily rates for 2012 have dropped 20 percent compared to 2011.
 5. Repositioning Cruise
Not exactly a specific destination so much as a type of sailing, these cruises happen when ships change the regions they service.  They also offer opportunities to experience a blend of exciting cities or ports that typically don't get sailings. Repositioning cruises make the price drop list because travelers can book this type of cruise while netting some of the biggest discounts of the year. For 2012, Princess Cruises is offering double-digit savings on all cabin types and average daily rates are down more than 35 percent versus last year.
* The Cruise Savings Indicator analyzed six cruise lines – Carnival, Celebrity, Holland America, Norwegian, Princess and Royal Caribbean. The pricing comparisons are based on average prices between 11/30/10-12/4/10 for 2011 sailings as compared to average prices between 11/30/11-12/4/11 for 2012 sailings.
Source: Hotwire