Ask any cruiser, and they'll tell you that the final day of any voyage is the toughest. There's a mad dash to see/do/taste everything you've been meaning to see/do/taste all week, combined with the unavoidable awareness that the final hours of your vacation are ticking down. Before long, you'll be unceremoniously thrust back into the real world in which beverages don't come with umbrellas and you're the one serving instead of being served. So how can you take a bit of that soothing, peaceful feeling that you had earlier in the week home with you? It's simple, and it all starts with finding your happy place.
A Moment of Zen
Most cruise lovers have a spot they head to when they simply want to get lost in the moment and appreciate life at sea. It might be the balcony of your cabin or the barstool from which you can look out upon the wake. It might vary from ship to ship, or it might be essentially the same spot on a different vessel. For me, it's usually a seating area with comfy couches a bit removed from the more crowded areas of the ship. And on the last day of every single cruise, no matter how busy, I carve out at least an hour in which to grab a cocktail and sit in that pre-selected spot, staring out at the ocean, soaking it all in.
While there, I take stock of all the things I have to be grateful for, whether it's health or happiness or simply the ability to set sail a few times a year. I stare off into the horizon and allow a sense of contentment to wash over me, focusing on the sights and sounds, blocking out for as long as possible thoughts of packing and the final dinner and, most depressing of all, the disembarkation that will come with sunrise. My eyes and ears become sponges and then, before diving back into the madness of that last day at sea, I take a photograph of the view.
By this point in the week, I've no doubt taken many pictures of many views, but this one is special. Because upon arriving home, this will be the picture I make my screensaver. It's the image I'll look to when the world is doing its darnedest to make me forget the blissful week in which I was able to escape the stresses of work and home and the madness that is modern life. I'll look at that picture and take a moment to close my eyes and transport myself back to that particular moment in time, and then I'll look at the countdown clock and, smiling, remind myself that I'll be back there soon. Never soon enough, of course, but soon.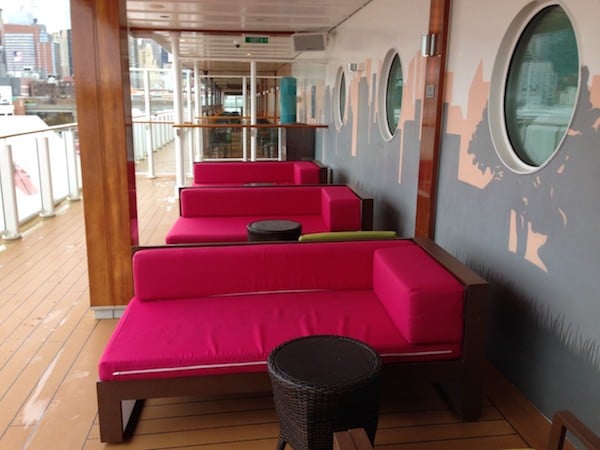 Here's the Happy Place picture above I took on the Waterfront of the Norwegian Breakaway during my last voyage. Now, show us what you see when you close your eyes!