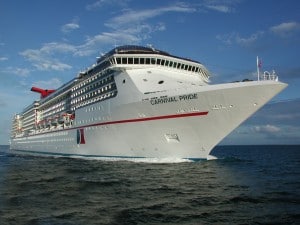 Passengers that'll be disembarking Carnival Cruise Lines' 2,124-passenger Carnival Pride in Baltimore, MD, will be doing so a day earlier according to a statement that the company released.  
"The Carnival Pride is currently en route to Baltimore, Maryland and is positioned well ahead of the storm.   We have escalated the ship's speed to arrive in Baltimore early.   The ship is now scheduled to arrive Saturday morning and begin debarkation at approximately 7am.  The vessel was originally scheduled to arrive on Sunday morning," said a company spokesman, Vance Gulliksen.
Guest arriving on Carnival Pride will be required to disembark on Saturday morning where the ship will then be moved and secured to brace the storm, under the direction of the U.S. Coast Guard.
Depending on the path Hurricane Irene, the next 7-night sailing, which is slated for Saturday afternoon, will be moved to Sunday or Monday.  
"Guests on both affected voyages will receive a one-day pro-rated refund for the missed day of the voyage," they told us.
Carnival Pride currently does 7-night Bahamas itineraries out of Baltimore.
Get a complete list of ship repositions here.
Photo Credit: Carnival Cruise Lines