Starting Tuesday evening, the United States Coast Guard has activated precautions or have start shutting down cruise ports along the southeast coast. Under these circumstances, vessels have to leave the port within four hours of gale force (in excess of 39 mph) winds.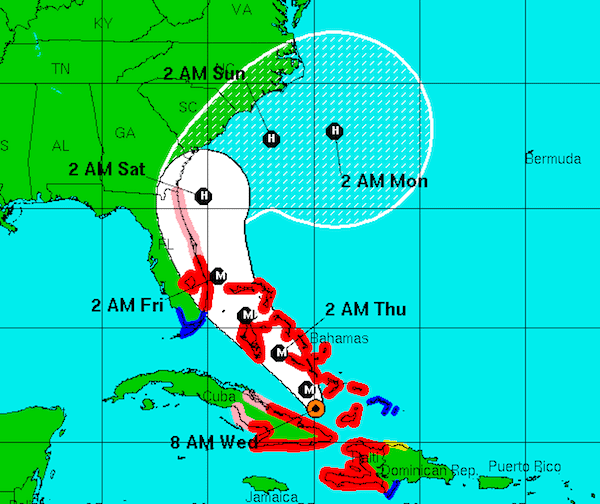 Cruise Ports Effected
The current information was pulled from the cruise port website's:
Port Miami, Thursday and re-opening Friday
Port Everglades, currently at condition Yankee. This means that Gale force winds (in excess of 39 mph) are expected in the next 24 hours.
Port Canaveral, closing Wednesday at noon and remaining closed until further notice
Jacksonville, the current port condition requires all vessels to be in contact with the Captain of the Port
Charleston, closing Thursday and remaining closed until further notice
Marine traffic will not be permitted to sail into these ports unless they get a special permit from the Captain of the Port.
Cruise Diversions
Royal Caribbean has warned guests embarking on Empress of the Seas, "Due to the storm, PortMiami is planning to close to all marine traffic on Thursday and reopen on Friday. Because of this, Empress of the Seas next sailing will now depart on Friday, October 7."
Carnival Victory is unloading guests a day early in Port Canaveral and heading back out to sea to ride out the storm.
Cruise Scheduled?
The cruise lines make itinerary changes and scheduled adjustments on an hourly basis. If you have a cruise scheduled from a Florida port over the next couple days, check with the cruise line or cruise line website.
The website weather sections are as follows:
According to the National Hurricane Center, the storm is forecasted to skirt up the Florida, Georgia, and Carolina coast before weakening.